Fluorescent CdTe-QD-encoded nanocellulose microspheres by green spraying method
Abstract
With water-soluble CdTe quantum Dots (QDs) as fluorescent labels and TEMPO-oxidized cellulose nanofibrils (CNF) as matrix, dual-color QD-encoded microspheres were prepared by mechanical spraying, freeze-molding and subsequent electrostatic cross-linking by calcium ion. The entire preparation process was accomplished in aqueous phase without any chemical treatment. The nanocellulose microspheres possessed porous structure and were able to be dispersed stably in water in the form of hydrogels. CdTe QDs were efficiently fixed in the network of intertwined nanofibrils via hydrogen bonding with CNF, making the microspheres to obtain high photoluminescence (PL) intensity and identifiable encoding signals consisting of seven kinds of microsphere arrays. The crystalline structure and chemical composition of both CdTe QDs and CNF were not affected during the preparation process. The comparision of PL behaviors of CdTe QDs and QD-encoded microspheres in different media indicate that CNF matrix provided good protection of QDs and improved the PL intensity and photostability.
Graphical Abstract
Dual-color CdTe-encoded nanocellulose microspheres were prepared via pure physical process in aqueous phase. The fluorescent microspheres possessed high photoluminescence intensity and identifiable seven kinds of encoding signals. The nanocellulose matrix provided good protection of CdTe QDs and improved the photoluminescence intensity and photostability.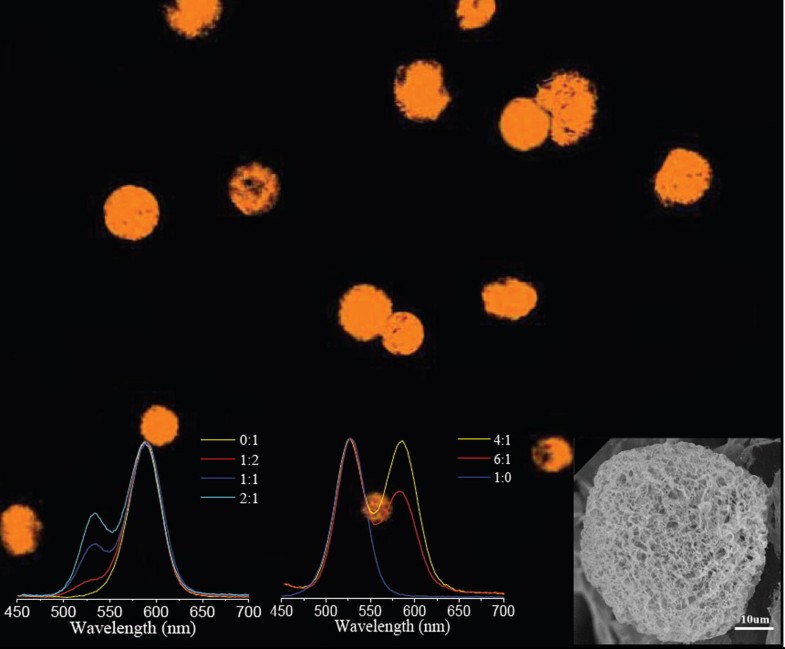 Keywords
Quantum dots 
Fluorescent microspheres 
Nanocellulose 
Fluorescence coding 
Notes
Acknowledgments
The support of this work by the Natural Science Foundation of Jiangsu Province (BK20171450), National Key Research and Development Program of China (2017YFD0601005), and Priority Academic Program Development of Jiangsu Higher Education Institutions (PAPD) are gratefully acknowledged.
Copyright information
© Springer Nature B.V. 2018