Abstract
The design of efficient catalysts is of important significance for the transformation of biomass into chemicals. In this work, bimetallic Pd–Co nanoparticles were encapsulated within UiO-66 to form a core–shell Pd–Co@UiO-66 catalyst via a facile one-step strategy. The as-synthesized Pd–Co@UiO-66 catalysts were characterized and applied to the selective hydrogenation of furfural (FUR) to cyclopentanone (CPO). Compared with the monometallic Pd@UiO-66, the Pd–Co@UiO-66 could demonstrate excellent performance with 96% CPO selectivity and 99% FUR conversion at 120 °C under 3 MPa H2 pressure for 12 h. It was found that trace Co had synergetic and promoting effects on the catalytic performance. The core–shell catalysts showed more outstanding recyclability than the supported catalysts, which could maintain high CPO yield after 5th runs.
Graphic Abstract

This is a preview of subscription content, log in to check access.
Access options
Buy single article
Instant access to the full article PDF.
US$ 39.95
Price includes VAT for USA
Subscribe to journal
Immediate online access to all issues from 2019. Subscription will auto renew annually.
US$ 199
This is the net price. Taxes to be calculated in checkout.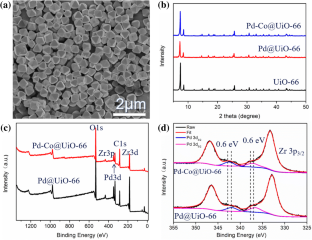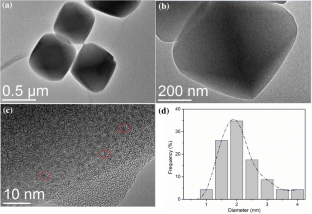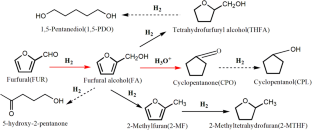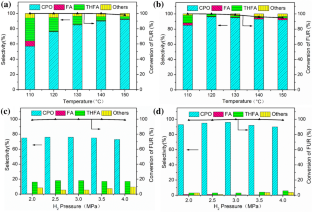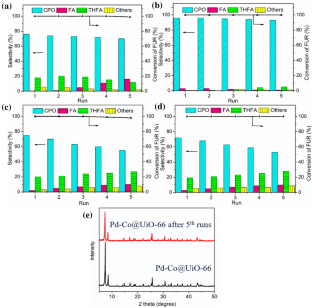 References
1.

Klass DL (1998) Biomass for renewable energy, fuels, and chemicals. Elsevier, London

2.

Demirbaş A (2001) Energ Convers Manage 42:1357

3.

Corma A, Iborra S, Velty A (2007) Chem Rev 107:2411

4.

Lange JP, Van Der Heide E, Van Buijtenen J, Price R (2012) Chemsuschem 5:150

5.

Li JQ (2001) Chem Eng J 1:338

6.

Yan K, Wu G, Lafleur T, Jarvis C (2014) Renew Sust Energ Rev 38:663

7.

Li X, Jia P, Wang T (2016) ACS Catal 6:7621

8.

Pushkarev VV, Musselwhite N, An K, Alayoglu S, Somorjai GA (2012) Nano Lett 12:5196

9.

Biradar NS, Hengne AM, Birajdar SN, Niphadkar PS, Joshi PN, Rode CV (2012) ACS Sustain Chem Eng 2:272

10.

Taber DF (1977) J Am Chem Soc 99:3513

11.

Tiziana G, Emanuela E, Emanuela M, Rosanna DP, Carmelo M, Rosaria M, Placido B, Salvatore C (2008) Shock 30:142

12.

Nagashima O, Sato S, Takahashi R, Sodesawa T, Akashi T (2006) Appl Catal A: Gen 312:175

13.

Zhan BZ, Thompson A (2004) Tetrahedron 13:2917

14.

Takehira K, Hayakawa T, Orita H, Shimizu M (1989) J Mol Catal 53:15

15.

Hronec M, Fulajtarová K (2012) Catal Commun 24:100

16.

Zhang GS, Zhu MM, Zhang Q, Liu YM, He HY, Gao Y (2016) Green Chem 18:2155

17.

Liu X, Zhang B, Fei B, Chen X, Zhang J, Mu X (2017) Faraday Discuss 202:79

18.

Yang Y, Du Z, Huang Y, Lu F, Wang F, Gao J, Xu J (2013) Green Chem 15:1932

19.

Guo J, Xu G, Han Z, Zhang Y, Fu Y, Guo Q (2014) ACS Sustain Chem Eng 2:2259

20.

Zhu H, Zhou M, Zeng Z, Xiao G, Xiao R (2014) Korean J Chem Eng 31:593

21.

Wang Y, Sang S, Zhu W, Gao L, Xiao G (2016) Chem Eng J 299:104

22.

Liu CY, Wei RP, Geng GL, Zhou MH, Gao LJ, Xiao GM (2016) Fuel Process Technol 134:168

23.

Chang L, Li Y (2017) Mol Catal 433:77

24.

Hronec M, Fulajtárová K, Vávra I, Soták T, Dobročka E, Mičušík M (2016) Appl Catal B: Environ 181:210

25.

Li H, Eddaoudi M, O'Keeffe M, Yaghi OM (1999) Nature 402:276

26.

Chae HK, Siberio Pérez DY, Kim J, Go Y, Eddaoudi M, Matzger AJ, Yaghi OM (2004) Nature 427:523

27.

Férey G, Mellot-Draznieks C, Serre C, Millange F, Dutour J, Surblé S, Margiolaki I (2005) Science 309:2040

28.

Park KS, Ni Z, Côté AP, Choi JY, Huang R, Uribe-Romo FJ, Chae HK, ÓKeeffe M, Yaghi OM (2006) P Natl Acad Sci USA 103:10186

29.

Lin L, Liu H, Zhang X (2018) Appl Surf Sci 433:602

30.

Fang R, Liu H, Luque R, Li Y (2015) Green Chem 17:4183

31.

Cavka JH, Jakobsen S, Olsbye U, Guillou N, Lamberti C, Bordiga S, Lillerud K (2008) J Am Chem Soc 130:13850

32.

Ramsahye NA, Gao J, Jobic H, Llewellyn PL, Yang Q, Wiersum AD, Koza MM, Guillerm V, Serre C, Zhong CL, Maurin G (2014) J Phys Chem C 118:27470

33.

Bai Y, Dou Y, Xie L, Rutledge W, Li J, Zhou H (2016) Chem Soc Rev 45:2327

34.

Chen L, Chen X, Liu H, Bai C, Li Y (2015) J Mater Chem A 3:15259

35.

Pastoriza-Santos I, Liz-Marzán LM (2009) Adv Funct Mater 19:679

36.

Wu F, Lin L, Liu H, Wang H, Qiu J, Zhang X (2017) J Membrane Sci 544:342

37.

Zheng S, Yang P, Zhang F, Chen D, Zhu W (2017) Chem Eng J 328:977

38.

Krawczyk M, Sobczak JW (2004) Appl Surf Sci 235:49

39.

Li H, Zhu Z, Zhang F, Xie S, Li H, Li P, Zhou X (2011) ACS Catal 1:1604

40.

Yin D, Ren H, Li C, Liu J, Liang C (2018) Chinese J Catal 39:319

41.

Hronec M, Fulajtárova K, Mičušík M (2013) App Catal A: Gen 468:426

42.

Yu W, Porosoff MD, Chen JG (2012) Chem Rev 112:5780

43.

Chen L, Chen H, Luque R, Li Y (2014) Chem Sci 5:3708

44.

Maheswari S, Karthikeyan S, Murugan P, Sridhar P, Pitchumani S (2012) Phys Chem Chem Phys 14:9683

45.

Hronec M, Katarina F, Liptaj T (2012) Appl Catal A: Gen 437:104
Acknowledgements
This work was supported by the National Natural Science and China National Petroleum Corporation (CNPC) Joint Foundation (No. U1662101); National Natural Science Foundation (No: 21173030).
Ethics declarations
Conflict of interest
The authors declare no conflict of interest.
Additional information
Publisher's Note
Springer Nature remains neutral with regard to jurisdictional claims in published maps and institutional affiliations.
About this article
Cite this article
Wang, Y., Liu, C. & Zhang, X. One-Step Encapsulation of Bimetallic Pd–Co Nanoparticles Within UiO-66 for Selective Conversion of Furfural to Cyclopentanone. Catal Lett (2020). https://doi.org/10.1007/s10562-020-03133-y
Received:

Accepted:

Published:
Keywords
Selective hydrogenation

Biomass conversion

Heterogeneous catalysis

Hydrothermal synthesis

Encapsulation

Nanoparticles