Efficient and Selective Oxidation of 5-Hydroxymethylfurfural into 2, 5-Diformylfuran Catalyzed by Magnetic Vanadium-Based Catalysts with Air as Oxidant
Abstract
In this study, a new kind of magnetic vanadium-based catalyst was successfully prepared and employed to produce 2, 5-diformylfuran (DFF) in the liquid phase through selective oxidation of biomass-derived 5-hydroxymethylfurfur (HMF) with air as oxidant. It was found that magnetic Fe3O4 nanoparticles supported NH4·V3O8 showed excellent catalytic performance with the achievement of 95.5% HMF conversion along with 82.9% selectivity to DFF under optimal reaction conditions. More importantly, the catalyst could be readily separated from the reaction mixture by a permanent magnet, and recycled several times without the loss of its catalytic activity.
Graphic Abstract
The NH
4
·V
3
O
8
/Fe
3
O
4
catalyst showed high activity for selective oxidation of 5-hydroxymethylfurfural into 2, 5-diformylfuran.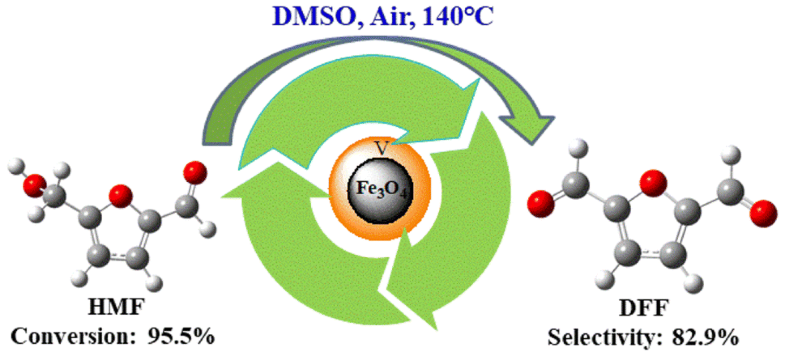 Keywords
5-Hydroxymethylfurfural 
2, 5-Diformylfuran 
Selective oxidation 
Magnetic catalyst 
Biomass transformation 
Notes
Acknowledgements
The authors gratefully acknowledge the financial support of the National Natural Science Foundation of China (Grant Nos. 21606082, 21776068), Hunan Provincial Natural Science Foundation of China (2018JJ3334), the China Postdoctoral Science Foundation (2019M662787), the Opening Fund of CAS Key Laboratory of Renewable Energy (Y807kc1001), and Hunan Provincial Innovation Foundation for Postgraduate (CX2018B295).
Copyright information
© Springer Science+Business Media, LLC, part of Springer Nature 2019