Stability of Iron-Molybdate Catalysts for Selective Oxidation of Methanol to Formaldehyde: Influence of Preparation Method
Abstract
Iron molybdate/molybdenum oxide catalysts with varying content of Mo (Mo/Fe = 1.6 and 2.0) were synthesized by a mild hydrothermal method and structurally characterized by XRD, XPS, Raman spectroscopy, SEM–EDX, BET and ICP-OES. The stability of the prepared catalysts in selective oxidation of methanol to formaldehyde was investigated by catalytic activity measurements for up to 100 h on stream in a laboratory fixed-bed reactor (5% MeOH, 10% O2 in N2, temp. = 380–407 °C). Excess MoO3 present in the catalyst volatilized under reaction conditions, which lead to an initial loss of activity. Interestingly, the structure of the excess MoO3 significantly affected the stability of the catalyst. By using low temperature hydrothermal synthesis, catalysts with the thermodynamically metastable hexagonal h-MoO3 phase was synthesized, which yielded relatively large crystals (2–10 µm), with correspondingly low surface area to volume ratio. The rate of volatilization of MoO3 from these crystals was comparatively low, which stabilized the catalysts. It was furthermore shown that heat-treatment of a spent catalyst, subject to significant depletion of MoO3, reactivated the catalyst, likely due to migration of Mo from the bulk of the iron molybdate crystals to the surface region.
Graphical Abstract
Fe
2
(MoO
4
)
3
/MoO
3
catalysts for selective oxidation of methanol were synthesized by hydrothermal synthesis forming large hexagonal-MoO
3
crystals. Significantly lower rate of catalyst deactivation due to volatilization of MoO
3
under reaction conditions was observed for the large h-MoO
3
compared to smaller crystals of thermodynamically stable α-MoO
3
.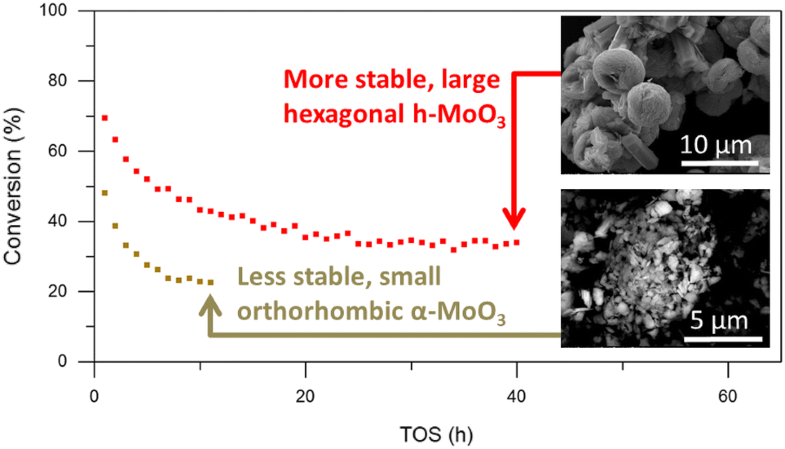 Keywords
Formox 
Formaldehyde 
Iron molybdate 
Hexagonal MoO3 
Catalyst deactivation 
Notes
Acknowledgements
This work is a collaboration between the CHEC research center at The Department of Chemical and Biochemical Engineering at Technical University of Denmark (DTU), Karlsruhe Institute of Technology (KIT) and Haldor Topsøe A/S. We thank the Independent Research Fund Denmark for the financial support (DFF—4184-00336).
Compliance with Ethical Standards
Conflict of Interest
The authors declare that they have no conflict of interest.
Copyright information
© Springer Science+Business Media, LLC, part of Springer Nature 2019