A Comparative Study on C2 Hydrocarbons and Methanol Synthesis from CO Hydrogenation Catalyzed by M1/W6S8 (M = Ir and Ca) Single-Atom Catalysts
Abstract
Exploring highly selective catalysts for CO hydrogenation reactions remains a significant challenge as a critical stage in the conversion of CO resources into chemicals or fuels. Here, we provide guidelines on this issue, exploring the generation of major production in the CO hydrogenation process of M1/W6S8 (M = Ir and Ca) single-atom catalysts, and performing density functional calculations. Calculate the reaction energy and barrier for each basic step. Calculations represent that the Ca1/W6S8 catalyst is very advantageous for methanol synthesis (CO* + 4H* → CHO* + 3H* → CH2O* + 3H* → CH3O* + H* → CH3OH*). On the other hand, the Ir1/W6S8 catalyst strongly favors the production of C2 hydrocarbons. We use the harmonic transition state theory to calculate the rate constant of the subsequent step of converting CH3O* species on M1/W6S8 (M = Ir and Ca). The results of the rate constants are consistent with our kinetic results. These results add new insights into the basic understanding of complex CO hydrogenation reactions.
Graphic Abstract
A series of reactions starting from CO on the (a) Ir
1
/W
6
S
8
, (b) Ca
1
/W
6
S
8
. The activation barriers and reaction energies of the elementary steps are all shown in kcal/mol.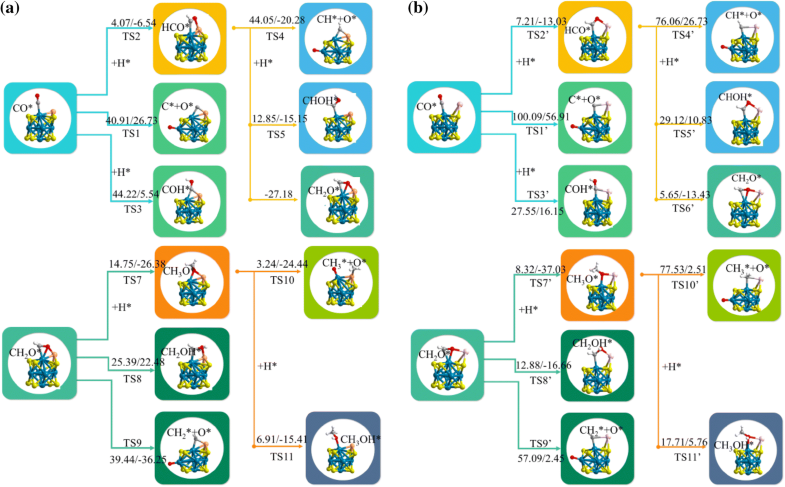 Keywords
M1/W6S8 (M = Ir and Ca) single-atom catalysts 
CO hydrogenation reactions 
Harmonic transition state theory 
Notes
Acknowledgements
This work was financially supported by the "1331" project of Shanxi Province, High School 131 Leading Talent Project of Shanxi, the Natural Science Foundation of Shanxi, and Undergraduate Training Programs for Innovation and Entrepreneurship of Shanxi Province, Graduate student innovation project of Shanxi Normal University (01053017). Shanxi Graduate Education Innovation Project (2019SY298).
Copyright information
© Springer Science+Business Media, LLC, part of Springer Nature 2019