Abstract
Cyclohexanol is an important feedstock in the chemical industry and the selective hydrodeoxygenation of lignin-derived guaiacol to cyclohexanol have gained increasing research attention in recent years. In this work, a series of nanoporous metal catalysts were employed for the hydrodeoxygenation of guaiacol and nanoporous Ni (NP-Ni) exhibited high catalytic performance for the preparation of cyclohexanol. With water as solvent, 100% conversion of guaiacol and over 90% selectivity to cyclohexanol were achieved at 180 °C and 2 MPa for 4 h. In order to further promote the stability of NP-Ni, induction melting, vacuum arc melting and mechanical alloying were separately employed for the preparation of NiAl precursor alloy. Mechanical alloying seemed to be an effective method for the alloying process and the as-prepared NP-Ni could keep almost stable after 10 times recycling. Furthermore, the reaction mechanism was investigated with NP-Ni for guaiacol hydrodeoxygenation. Scanning electron microscope (SEM), Brunauer–Emmett–Teller (BET) surface area analysis, X-ray photoelectron spectroscopy (XPS), high-resolution transmission electron micrographs (TEM), energy dispersive spectrometer (EDS) and X-ray diffraction (XRD) were employed for the characterization of NiAl alloy and the optimal preparation methods of NP-Ni were acquired according to the characterization results.
Graphic Abstract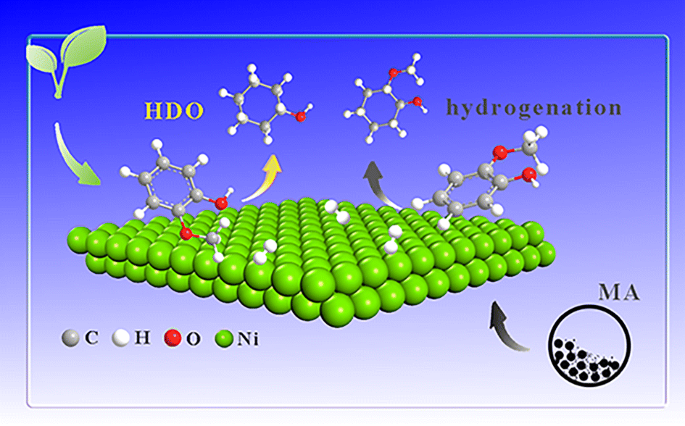 This is a preview of subscription content, log in to check access.
Access options
Buy single article
Instant access to the full article PDF.
US$ 39.95
Price includes VAT for USA
Subscribe to journal
Immediate online access to all issues from 2019. Subscription will auto renew annually.
US$ 199
This is the net price. Taxes to be calculated in checkout.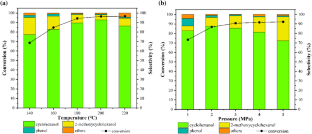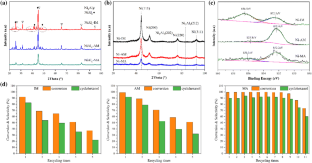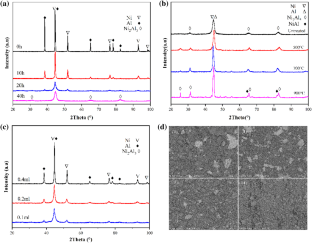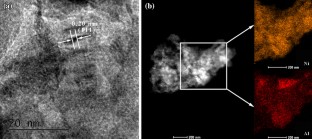 References
1.

Climent MJ, Corma A, Iborra S (2011) Chem Rev 111:1072–1133

2.

Wu S-K, Lai P-C, Lin Y-C (2014) Catal Lett 144:878–889

3.

Li C, Zhao X, Wang A, Huber GW, Zhang T (2015) Chem Rev 115:11559–11624

4.

Aqsha A, Katta L, Mahinpey N (2015) Catal Lett 145:1351–1363

5.

Palkovits R, Tajvidi K, Procelewska J, Rinaldi R, Ruppert A (2010) Green Chem 12:972–978

6.

Mao J, Zhou J, Xia Z, Wang Z, Xu Z, Xu W, Yan P, Liu K, Guo X, Zhang ZC (2016) ACS Catal 7:695–705

7.

El Hage R, Brosse N, Chrusciel L, Sanchez C, Sannigrahi P, Ragauskas A (2009) Polym Degrad Stab 94:1632–1638

8.

Buranov AU, Mazza G (2008) Ind Crop Prod 28:237–259

9.

Dongil AB, Ghampson IT, García R, Fierro JLG, Escalona N (2016) RSC Adv 6:2611–2623

10.

Ishikawa M, Tamura M, Nakagawa Y, Tomishige K (2016) Appl Catal B 182:193–203

11.

Lu M, Du H, Wei B, Zhu J, Li M, Shan Y, Shen J, Song C (2017) Ind Eng Chem Res 56:12070–12079

12.

Nimmanwudipong T, Aydin C, Lu J, Runnebaum RC, Brodwater KC, Browning ND, Block DE, Gates BC (2012) Catal Lett 142:1190–1196

13.

Qiu S, Xu Y, Weng Y, Ma L, Wang T (2016) Catalysts 6:134–148

14.

Fang H, Zheng J, Luo X, Du J, Roldan A, Leoni S, Yuan Y (2017) Appl Catal A 529:20–31

15.

Hong Y-K, Lee D-W, Eom H-J, Lee K-Y (2014) Appl Catal B 150–151:438–445

16.

Wu S-K, Lai P-C, Lin Y-C, Wan H-P, Lee H-T, Chang Y-H (2013) ACS Sustain Chem Eng 1:349–358

17.

Yang D, Wu T, Chen C, Guo W, Liu H, Han B (2017) Green Chem 19:311–318

18.

Pal N, Pramanik M, Bhaumik A, Ali M (2014) J Mol Catal A 392:299–307

19.

Yao W, Chen Y, Min L, Fang H, Yan Z, Wang H, Wang J (2006) J Mol Catal A 246:162–166

20.

Liu X, Xu L, Xu G, Jia W, Ma Y, Zhang Y (2016) ACS Catal 6:7611–7620

21.

Liu X, An W, Wang Y, Turner CH, Resasco DE (2018) Catal Sci Technol 8:2146–2158

22.

Sun J, Karim AM, Zhang H, Kovarik L, Li XS, Hensley AJ, McEwen J-S, Wang Y (2013) J Catal 306:47–57

23.

Zhao HY, Li D, Bui P, Oyama ST (2011) Appl Catal A 391:305–310

24.

Hellinger M, Carvalho HWP, Baier S, Wang D, Kleist W, Grunwaldt J-D (2015) Appl Catal A 490:181–192

25.

Zhang X, Zhang Q, Chen L, Xu Y, Wang T, Ma L (2014) Chin J Catal 35:302–309

26.

Lee CR, Yoon JS, Suh Y-W, Choi J-W, Ha J-M, Suh DJ, Park Y-K (2012) Catal Commun 17:54–58

27.

Feitosa LF, Berhault G, Laurenti D, Davies TE, da Silva VT (2016) J Catal 340:154–165

28.

Zhang X, Yan P, Zhao B, Liu K, Kung MC, Kung HH, Chen S, Zhang ZC (2019) ACS Catal 9:3551–3563

29.

Wang X, Zhu S, Wang S, He Y, Liu Y, Wang J, Fan W, Lv Y (2019) RSC Adv 9:3868–3876

30.

Vriamont CEJJ, Chen T, Romain C, Corbett P, Manageracharath P, Peet J, Conifer CM, Hallett JP, Britovsek GJP (2019) ACS Catal 9:2345–2354

31.

Shangguan J, Pfriem N, Chin Y-H (2019) J Catal 370:186–199

32.

Nakagawa Y, Ishikawa M, Tamura M, Tomishige K (2014) Green Chem 16:2197–2203

33.

Xu G-Y, Guo J-H, Qu Y-C, Zhang Y, Fu Y, Guo Q-X (2016) Green Chem 18:5510–5517

34.

Long J, Shu S, Wu Q, Yuan Z, Wang T, Xu Y, Zhang X, Zhang Q, Ma L (2015) Energy Conv Manag 105:570–577

35.

Zhou M, Ye J, Liu P, Xu J, Jiang J (2017) ACS Sustain Chem Eng 5:8824–8835

36.

Roldugina EA, Naranov ER, Maximov AL, Karakhanov EA (2018) Appl Catal A 553:24–35

37.

Fujita T, Guan P, McKenna K, Lang X, Hirata A, Zhang L, Tokunaga T, Arai S, Yamamoto Y, Tanaka N, Ishikawa Y, Asao N, Yamamoto Y, Erlebacher J, Chen M (2012) Nat Mater 11:775–780

38.

de Castro IBD, Graça I, Rodríguez-García L, Kennema M, Rinaldi R, Meemken F (2018) Catal Sci Technol 8:3107–3114

39.

Wang X, Rinaldi R (2012) Energy Environ Sci 5:8244–8260

40.

Thompson ST, Lamb HH (2018) Appl Catal A 563:105–117

41.

Han B, Bao Z, Liu T, Zhou H, Zhuang G, Zhong X, Deng S, Wang J (2017) ChemistrySelect 2:9599–9606

42.

Escalona N, Aranzaez W, Leiva K, Martínez N, Pecchi G (2014) Appl Catal A 481:1–10

43.

Sulman A, Mäki-Arvela P, Bomont L, Alda-Onggar M, Fedorov V, Russo V, Eränen K, Peurla M, Akhmetzyanova U, Skuhrovcová L, Tišler Z, Grénman H, Wärnå J, Murzin DY (2019) Catal Lett 149:2453–2467
Acknowledgements
This work was financially supported by the Fundamental Research Funds for the Central Universities (DUT19LK29).
Ethics declarations
Conflict of interest
The authors declare that they have no conflict of interest.
Additional information
Publisher's Note
Springer Nature remains neutral with regard to jurisdictional claims in published maps and institutional affiliations.
Electronic supplementary material
Below is the link to the electronic supplementary material.
About this article
Cite this article
Lu, J., Liu, X., Yu, G. et al. Selective Hydrodeoxygenation of Guaiacol to Cyclohexanol Catalyzed by Nanoporous Nickel. Catal Lett 150, 837–848 (2020). https://doi.org/10.1007/s10562-019-02967-5
Received:

Accepted:

Published:

Issue Date:
Keywords
Guaiacol

Cyclohexanol

Hydrodeoxygenation

Nanoporous nickel

Mechanical alloying