Synthesis of Sm2MoO6/Ni(OH)2 by Simple Impregnation Method: Photocatalyst for Non-precious Metal and Efficient Hydrogen Production
Abstract
Sm2MoO6/Ni(OH)2 was successfully immersed in water first, and the sensitizer is Eosin Y and the sacrificial agent is triethanolamine agent for high-efficiency photocatalytic production of H2. When Sm2MoO6 was loaded onto the surface of Ni(OH)2, the photocatalytic activity (2407.48 μmol g−1 h−1) was 2.6 times that of Ni(OH)2 (925.36 μmol g−1 h−1), which was Sm2MoO6 (169.36 μmol g−1 h−1) is 14.2 times. From a series of characterizations, Sm2MoO6 is an effective cocatalyst to improve the separation of photo-generated charges and the efficiency of electron transfer. Large specific surface areas are a primary requirement for high efficiency catalysts, and the catalyst is sufficiently into contact with the sensitizer and the sacrificial agent to soar the photocatalytic activity.
Graphic Abstract
The first condition for an excellent catalyst is that it has a large specific surface area and can provide more active sites. In the dye sensitization system, the photocatalytic activity of Sm
2
MoO
6
/Ni(OH)
2
is 2.6 times that of Ni(OH)
2
and 14.2 times that of Sm
2
MoO
6
. Sm
2
MoO
6
is an effective co-catalyst.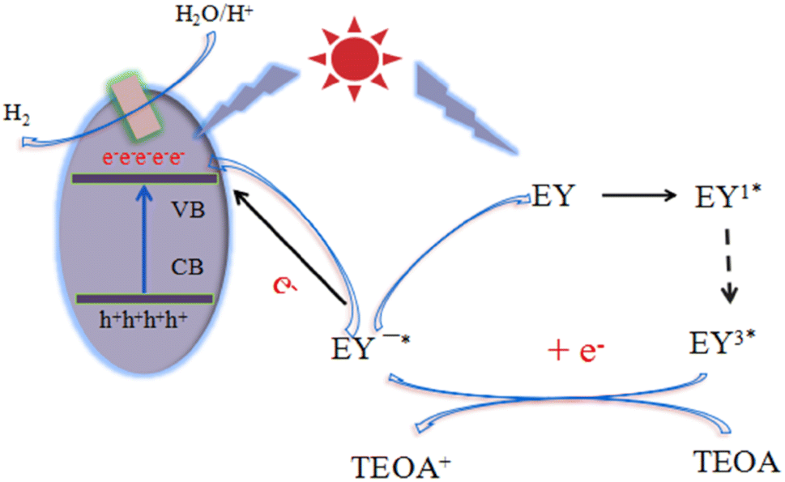 Keywords
Sm2MoO6 
Photocatalytic 
Rare earth 
Notes
Acknowledgements
This work was supported by the Natural Science Foundation of Ningxia Province (NZ17262).
Compliance with Ethical Standards
Conflict of interest
There are no conflicts to declare.
Copyright information
© Springer Science+Business Media, LLC, part of Springer Nature 2019