Chirally-Modified Graphite Oxide as Chirality Inducing Support for Asymmetric Epoxidation of Olefins with Grafted Manganese Porphyrin
Abstract
A chirality inducer was prepared by graphite oxide (GO) functionalization with enantiopure l-tartrate (GO*) and used as asymmetric support for a covalently-linked manganese porphyrine complex [Mn(TPyP)OAc]. The thereby obtained heterogeneous catalyst, GO*-[Mn(TPyP)OAc], showed excellent performance and ee-values of 92–99% for the asymmetric epoxidation of prochiral olefins with O2 as oxidant and isobutyraldehyde as co-reductant in acetonitrile; linear terminal olefins with 54–76% conversion and quantitative conversion of aromatic olefins. The GO*-[Mn(TPyP)OAc] catalyst is highly active, recyclable, and at the same time simple and inexpensive to prepare with a chiral inducer from the chiral pool. The structure of the catalyst was elucidated by scanning electron microscopy (SEM), transmission electron microscopy (TEM), BET analysis, FT-IR, Raman, and photoluminescence spectroscopic methods.
Graphic Abstract
Graphite oxide functionalized with an enantiopure group was used as a chirality inducer and asymmetric support for a Mn-porphyrine complex. The thereby obtained heterogeneous catalyst is an excellent enantioselective catalyst for the epoxidation of prochiral olefins.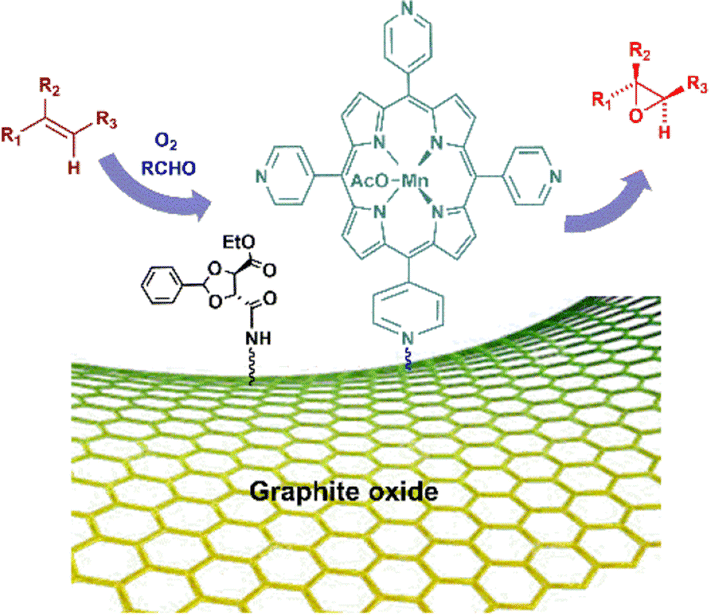 Keywords
Chiral epoxidation 
Oxygen 
Manganese porphyrin 
Graphite oxide 
Heterogeneous catalysis 
Notes
Acknowledgements
The University of Zanjan is acknowledged for financial support. We thank the Center for Advanced Imaging (CAi) and Sophia Köhler of the Institut für Kolloide und Nanooptik of the Heinrich-Heine-Universität Düsseldorf for their support in obtaining the TEM images.
Copyright information
© Springer Science+Business Media, LLC, part of Springer Nature 2019