RGO Boosts Band Gap Regulates for Constructing Ni2P/RGO/MoO2 Z-Scheme Heterojunction to Achieve High Efficiency Photocatalytic H2 Evolution
Abstract
A Z-scheme heterojunction composite material Ni2P/RGO/MoO2 with high efficiency HER activity via a simple hydrothermal synthesis method which is one-step for photocatalytic H2 production was synthesized. The composite material which used reduced graphene oxide (RGO) as an electron transport medium and utilized a synergistic action of non-noble metal semiconductors Ni2P and MoO2 to construct Z-scheme heterojunction. Compared with the binary Ni2P/MoO2 composite photocatalyst, the photocatalytic hydrogen evolution activity of RGO assisted ternary composite Ni2P/RGO/MoO2 is significantly improved under visible light (λ > 420 nm) in the dye sensitization system in 5 h. The photocatalyst with optimal ratio reaches 355.34 μmol, which is about two times as much as the one without RGO. The transient photocurrent response, fluorescence test and hydroxyl radical capture experiment show that the type-II heterojunction originally composed of Ni2P and MoO2 is converted to Z-scheme in the presence of RGO. The transformation of the electron transfer mode effectively reduces the composite of photogenerated carriers. In addition, in situ hydrothermal synthesis allows Ni2P and MoO2 to be firmly modified on the RGO surface. This makes the composite photocatalyst exhibit great catalytic stability, and the HER activity of the photocatalyst hardly decrease in the four-cycle experiment. Through the one-step hydrothermal method, RGO assisted non-precious metal semiconductor composite provides a new idea for the synthesis of photocatalytic materials.
Graphic Abstract
The composite catalyst via the band gap regulation of MoO
2
by Ni
2
P exhibits great hydrogen production activity in the dye-sensitized system. Subsequently, the GO solution was added during the synthesis to construct a Z-scheme heterojunction with graphene as an electron transporter. The ternary composite catalyst with a Z-scheme heterojunction shows approximately twice the hydrogen production rate of the binary catalyst.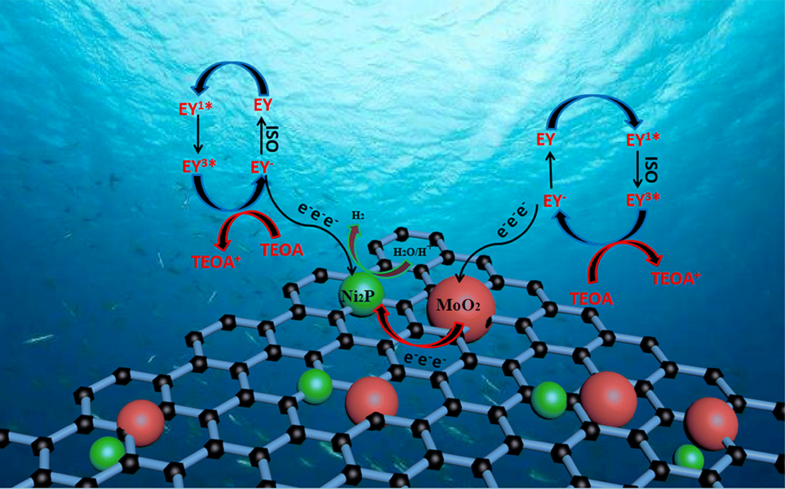 Keywords
Ni2P/RGO/MoO2 
Heterostructure 
Z-scheme 
Photocatalytic hydrogen evolution 
Notes
Acknowledgements
This work was supported by Natural Science Foundation of Ningxia Province (NZ17262) and Foundation of Key Laboratory of Electrochemical Energy Conversion Technology and Application at North Minzu University (2018KLEA02).
Copyright information
© Springer Science+Business Media, LLC, part of Springer Nature 2019