A Bimetallic Pure Inorganic Framework for Highly Efficient and Selective Photocatalytic Oxidation of Cyclohexene to 2-Cyclohexen-1-ol
Abstract
The highly efficient and selective photocatalytic oxidation of cyclohexene with molecular oxygen under mild conditions is an important objective in chemical synthesis. In this work, a pure inorganic framework CoMo was self-assembly prepared under solvothermal conditions by incorporating simple MoO42−, cobalt (II) ion. The catalyst CoMo was well characterized by infrared spectroscopy (FTIR), nitrogen adsorption–desorption, powder X-ray diffraction (XRD), scanning electron spectroscopy (SEM), and X-ray photoelectron spectroscopy (XPS) methods. It displayed high efficiency and selectivity in the photocatalytic oxidation of cyclohexene to 2-cyclohexen-1-ol in O2 atmosphere. The influence of solvents, oxidants, pressure of oxygen, reaction temperature, light source and time on the reaction was investigated. More interestingly, the selectivity of the reaction in 4-ethyltoluene was much higher than that in other solvents.
Graphic Abstract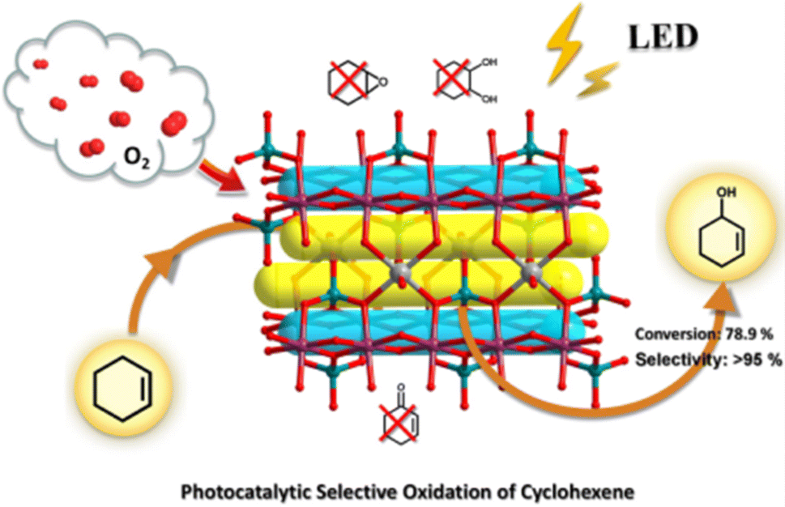 Keywords
Inorganic framework 
Cyclohexene 
Photocatalysis 
Selective oxidation 
Notes
Acknowledgements
This work was supported by the National Natural Science Foundation of China (No. 21601048), the China Postdoctoral Science Foundation (2015M580626), the Natural Science Foundation Project of Henan province (162300410012).
Compliance with Ethical Standards
Conflict of interest
The authors declare no conflict of interest.
Copyright information
© Springer Science+Business Media, LLC, part of Springer Nature 2019