Heterogeneous Enantioselective Hydrogenation of Aromatic Ketones Catalyzed by Rh Nanoparticles Immobilized in Ionic Liquid
Abstract
Rhodium nanoparticles (Rh NPs) stabilized by natural cinchona alkaloids were synthesized in imidazolium-based ionic liquids using H2 as the reductant. Characterization showed well-dispersed Rh NPs of about 1.96 nm (TEM and HRTEM) and confirmed the ionic liquid and cinchona alkaloid stabilization to the Rh(0) NPs (XPS). When modified by chiral diamine, including (1R,2R)-diphenylethylenediamine ((1R,2R)-DPEN) or cinchona alkaloid derivatives, the Rh NPs catalysts exhibited good activity, chemoselectivity and enantioselectivity in the heterogeneous enantioselective hydrogenation of aromatic ketones. Synergistic effect between (1R,2R)-DPEN and cinchonidine was also observed, which significantly accelerated the reaction rate and enhanced the enantioselectivity. 63.0% enantioselectivity and 98.9% chemoselectivity could be achieved in the acetophenone enantioselective hydrogenation; up to 70.2% enantioselectivity and 100% chemoselectivity was obtained in the isobutyrylbenzene catalytic enantioselective hydrogenation. Catalytic system could be reused several times without significant loss in activity, chemoselectivity as well as enantioselectivity. This catalytic protocol opens the door to heterogeneous enantioselective hydrogenation of aromatic ketones with metal Rh NPs immobilized in ionic liquid.
Graphical Abstract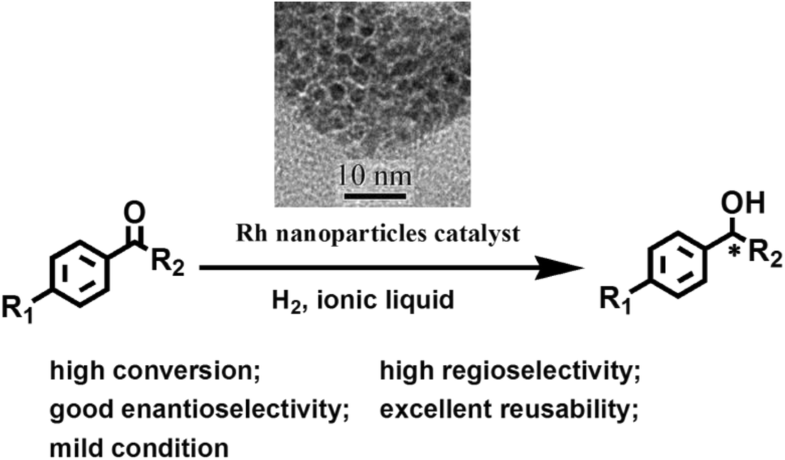 Keywords
Aromatic ketone 
Cinchona alkaloid 
Heterogeneous enantioselective hydrogenation 
Ionic liquid 
Nanoparticle 
Notes
Acknowledgements
This work was financially supported by Natural Science Foundation Project of CQ (No. cstc2018jcyjAX0735), National Natural Science Foundation of China (No. 21201184), Chongqing Technology and Business University (1751039) and Chongqing Key Laboratory of Catalysis and New Environmental Materials (1456028, KFJJ2018050).
Copyright information
© Springer Science+Business Media, LLC, part of Springer Nature 2019