Design and Preparation of Hallow Mesoporous Silica Spheres Include CuO and Its Catalytic Performance for Synthesis of 1,2,3-Triazole Compounds via the Click Reaction in Water
Abstract
Here, a novel nanostructured catalyst based on CuO included hallow mesoporous silica spheres (CuO–HMSS) was prepared for synthesis of 1,2,3-triazole compounds. The hallow silica spheres were synthesized via the hydrothermal procedure. The characterization of prepared catalyst was also performed applying several analysis techniques such as TEM and SEM, EDX, XRD, and ICP.
Graphical Abstract
CuO active sites in a hollow mesoporous silica shell are stably and efficiently attainable for conversion of precursors to triazole compounds.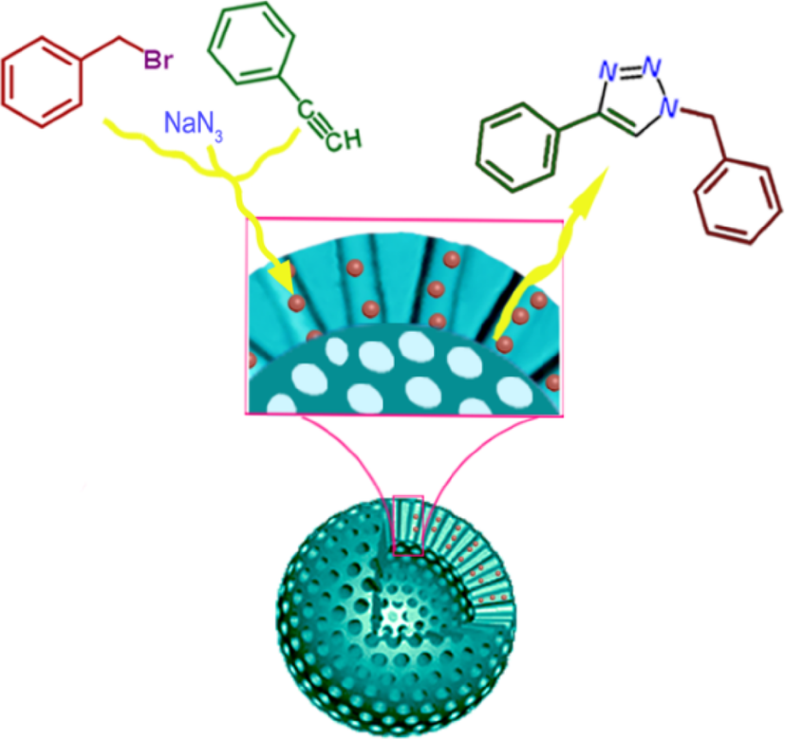 Keywords
Micro/nano structure hollow sphere 
Mesoporous silica 
Click reaction 
Notes
Acknowledgements
We gratefully acknowledge the support of this work by the Shiraz University of Technology and Ferdowsi University of Mashhad Research Council (Grant No: 3/39578).
Compliance with Ethical Standards
Conflict of interest
The author declares that there is no conflict of interests regarding the publication of this paper.
Copyright information
© Springer Science+Business Media, LLC, part of Springer Nature 2019