High-Density Lipoprotein Function and Dysfunction in Health and Disease
Abstract
High-density lipoprotein cholesterol (HDL-c) has long been referred to as 'good cholesterol' due to its apparent inverse relationship with future CVD risk. More recent research has questioned a causal role for HDL-c in this relationship, however, as both genetic studies and numerous large-scale randomised controlled trials have found no evidence of a cardiovascular protective effect when HDL-c levels are raised. Instead, focus has switched to the functional properties of the HDL particle. Evidence suggests that both the composition and function of HDL may be significantly altered in the context of an inflammatory milieu, transforming the particle from a vasoprotective anti-atherogenic particle to a noxious pro-atherogenic equivalent. This review will summarise evidence relating HDL to CVD risk, explore recent evidence characterising changes in the composition and function of HDL that may occur in chronic inflammatory diseases, and discuss the potential for future HDL-modifying therapeutic interventions.
Keywords
HDL dysfunction 
Inflammation 
Atherosclerosis 
Cardiovascular disease 
Abbreviations
A1AT

Alpha-1-antitrypsin

ABCA1

ATP binding cassette transporter A1

ABCG1

ATP binding cassette transporter G1

AGE

Advanced glycation end products

ApoA-I

Apolipoprotein A1

ApoA-II

Apolipoprotein A2

ApoC-III

Apolipoprotein C3

C3

Complement component 3

CETP

Cholesterol ester transfer protein

CHD

Coronary heart disease

cIMT

Carotid intima-media thickness

CKD

Chronic kidney disease

CRP

C-reactive protein

CVD

Cardiovascular disease

cIMT

Carotid intima-media thickness

CVD

Cardiovascular disease

eNOS

Endothelial nitric oxide synthase

GWAS

Genome-wide association study

HbA1c

Glycated haemoglobin

HDL

High-density lipoprotein

HDL-c

High-density lipoprotein cholesterol

ICAM-1

Intercellular adhesion molecule 1

LBP

Lipopolysaccharide binding protein

LDL

Low-density lipoprotein

LCAT

Lecithin-cholesterol acyltransferase

LOX-1

Lectin-like oxidised LDL receptor 1

Lp-PLA2

Lipoprotein-associated phospholipid A2

LSF

Lysosulfatide

MAPK

Mitogen-activated protein kinase

MCP-1

Monocyte chemoattract protein 1

MDA

Malondialdehyde

MPO

Myeloperoxidase

NADPH

Nicotinamide adenine dinucleotide phosphate

NO

Nitric oxide

oxLDL

Oxidised LDL

PI3K

Phosphatidylinositol 3-kinase

PLTP

Phospholipid transfer protein

PON-1

Paraoxonase 1

RCT

Reverse cholesterol transport

RNA

Ribonucleic acid

ROS

Reactive oxygen species

S1P

Sphingosine-1-phosphate

S1P3

Sphingosine-1-phosphate receptor 3

SAA

Serum amyloid A

SDMA

Symmetric dimethylarginine

SPC

Sphingosylphosphorylcholine

SR-BI

Scavenger receptor class B type I

SO

Superoxide

T2D

Type 2 diabetes

TLR2

Toll-like receptor 2

TNFα

Tumour necrosis factor alpha

VCAM-1

Vascular cellular adhesion molecule 1

VLDL

Very low density lipoprotein
Introduction
High-density lipoproteins (HDL) participate in the transfer of excess cholesterol from peripheral sites to the liver, and the cholesterol carried within these lipoproteins (HDL-c) is therefore often referred to as 'good cholesterol'. Over the past half-century, HDL-c has repeatedly been shown to be inversely associated with risk of future cardiovascular events, and has therefore become one of the most well-known and widely studied risk factors for cardiovascular disease (CVD). Recent research, however, has called the causal nature of this relationship into question, with genetic studies finding little evidence of an association between elevated HDL-c levels and reduced CVD risk [1, 2], and a series of major clinical trials failing to demonstrate any clinical benefit when HDL-c levels were pharmacologically raised [3, 4, 5, 6, 7]. Recent insights into the complex structural and functional properties of HDL particles—and their vulnerability to modification when exposed to a range of CV risk factors, particularly inflammation—have shed light on the potential reasons for these negative findings, and have posed the question as to whether focusing on the 'quality' rather than quantity of HDL may be a more relevant target for drug development. This review will summarise previous research attempting to reduce CVD risk through the modification of HDL-c levels, explore recent evidence characterising changes in the composition and function of HDL that may occur in chronic inflammatory diseases, and discuss the potential for future HDL-modifying therapeutic interventions.
HDL-C and Cardiovascular Risk: When Correlation Does Not Equal Causation
The concept of HDL-c as a beneficial lipid was first proposed in the Framingham Heart Study in the latter half of the twentieth century, where low levels of HDL-c were found to be an independent risk factor for future incidence of coronary heart disease (CHD) in 2815 men and women over 12 years of follow-up [8, 9]. The replication of these findings in further large-scale cohorts suggested a protective role for HDL-c in the atherosclerotic process [10, 11], leading to the adoption of HDL-c's well-known description as a form of"good cholesterol". Despite robust relationships in epidemiological studies, however, the observational nature of these findings long meant that the question of whether HDL-c played a direct role in the disease process—or was simply a biomarker of other underlying complications—remained uncertain.
Disappointingly, a number of findings from genetic studies and numerous large-scale randomised clinical trials in the last 10–15 years have suggested the latter. Firstly, the development of genome-wide association studies (GWAS) and Mendelian Randomization studies in the early 2000s allowed the causal nature of this relationship to be investigated for the first time using HDL-raising genetic variants in large observational studies as proxy measures for cumulative HDL-c exposure. Findings from two separate Mendelian Randomization studies containing over 165,000 participants found no association between genetically determined HDL-c and risk of myocardial infarction, despite traditional observational relationships from the same cohorts displaying the expected inverse relationship with plasma levels of HDL-c [1, 2]. These findings challenged the concept that elevating HDL-c would translate into clinical benefit, and these concerns were later confirmed by negative findings from numerous randomised clinical trials investigating a number of different HDL-raising drugs. Perhaps the most well-known of these failures was that of the ILLUMINATE trial, a randomised clinical trial investigating the use of torcetrapib in>15,000 individuals at high risk of CVD, and the first major trial involving a recently developed class of drugs known as cholesterol ester transfer protein (CETP)-inhibitors. As the name suggests, this drug class—which included the agents torcetrapib, dalcetrapib, evacetrapib, anacetrapib, and obicetrapib—was designed to block CETP; the enzyme responsible for transferring cholesterol esters away from HDL and on to VLDL/LDL. Despite raising HDL-c levels by over 70%, ILLUMINATE was forced to terminate prematurely due to an increased risk of CV events and mortality in patients taking the drug, most likely due to off-target effects on aldosterone production and blood pressure [3]. The development of different forms of this drug that lacked these off-target effects maintained hope for CETP-inhibitors as a therapeutic target, but results from later trials proved once again disappointing, with both the dal-OUTCOMES (dalcetrapib) and ACCELERATE (evacetrapib) trials showing no benefit of treatment despite significant increases in HDL-c [4, 5]. Although a rare positive outcome was reported for anacetrapib—the final CETP-inhibitor to be tested in the recent HPS3/TIMI55-REVEAL trial—this was concluded to have likely resulted from a further lowering of LDL-c rather than the observed elevation in HDL-c [12]. Alongside CETP-inhibitors, the early 2000s also saw the design and completion of a number of trials investigating extended release niacin, an agent shown to consistently elevate HDL-c via numerous distinct pathways—including (but not limited to) an upregulation of ApoA-I production, a reduction in CETP activity, and a reduction in hepatic uptake of HDL [13]. In the first of these studies (AIM-HIGH), the addition of niacin to statin treatment in >3400 patients showed no evidence of clinical benefit, leading the trial to be terminated early due to lack of efficacy [6], whereas in the later HPS2-THRIVE trial, extended release niacin not only had no clinical benefit, but was in fact found to increase risk of serious adverse events [7]. Taken together, findings from these trials appear to have ended the concept that elevated levels of HDL-c act as a protective factor against atherosclerotic disease, and efforts to reduce CVD risk through pharmacological manipulation of HDL-c are therefore no longer being pursued.
HDL Function and Cardiovascular Risk: a Shift of Focus from 'Quantity' to 'Quality'
Given the wide range of anti-atherogenic properties attributed to the HDL particle in decades of animal research and preclinical studies, the discovery that HDL-c lacked a causal role in CVD risk was initially unexpected. However, the majority of functional properties exerted by HDL are not dependent on the cholesterol content of the particle per se, but rather on numerous other structural components contained within the complex and highly heterogenous HDL particle. Therefore, with the end of the HDL-c hypothesis in the early 2000s came the start of the HDL function hypothesis—characterised by a focus on the functional capacity of HDL particles, rather than their absolute cholesterol levels alone.
In the basal state, HDL's functional properties are predominantly anti-atherogenic; the most well-studied of which is its ability to facilitate the removal of excess cholesterol from atherosclerotic plaques in a process known as reverse cholesterol transport (RCT). In addition to RCT, however, HDL has also been shown to have multiple other vascular effects which may be expected to provide additional protection; such as an ability to increase endothelial nitric oxide (NO) bioavailability, a capacity to reduce oxidative stress and inflammation, and an ability to reduce the expression of endothelial adhesion markers and transendothelial monocyte migration [
14
]. More recent evidence, however, has highlighted the presence of numerous structural and functional changes in the HDL particle that may result in its transformation from an anti-atherogenic vasoprotective particle to a pro-inflammatory noxious equivalent (Fig. 
1
). These alterations are most commonly observed in the presence of systemic inflammation, and suggest an evolutionary role for HDL in the innate immune response, where the greatest threat to human longevity has long come from viral or bacterial infections [
15
]. With long-term chronic inflammatory conditions such as CHD or type 2 diabetes (T2D) now prevalent in the population, however, the possibility exists that this previously 'protective' response may now paradoxically accelerate vascular damage and increase the risk of mortality via atherosclerotic complications.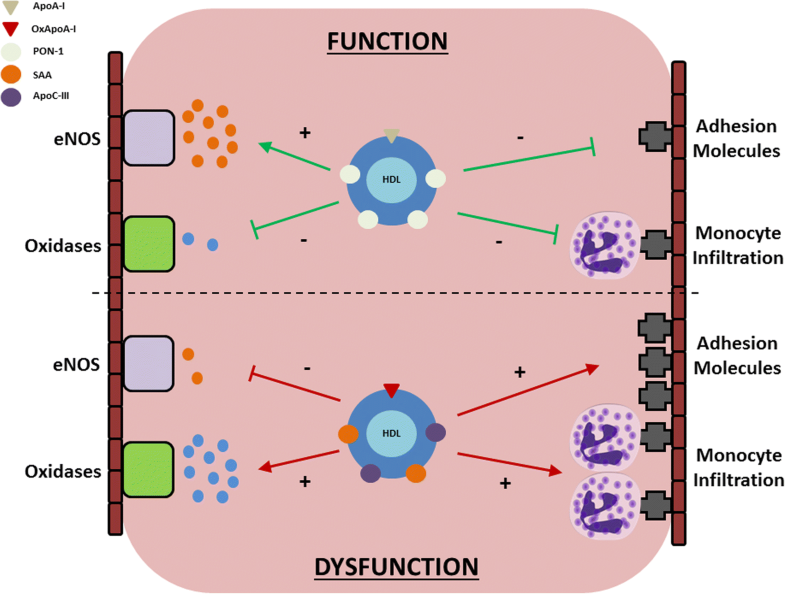 The remainder of this review will therefore seek to address this topic, beginning with (1) evidence surrounding the anti-atherogenic role for HDL, (2) changes in its structure and function that may accompany chronic inflammation, (3) the implications these changes have for CVD risk in different clinical populations and (4) what this may mean for HDL as a risk marker or therapeutic target.
HDL Structure and Function in Healthy Individuals: an Anti-atherogenic Particle Exerting Multiple Vasoprotective Effects
HDL Structure and Dysfunction in Chronic Inflammation: When "Good Cholesterol" Turns Bad
HDL Function in Clinical Populations: Implications for CVD Risk
Where Next for HDL as a Therapeutic Target?
Given recent advances in our understanding of HDL's myriad functions, a limited number of population studies in recent years have attempted to link individual markers of HDL function, rather than HDL-c levels, to future risk of CVD. The largest and most rigorous of these have used cholesterol efflux capacity as the functional measure of interest, and have found increased efflux to be associated with a reduced risk for CVD in some [102, 103, 104], but not all [23], of these studies. In the largest of these to date, cholesterol efflux capacity was found to be inversely related to incidence of major CV events in nearly 3000 adults free from CVD at baseline and followed-up for over 9 years as part of the Dallas Heart Study (hazard ratio 0.33 [0.19–0.55] for top quartile of efflux compared to bottom) [102]. Interestingly, while HDL-c levels were found to be inversely associated with well-established CV risk factors such as obesity or insulin resistance, cholesterol efflux capacity was not, suggesting that changes in RCT may occur through distinct mechanisms to those affecting overall HDL-c levels. These findings were supported in a more recent nested case-control analysis in 3500 middle-aged to elderly individuals participating in the EPIC-Norfolk study, where increased cholesterol efflux was once again associated with a substantially reduced risk of incident CV events (fully adjusted odds ratio per SD increase in efflux capacity=0.80 [0.70–0.90] for those in the top tertile of cholesterol efflux capacity compared to those in the bottom) [103].
Alongside hard clinical endpoints, further encouraging findings relating changes in function to surrogate measures of CVD risk have also been reported in a number of other studies. Using carotid intima-media thickness (cIMT) and angiographically confirmed presence of CHD as surrogate markers of atherosclerotic disease progression, Khera and colleagues showed a substantially decreased presence of coronary disease in individuals within the top quartile for cholesterol efflux (OR=0.74 [0.61–0.89]) [105]. In children with CKD, Shroff et al. reported an inverse relationship between HDL-mediated NO bioavailability and multiple surrogate markers of arterial health, including cIMT and pulse-wave velocity (a measure of arterial stiffness) [43]. Likewise, in a case-control study of women with and without the autoimmune condition primary antiphospholipid syndrome, these same surrogate measures were found to be inversely related to PON-1 activity, and were accompanied by additional detrimental changes in HDL functionality such as decreased NO bioavailability and increased SO production [69]. These results suggest that interventions to modify HDL function, rather than simply increasing HDL-c levels—may still hold therapeutic potential for reducing atherosclerotic risk.
Efforts to translate these into clinical benefits in randomised trials, however, have once again proven to be challenging. For example, although 3 months of niacin therapy in patients with T2D was shown to significantly improve both HDL-c levels and numerous measures of HDL function [44], the use of this same drug in individuals at high risk for CVD displayed no clinical benefit in either the AIM-HIGH and HPS2-THRIVE trials [6, 7]. Similar issues were encountered in studies assessing the efficacy of recombinant ApoA-I infusions as a therapeutic target, which have been proposed to reduce atherosclerotic risk via their promotion of ABCA1-mediated reverse cholesterol transport. While findings from both animal studies [106] and a small-scale clinical trial in humans [107] suggested evidence of atherosclerotic plaque regression, the recent publication of two large-scale randomised controlled trials utilising both the wild-type and mutated versions of ApoA-I (the latter termed ApoA-I Milano and considered to be particularly beneficial) have once again found no clinical benefit, despite increases in cholesterol efflux capacity of up to 90% [108, 109].
It is clear that if modification of HDL function is to be pursued as a therapeutic target, further experimental studies are required to identify the most relevant pathways for intervention, and genetic studies are required to provide a causal link between these pathways and CVD. Once appropriate pathways are identified, standardisation of high-throughput functional assays for use in routine clinical practice will also be essential, as this will permit relationships between HDL function and CVD risk to be tested in large-scale cohorts and trials, and will allow comparisons of results between studies. Of note, all major studies investigating cholesterol efflux to-date have used different techniques to quantify efflux capacity, an observation which may potentially explain discrepancies in findings reported so far. Most importantly though, lessons must be learned from previous failings involving HDL-c, where the presence of observational correlations were long-considered to represent a causal relationship between HDL levels and CVD risk. Despite some promising results relating a number of markers of HDL function to future risk of disease, successful completion of large-scale randomised clinical trials altering specific functional properties of HDL are needed to support the use of HDL function as a therapeutic target.
Conclusions
Despite HDL-c's well-established inverse relationship with CVD risk, it does not play a causal role in CVD risk reduction, and is therefore an unsuitable target for therapeutic intervention. While our understanding of the mechanisms underlying HDL function and dysfunction have been significantly enhanced in recent years, the wide range of different functions elicited by HDL, their vulnerability to modification by external inflammatory responses, and a lack of standardised assays for the measurement in routine clinical practice makes the translation of these findings challenging. While research is continuing to tease out the complexities of this highly heterogenous particle, potential diagnostic and therapeutic strategies involving the modification of HDL remain elusive.
Notes
Compliance with Ethical Standards
This article does not contain any studies with human participants or animals performed by any of the authors.
Conflict of Interest
The authors declare that they have no conflicts of interest.
Copyright information
© The Author(s) 2019
Open Access This article is distributed under the terms of the Creative Commons Attribution 4.0 International License (http://creativecommons.org/licenses/by/4.0/), which permits unrestricted use, distribution, and reproduction in any medium, provided you give appropriate credit to the original author(s) and the source, provide a link to the Creative Commons license, and indicate if changes were made.