Abstract
New-onset left bundle branch block (LBBB) is a frequent complication after transcatheter aortic valve replacement (TAVR) and provides an opportunity to study dyssynchrony immediately following acute LBBB. This study aims to (1) assess echocardiographic dyssynchrony in acute TAVR-induced LBBB (TAVR-LBBB), and (2) compare dyssynchrony parameters among different patient groups with LBBB. The study enrolled all TAVR-LBBB patients at Ghent University Hospital between 2013 and 2019. First, acute TAVR-LBBB dyssynchrony was assessed by: (1) septal flash (SF); (2) interventricular mechanical delay (IVMD; cut-off ≥ 40 ms) and (3) presence of 'classical dyssynchronous strain pattern' assessed with speckle tracking. Secondly, acute TAVR-LBBB patients with SF (LBBBTAVR+SF) were compared to randomly selected LBBB-SF patients with preserved (LBBBSF+PEF) ànd reduced ejection fraction (LBBBSF+REF). In TAVR-LBBB patients (n = 25), SF was detected in 72% of patients, whereas only 5% of TAVR-LBBB patients showed a classical dyssynchronous strain pattern. IVMD in these TAVR-LBBB patients was 39 ms. In 90% of LBBBTAVR+SF patients, SF was observed within 24 h after LBBB onset. Among LBBB-SF patients, a classical strain pattern was more prevalent in LBBBSF+REF patients compared to LBBBTAVR+SF patients (80% vs. 7%; p < 0.001). IVMD was significantly longer in LBBBSF+PEF patients (52 ms; p = 0.002) and LBBBSF+REF patients (57 ms; p = 0.009) compared to LBBBTAVR+SF patients (37 ms). SF is an early and prevalent marker of LV dyssynchrony in acute TAVR-LBBB, whereas strain-based measures and IVMD do not appear to capture dyssynchrony at this early stage. Our findings from the comparative analysis generate the hypothesis that progressive LBBB-induced LV remodeling may be required for a 'classical dyssynchrony strain pattern' or significant IVMD to occur in TAVR-LBBB patients.
This is a preview of subscription content, log in to check access.
Access options
Buy single article
Instant access to the full article PDF.
US$ 39.95
Price includes VAT for USA
Subscribe to journal
Immediate online access to all issues from 2019. Subscription will auto renew annually.
US$ 99
This is the net price. Taxes to be calculated in checkout.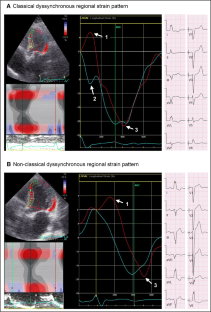 Ethics declarations
Conflict of interest
The authors have no conflicts of interest to declare.
Additional information
Publisher's Note
Springer Nature remains neutral with regard to jurisdictional claims in published maps and institutional affiliations.
Electronic supplementary material
Below is the link to the electronic supplementary material.
About this article
Cite this article
Calle, S., Coeman, M., Desmet, K. et al. Septal flash is a prevalent and early dyssynchrony marker in transcatheter aortic valve replacement-induced left bundle branch block. Int J Cardiovasc Imaging (2020). https://doi.org/10.1007/s10554-020-01791-y
Received:

Accepted:

Published:
Keywords
Left bundle branch block

Transcatheter aortic valve replacement

Dyssynchrony

Septal flash