Abstract
The incidence of heart failure (HF) increases in patients with chronic kidney disease (CKD). Factors that could predict patients with CKD who are at high risk for developing HF should be identified. We analysed clinical parameters and stress/rest myocardial perfusion imaging (MPI) findings derived from 499 patients with CKD by the Japanese Assessment of Cardiac Events and Survival Study by Quantitative Gated SPECT 3 (J-ACCESS 3) to clarify predictors of new-onset HF. Forty-one patients with congestive HF in the J-ACCESS 3 database were followed up for three years. Multivariable Cox hazards models selected haemoglobin (hazard ratio [HR] 0.809; 95% confidence interval [CI] 0.679–0.964), summed stress score (HR 1.082; 95% CI 1.016–1.151) and left ventricular ejection fraction (HR 0.970; 95% CI 0.949–0.992) as independent predictors of new-onset HF. Haemoglobin combined with summed stress scores and ejection fraction had the greatest incremental prognostic value over any one or more combined factors (global χ2, 29.9). Anaemia, stress-induced myocardial ischaemia, and left ventricular contraction are independent predictors of risk of new-onset HF in patients with CKD. Stress/rest MPI provides additional information with which to identify patients with CKD at greater risk of new-onset HF.
This is a preview of subscription content, log in to check access.
Access options
Buy single article
Instant access to the full article PDF.
US$ 39.95
Price includes VAT for USA
Subscribe to journal
Immediate online access to all issues from 2019. Subscription will auto renew annually.
US$ 99
This is the net price. Taxes to be calculated in checkout.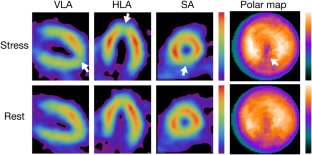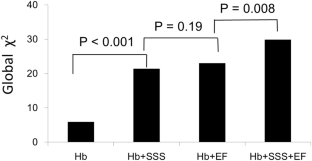 Abbreviations
CAD:

Coronary artery disease

CKD:

Chronic kidney disease

EF:

Ejection fraction

eGFR:

Estimated glomerular filtration rate

HF:

Heart failure

MI:

Myocardial infarction

MPI:

Myocardial perfusion imaging

SPECT:

Single photon emission computerized tomography

SSS:

Summed stress score
References
1.

Nakamura S, Kawano Y, Nakajima K et al (2017) Prognostic study of cardiac events in Japanese patients with chronic kidney disease using ECG-gated myocardial Perfusion imaging: Final 3-year report of the J-ACCESS 3 study. J Nucl Cardiol. https://doi.org/10.1007/s12350-017-0880-5

2.

Mok Y, Ballew SH, Matsushita K (2018) Prognostic value of chronic kidney disease measures in patients with cardiac disease. Circ J 81:1075–1084. https://doi.org/10.1253/circj.CJ-17-0550

3.

Nanasato M, Ando A, Isobe S et al (2001) Evaluation of left ventricular function using electrocardiographically gated myocardial SPECT with (123)I-labeled fatty acid analog. J Nucl Med 42:1747–1756

4.

Kasama S, Toyama T, Sato M et al (2016) Prognostic value of myocardial perfusion single photon emission computed tomography for major adverse cardiac cerebrovascular and renal events in patients with chronic kidney disease: results from first year of follow-up of the Gunma-CKD SPECT multicenter study. Eur J Nucl Med Mol Imaging 43:302–311

5.

Nakamura S, Kawano Y, Hase H et al (2014) Prognostic study of cardiac and renal events in Japanese patients with chronic kidney disease and cardiovascular risk using myocardial perfusion SPECT: J-ACCESS 3 study design. Ther Apher Dial 14:379–385

6.

Matsuo S, Imai E, Horio M et al (2009) Revised equations for estimated GFR from serum creatinine in Japan. Am J Kidney Dis 53:982–992

7.

Cerqueira MD, Weissman NJ, Dilsizian V et al (2002) Standardized myocardial segmentation and nomenclature for tomographic imaging of the heart. A statement for healthcare professionals from the Cardiac Imaging Committee of the Council on Clinical Cardiology of the American Heart Association. Circulation 105:539–542

8.

Nakajima K (2010) Normal values for nuclear cardiology: Japanese databases for myocardial perfusion, fatty acid and sympathetic imaging and left ventricular function. Ann Nucl Med 24:125–135

9.

Locatelli F, Nissenson AR, Barrett BJ et al (2008) Clinical practice guidelines for anemia in chronic kidney disease: problems and solutions. A position statement from Kidney Disease: Improving Global Outcomes (KDIGO). Kidney Int 74:1237–1240

10.

Bhatti S, Hakeem A, Dhanalakota S et al (2014) Prognostic value of regadenoson myocardial single-photon emission computed tomography in patients with different degrees of renal dysfunction. Eur Heart J Cardiovasc Imaging 15:933–940

11.

Inohara T, Kohsaka S, Sato N et al (2014) Prognostic impact of renal dysfunction does not differ according to the clinical profiles of patients: insight from the acute decompensated heart failure syndromes (ATTEND) registry. PLoS ONE 9:e105596

12.

Cowie MR, Komajda M, Murray-Thomas T, Underwood J, Ticho B (2006) Prevalence and impact of worsening renal function in patients hospitalized with decompensated heart failure: results of the prospective outcomes study in heart failure (POSH). Eur Heart J 27:1216–1222

13.

Damman K, Navis G, Voors AA et al (2007) Worsening renal function and prognosis in heart failure: systematic review and meta-analysis. J Card Fail 13:599–608

14.

Nakata T, Hashimoto A, Wakabayashi T, Kusuoka H, Nishimura T (2009) Prediction of new-onset refractory congestive heart failure using gated myocardial perfusion SPECT imaging in patients with known or suspected coronary artery disease subanalysis of the J-ACCESS database. JACC Cardiovasc Imaging 2:1393–1400

15.

Moroi M, Yamashina A, Tsukamoto K, Nishimura T (2012) Coronary revascularization does not decrease cardiac events in patients with stable ischaemic heart disease but might do in those who showed moderate to severe ischemia. Int J Cardiol 158:246–252

16.

Hwang SJ, Melenovsky V, Borlaug BA (2014) Implications of coronary artery disease in heart failure with preserved ejection fraction. J Am Coll Cardiol 63:2817–2827

17.

Nakajima K, Nishimura T (2006) Inter-institution preference-based variability of ejection fraction and volumes using quantitative gated SPECT with 99mTc-tetrofosmin: a multicentre study involving 106 hospitals. Eur J Nucl Med Mol Imaging 33:127–133

18.

Owan TE, Hodge DO, Herges RM, Jacobsen SJ, Roger VL, Redfield MM (2006) Trends in prevalence and outcome of heart failure with preserved ejection fraction. N Engl J Med 355:251–259

19.

Unger ED, Dubin RF, Deo R et al (2016) Association of chronic kidney disease with abnormal cardiac mechanics and adverse outcomes in patients with heart failure and preserved ejection fraction. Eur J Heart Fail 18:103–112

20.

Ponikowski P, Voors AA, Anker SD et al (2016) 2016 ESC Guidelines for the diagnosis and treatment of acute and chronic heart failure: The Task Force for the diagnosis and treatment of acute and chronic heart failure of the European Society of Cardiology (ESC)Developed with the special contribution of the Heart Failure Association (HFA) of the ESC. Eur Heart J 37:2129–2200

21.

Silverberg DS, Wexler D, Blum M, Iaina A (2003) The cardio renal anemia syndrome: correcting anemia in patients with resistant congestive heart failure can improve both cardiac and renal function and reduce hospitalizations. Clin Nephrol 60:S93–102

22.

Toblli JE, Lombrana A, Duarte P, Di Gennaro F (2007) Intravenous iron reduces NT-pro-brain natriuretic peptide in anemic patients with chronic heart failure and renal insufficiency. J Am Coll Cardiol 50:1657–1665

23.

Drueke TB, Parfrey PS (2012) Summary of the KDIGO guideline on anemia and comment: reading between the (guide)line(s). Kidney Int 82:952–960

24.

Anker SD, Comin Colet J, Filippatos G et al (2009) Ferric carboxymaltose in patients with heart failure and iron deficiency. N Engl J Med 361:2436–2448

25.

Kliger AS, Foley RN, Goldfarb DS et al (2013) KDOQI US commentary on the 2012 KDIGO Clinical Practice Guideline for Anemia in CKD. Am J Kidney Dis 62:849–859
Acknowledgements
The authors are grateful to the physicians and technologists who participated in this study and are listed elsewhere. We also thank the J-ACCESS office staff for implementing the study.
Funding
This study was supported by grants from the Japan Cardiovascular Research Foundation.
Ethics declarations
Conflict of interest:
All authors declare that they have no conflict of interests.
Disclosures:
None to declare.
Additional information
Publisher's Note
Springer Nature remains neutral with regard to jurisdictional claims in published maps and institutional affiliations.
About this article
Cite this article
Nanasato, M., Matsuo, S., Nakajima, K. et al. Predictive value of electrocardiography-gated myocardial perfusion imaging to new-onset heart failure in patients with chronic kidney disease: findings from the J-ACCESS 3 study. Int J Cardiovasc Imaging (2020). https://doi.org/10.1007/s10554-019-01761-z
Received:

Accepted:

Published:
Keywords
Cardio-renal syndrome

Anaemia

Stress-induced myocardial ischemia