Abstract
Hepatocellular carcinoma (HCC) with intracavitary metastasis to the heart is rare. The incidence of HCC with right atrial metastasis is less than 6 % at autopsy. Reports of HCC with right ventricular metastasis without inferior vena cava and right atrial metastasis are rarer. The diagnosis of metastasis of HCC into the cardiac cavity might be overlooked because the symptoms are neither apparent nor specific. Here, we report a patient with metastasis of HCC into the right ventricle cavity. The patient was in a disease-free status and experienced lower limbs oedema and gradual shortness of breath.
This is a preview of subscription content, log in to check access.
Access options
Buy single article
Instant unlimited access to the full article PDF.
US$ 39.95
Price includes VAT for USA
Subscribe to journal
Immediate online access to all issues from 2019. Subscription will auto renew annually.
US$ 99
This is the net price. Taxes to be calculated in checkout.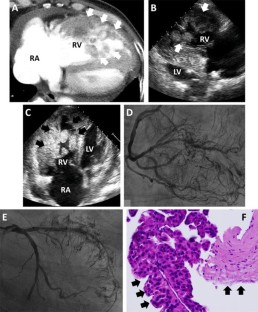 References
1.

Masci G, Magagnoli M, Grimaldi A, Covini G, Carnaghi C, Rimassa L, Santoro A (2004) Metastasis of hepatocellular carcinoma to the heart: a case report and review of the literature. Tumor 90(3):345–347

2.

Lei MH, Ko YL, Kuan P, Lien WP, Chen DS (1992) Metastatis of hepatocellular carcinoma to the heart: unusual patterns in three cases with antemortem diagnosis. J Formos Med Assoc 91:457–461

3.

Kotani E, Kiuchi K, Takayama M, Takano T, Tabata M, Aramaki T, Kawamata H (2000) Effectiveness of transcoronary chemoembolization for metastatic right ventricular tumor derived from hepatocellular carcinoma. Chest 117:287–289
Conflict of interest
None.
Ethical standard
All procedures performed in studies involving human participants were in accordance with the ethical standards of the institutional and/or national research committee and with the 1964 Helsinki declaration and its later amendments or comparable ethical standards.
Electronic supplementary material
Below is the link to the electronic supplementary material.
Transthoracic echocardiography, parasternal long axis view, parasternal short axis view, four-chamber view: very thick free wall and septum of the right ventricle and multiple floating homogenous mass in right ventricle. (AVI 4018 kb)
Coronary angiography: right coronary artery and left anterior descending artery showed large capillary network drainage into the right ventricle. (AVI 3078 kb)
Transthoracic echocardiography, parasternal long axis view, parasternal short axis view, four-chamber view: very thick free wall and septum of the right ventricle and multiple floating homogenous mass in right ventricle. (AVI 4018 kb)
Coronary angiography: right coronary artery and left anterior descending artery showed large capillary network drainage into the right ventricle. (AVI 3078 kb)
About this article
Cite this article
Lee, W., Fu, M. & Liu, W. Isolated right ventricular infiltrating tumour: metastatic hepatocellular carcinoma. Int J Cardiovasc Imaging 31, 1347–1349 (2015) doi:10.1007/s10554-015-0691-1
Received:

Accepted:

Published:

Issue Date:
Keywords
Isolated right ventricular tumor

Metastatic hepatocellular carcinoma

Right-sided heart failure