Abstract
Purpose
Given that 27-hydroxycholesterol (27HC) is the first identified endogenous selective estrogen receptor modulator, the aim of this study was to investigate the extent to which dietary or lifestyle factors impact circulating 27HC concentrations in a large-scale setting.
Methods
This cross-sectional analysis included 1,036 women aged 35–65 years who served as controls in the European Prospective Investigation into Cancer and Nutrition (EPIC)-Heidelberg breast cancer case–control study. Circulating 27HC was quantified in serum using liquid chromatography/tandem mass spectrometry. Generalized linear models were used to investigate the association between 27HC concentrations and dietary habits, and lifestyle, reproductive, and anthropometric factors.
Results
Higher concentrations of 27HC were observed among postmenopausal relative to premenopausal women (geometric mean 200.5 vs. 188.4 nM, p = 0.03), whereas women reporting ever full-term pregnancy had lower concentrations of 27HC relative to never (191.4 vs. 198.6; p = 0.03). Significant trends were observed showing higher concentrations with relatively high levels of physical activity (ptrend = 0.03) and alcohol consumption (ptrend = 0.01), and women currently smoking at blood collection (ptrend < 0.01). Of the investigated dietary factors, starch (ptrend < 0.01) and thiamine (ptrend < 0.01) intakes were inversely associated with 27HC. Circulating lipid concentrations were positively associated with 27HC concentrations (all ptrend < 0.01). No significant associations were found between 27HC and factors including age at blood collection, body mass index, or use of hormone therapy or cholesterol-lowering medications.
Conclusion
27HC is of increasing interest for multiple chronic disease pathways. Despite significant associations found between circulating 27HC and dietary habits, reproductive factors, and modifiable lifestyle factors, circulating cholesterol, mostly low-density lipoprotein cholesterol, accounted for the majority of the variability in circulating 27HC.
This is a preview of subscription content, log in to check access.
Access options
Buy single article
Instant unlimited access to the full article PDF.
US$ 39.95
Price includes VAT for USA
Subscribe to journal
Immediate online access to all issues from 2019. Subscription will auto renew annually.
US$ 199
This is the net price. Taxes to be calculated in checkout.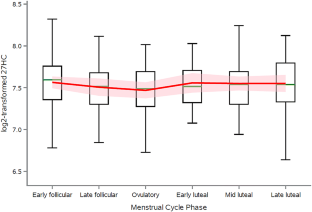 References
1.

DuSell CD, Umetani M, Shaul PW et al (2008) 27-Hydroxycholesterol is an endogenous selective estrogen receptor modulator. Mol Endocrinol 22:65–77. https://doi.org/10.1210/me.2007-0383

2.

Björkhem I (2002) Do oxysterols control cholesterol homeostasis? J Clin Investig 110:725–730. https://doi.org/10.1172/JCI200216388

3.

DeBose-Boyd RA (2008) Feedback regulation of cholesterol synthesis: sterol-accelerated ubiquitination and degradation of HMG CoA reductase. Cell Res 18:609–621. https://doi.org/10.1038/cr.2008.61

4.

Umetani M, Shaul PW (2011) 27-Hydroxycholesterol: the first identified endogenous SERM. Trends Endocrinol Metab 22:130–135. https://doi.org/10.1016/j.tem.2011.01.003

5.

Umetani M, Domoto H, Gormley AK et al (2007) 27-Hydroxycholesterol is an endogenous SERM that inhibits the cardiovascular effects of estrogen. Nat Med 13:1185–1192. https://doi.org/10.1038/nm1641

6.

Nelson ER, DuSell CD, Wang X et al (2011) The oxysterol, 27-hydroxycholesterol, links cholesterol metabolism to bone homeostasis through its actions on the estrogen and liver X receptors. Endocrinology 152:4691–4705. https://doi.org/10.1210/en.2011-1298

7.

Wu Q, Ishikawa T, Sirianni R et al (2013) 27-Hydroxycholesterol promotes cell-autonomous, ER-positive breast cancer growth. Cell Rep 5:637–645. https://doi.org/10.1016/j.celrep.2013.10.006

8.

Phimister EG, Warner M, Gustafsson J-A (2014) On estrogen, cholesterol metabolism, and breast cancer. N Engl J Med 370:572–573. https://doi.org/10.1056/NEJMcibr1315176

9.

Wang HL, Wang YY, Liu XG et al (2016) Cholesterol, 24-hydroxycholesterol, and 27-hydroxycholesterol as surrogate biomarkers in cerebrospinal fluid in mild cognitive impairment and Alzheimer's disease: a meta-analysis. J Alzheimer's Dis 51:45–55. https://doi.org/10.3233/JAD-150734

10.

Rossouw JE, Prentice RL, Manson JE et al (2012) Relationships of coronary heart disease with 27-hydroxycholesterol, low-density lipoprotein cholesterol, and menopausal hormone therapy. Circulation 126:1577–1586. https://doi.org/10.1161/CIRCULATIONAHA.112.103218

11.

Stiles AR, Kozlitina J, Thompson BM et al (2014) Genetic, anatomic, and clinical determinants of human serum sterol and vitamin D levels. Proc Natl Acad Sci USA 111:E4006–E4014. https://doi.org/10.1073/pnas.1413561111

12.

Buka I, Koranteng S, Osornio Vargas AR (2007) Trends in childhood cancer incidence: review of environmental linkages. Pediatr Clin N Am 54:177–203, x. https://doi.org/10.1016/j.pcl.2006.11.010

13.

Lu D-L, Le Cornet C, Sookthai D et al (2018) Circulating 27-hydroxycholesterol and breast cancer risk: results from the EPIC-Heidelberg Cohort. J Natl Cancer Inst. https://doi.org/10.1093/jnci/djy115

14.

Riboli E, Hunt KJ, Slimani N et al (2002) European Prospective Investigation into Cancer and Nutrition (EPIC): study populations and data collection. Public Health Nutr 5:1113–1124. https://doi.org/10.1079/PHN2002394

15.

Katzke VA, Sookthai D, Johnson T et al (2017) Blood lipids and lipoproteins in relation to incidence and mortality risks for CVD and cancer in the prospective EPIC-Heidelberg Cohort. https://doi.org/10.1186/s12916-017-0976-4

16.

Boeing H, Wahrendorf J, Becker N (1999) EPIC-Germany—a source for studies into diet and risk of chronic diseases. European Investigation into Cancer and Nutrition. Ann Nutr Metab 43:195–204. https://doi.org/10.1159/000012786

17.

Bergmann MM, Schütze M, Steffen A et al (2011) The association of lifetime alcohol use with measures of abdominal and general adiposity in a large-scale European cohort. Eur J Clin Nutr 65:1079–1087. https://doi.org/10.1038/ejcn.2011.70

18.

Wareham NJ, Jakes RW, Rennie KL et al (2003) Validity and repeatability of a simple index derived from the short physical activity questionnaire used in the European Prospective Investigation into Cancer and Nutrition (EPIC) study. Public Health Nutr 6:407–413. https://doi.org/10.1079/PHN2002439

19.

WHO Collaborating Centre for Drug Statistics Methodology ATC/DDD Index (2017) Norwegian Institute of Public Health

20.

Kroke A, Klipstein-Grobusch K, Voss S et al (1999) Validation of a self-administered food-frequency questionnaire administered in the European Prospective Investigation into Cancer and Nutrition (EPIC) Study: comparison of energy, protein, and macronutrient intakes estimated with the doubly labeled water. Am J Clin Nutr 70:439–447

21.

Slimani N, Deharveng G, Unwin I et al (2007) The EPIC Nutrient Database Project (ENDB): a first attempt to standardize nutrient databases across the 10 European countries participating in the EPIC study. Eur J Clin Nutr 61:1037–1056. https://doi.org/10.1038/sj.ejcn.1602679

22.

Fung TT, Chiuve S, McCullough M et al (2008) Adherence to a DASH-Style diet and risk of coronary heart disease and stroke in women. Arch Intern Med 168:713. https://doi.org/10.1001/archinte.168.7.713

23.

Rosner B (1983) Percentage points for a generalized ESD many-outlier procedure. Technometrics 25:165–172

24.

Willett WC, Howe GR, Kushi LH (1228S) Adjustment for total energy intake in epidemiologic studies. Am J Clin Nutr 65:1220S–1228S; discussion 1229S–1231S

25.

Russell DW (2003) The enzymes, regulation, and genetics of bile acid synthesis. Annu Rev Biochem 72:137–174. https://doi.org/10.1146/annurev.biochem.72.121801.161712

26.

Tang W, Norlin M, Wikvall K (2007) Regulation of human CYP27A1 by estrogens and androgens in HepG2 and prostate cells. Arch Biochem Biophys 462:13–20. https://doi.org/10.1016/j.abb.2007.04.001

27.

Chen LD, Kushwaha RS, McGill HC et al (1998) Effect of naturally reduced ovarian function on plasma lipoprotein and 27-hydroxycholesterol levels in baboons (Papio sp.). Atherosclerosis 136:89–98. https://doi.org/10.1016/S0021-9150(97)00190-1

28.

Yamamoto Y, Moore R, Hess H et al (2006) Estrogen receptor alpha mediates 17alpha-ethynylestradiol causing hepatotoxicity. J Biol Chem 281:16625–16631. https://doi.org/10.1074/jbc.M602723200

29.

Burkard I, von Eckardstein A, Waeber G et al (2007) Lipoprotein distribution and biological variation of 24S- and 27-hydroxycholesterol in healthy volunteers. Atherosclerosis 194:71–78. https://doi.org/10.1016/j.atherosclerosis.2006.09.026

30.

Dalenc F, Iuliano L, Filleron T et al (2017) Circulating oxysterol metabolites as potential new surrogate markers in patients with hormone receptor-positive breast cancer: results of the OXYTAM Study. J Steroid Biochem Mol Biol. https://doi.org/10.1016/j.jsbmb.2016.06.010

31.

Markovitz AR, Haug EB, Horn J et al (2018) Does pregnancy alter life-course lipid trajectories? Evidence from the HUNT Study in Norway. J Lipid Res 59:2403–2412. https://doi.org/10.1194/jlr.P085720

32.

Gostynski M, Gutzwiller F, Kuulasmaa K et al (2004) Analysis of the relationship between total cholesterol, age, body mass index among males and females in the WHO MONICA Project. Int J Obes Relat Metab Disord 28:1082–1090. https://doi.org/10.1038/sj.ijo.0802714

33.

Cífková R, Krajčoviechová A (2015) Dyslipidemia and cardiovascular disease in women. Curr Cardiol Rep 17:609. https://doi.org/10.1007/s11886-015-0609-5

34.

Lee W-R, Ishikawa T, Umetani M (2014) The interaction between metabolism, cancer and cardiovascular disease, connected by 27-hydroxycholesterol. Clin Lipidol 9:617–624. https://doi.org/10.2217/clp.14.53

35.

Brown AJ, Jessup W (1999) Oxysterols and atherosclerosis. Atherosclerosis 142:1–28. https://doi.org/10.1016/S0021-9150(98)00196-8

36.

Olsen BN, Schlesinger PH, Ory DS, Baker NA (2012) Side-chain oxysterols: from cells to membranes to molecules. Biochim Biophys Acta Biomembr 1818:330–336. https://doi.org/10.1016/j.bbamem.2011.06.014

37.

Bielska AA, Schlesinger P, Covey DF, Ory DS (2012) Oxysterols as non-genomic regulators of cholesterol homeostasis. Trends Endocrinol Metab 23:99–106. https://doi.org/10.1016/j.tem.2011.12.002

38.

Hirayama T, Mizokami Y, Honda A et al (2009) Serum concentration of 27-hydroxycholesterol predicts the effects of high-cholesterol diet on plasma LDL cholesterol level. Hepatol Res 39:149–156. https://doi.org/10.1111/j.1872-034X.2008.00450.x

39.

Nunes VS, Leança CC, Panzoldo NB et al (2013) Plasma 27-hydroxycholesterol/cholesterol ratio is increased in low high density lipoprotein-cholesterol healthy subjects. Clin Biochem 46:1619–1621. https://doi.org/10.1016/j.clinbiochem.2013.06.025

40.

Kimbung S, Chang C, Bendahl P-O et al (2017) Impact of 27-hydroxylase (CYP27A1) and 27-hydroxycholesterol in breast cancer. Endocr Relat Cancer. https://doi.org/10.1530/ERC-16-0533

41.

Nunes VS, Panzoldo NB, Leança CC et al (2014) Increased 27-hydroxycholesterol plasma level in men with low high density lipoprotein-cholesterol may circumvent their reduced cell cholesterol efflux rate. Clin Chim Acta 433:169–173. https://doi.org/10.1016/j.cca.2014.03.017

42.

Patnode C, Evans C, Senger C et al (2017) Behavioral counseling to promote a healthful diet and physical activity for cardiovascular disease prevention in adults without known cardiovascular disease risk factors: updated systematic review for the U.S. Preventive Services Task Force. JAMA 318:175–193

43.

Seet RCS, Lee CYJ, Loke WM et al (2011) Biomarkers of oxidative damage in cigarette smokers: which biomarkers might reflect acute versus chronic oxidative stress? Free Radic Biol Med 50:1787–1793. https://doi.org/10.1016/j.freeradbiomed.2011.03.019

44.

Lopez HW, Levrat-Verny MA, Coudray C et al (2001) Class 2 resistant starches lower plasma and liver lipids and improve mineral retention in rats. J Nutr 131:1283–1289

45.

Huang W, Huang H, Hsu Y et al (2018) The effects of thiamine tetrahydrofurfuryl disulfide on physiological adaption and exercise performance improvement. Nutrients 10:851. https://doi.org/10.3390/nu10070851

46.

Baila-Rueda L, Mateo-Gallego R, Jarauta E et al (2014) Bile acid synthesis precursors in familial combined hyperlipidemia: the oxysterols 24S-hydroxycholesterol and 27-hydroxycholesterol. Biochem Biophys Res Commun 446:731–735. https://doi.org/10.1016/j.bbrc.2013.12.131

47.

Istvan ES (2002) Structural mechanism for statin inhibition of 3-hydroxy-3-methylglutaryl coenzyme A reductase. Am Heart J 144:S27–S32. https://doi.org/10.1067/mhj.2002.130300

48.

Lu D-L, Sookthai D, Le Cornet C et al (2018) Reproducibility of serum oxysterols and lanosterol among postmenopausal women: results from EPIC-Heidelberg. Clin Biochem 52:117–122. https://doi.org/10.1016/j.clinbiochem.2017.11.001
Acknowledgments
This study was supported by the Office of the Assistant Secretary of Defense for Health Affairs, through the Breast Cancer Research Program under Award No. W81XWH-15–1-0035 (Fortner). Opinions, interpretations, conclusions, and recommendations are those of the author and are not necessarily endorsed by the Department of Defense. EPIC-Heidelberg was funded by the German Federal Ministry of Education and Research (BMBF) Grant 01ER0809 (Kaaks).
Ethics declarations
Conflict of interest
The authors declare that they have no conflict of interest.
Ethical approval
The EPIC study protocol was approved by the Ethical Committees of the International Agency for Research on Cancer (IARC) and the Ethics Committee of the Medical Faculty in Heidelberg. The study has been performed in accordance with the principles expressed in the Helsinki Declaration of 1996, Conventions of the Council of Europe on Human Rights and Biomedicine.
Informed consent
All participants provided informed consent prior to their inclusion which can be withdrawn at any time for any reason.
Additional information
Publisher's Note
Springer Nature remains neutral with regard to jurisdictional claims in published maps and institutional affiliations.
Electronic supplementary material
Below is the link to the electronic supplementary material.
About this article
Cite this article
Le Cornet, C., Johnson, T.S., Lu, D. et al. Association between lifestyle, dietary, reproductive, and anthropometric factors and circulating 27-hydroxycholesterol in EPIC-Heidelberg. Cancer Causes Control 31, 181–192 (2020). https://doi.org/10.1007/s10552-019-01259-y
Received:

Accepted:

Published:

Issue Date:
Keywords
27-Hydroxycholesterol

SERM

Cross-sectional study

Woman

Dietary intakes (diet, food, and nutrition)

Epidemiologic factors