Abstract
Purpose
Periostin is a secreted extracellular matrix protein, which was originally described in osteoblasts. It supports osteoblastic differentiation and bone formation and has been implicated in the pathogenesis of several human malignancies, including breast cancer. However, little is known about the prognostic value of serum periostin levels in breast cancer.
Methods
In this study, we analyzed serum levels of periostin in a cohort of 509 primary, non-metastatic breast cancer patients. Disseminated tumor cell (DTC) status was determined using bone marrow aspirates obtained from the anterior iliac crests. Periostin levels were stratified according to several clinical parameters and Pearson correlation analyses were performed. Kaplan–Meier survival curves were assessed by using the log-rank (Mantel–Cox) test. To identify prognostic factors, multivariate Cox regression analyses were used.
Results
Mean serum levels of periostin were 505 ± 179 pmol/l. In older patients (> 60 years), periostin serum levels were significantly increased compared to younger patients (540 ± 184 pmol/l vs. 469 ± 167 pmol/l; p < 0.0001) and age was positively correlated with periostin expression (p < 0.0001). When stratifying the cohort according to periostin serum concentrations, the overall and breast cancer-specific mortality were significantly higher in those patients with high serum periostin (above median) compared to those with low periostin during a mean follow-up of 8.5 years (17.7% vs. 11.4% breast cancer-specific death; p = 0.03; hazard ratio 1.65). Periostin was confirmed to be an independent prognostic marker for breast cancer-specific survival (p = 0.017; hazard ratio 1.79). No significant differences in serum periostin were observed when stratifying the patients according to their DTC status.
Conclusions
Our findings emphasize the relevance of periostin in breast cancer and reveal serum periostin as a potential marker for disease prediction, independent on the presence of micrometastases.
This is a preview of subscription content, log in to check access.
Access options
Buy single article
Instant access to the full article PDF.
US$ 39.95
Price includes VAT for USA
Subscribe to journal
Immediate online access to all issues from 2019. Subscription will auto renew annually.
US$ 199
This is the net price. Taxes to be calculated in checkout.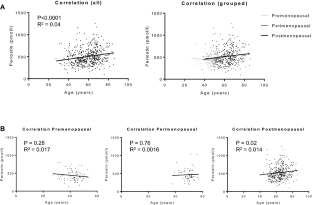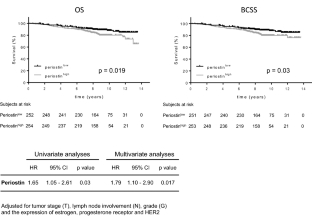 References
1.

Takeshita S, Kikuno R, Tezuka K, Amann E (1993) Osteoblast-specific factor 2: cloning of a putative bone adhesion protein with homology with the insect protein fasciclin I. Biochem J 294:271–278

2.

Horiuchi K, Amizuka N, Takeshita S, Takamatsu H, Katsuura M, Ozawa H, Toyama Y, Bonewald LF, Kudo A (1999) Identification and characterization of a novel protein, periostin, with restricted expression to periosteum and periodontal ligament and increased expression by transforming growth factor. J Bone Miner Res 14:1239–1249

3.

Bonnet N, Garnero P, Ferrari S (2016) Periostin action in bone. Mol Cell Endocrinol 432:75–82

4.

Kruzynska-frejtag A, Machnicki M, Rogers R, Markwald RR, Conway SJ (2001) Periostin (an osteoblast-specific factor ) is expressed within the embryonic mouse heart during valve formation. Mech Dev 103:183–188

5.

Yoshiba N, Yoshiba K, Hosoya A, Saito M, Yokoi T, Okiji T, Amizuka N, Ozawa H (2007) Association of TIMP-2 with extracellular matrix exposed to mechanical stress and its co-distribution with periostin during mouse mandible development. Cell Tissue Res 330:133–145

6.

Malanchi I, Santamaria-Martinez A, Susanto E, Peng H, Lehr H, Delaloye J, Huelsken J (2012) Interactions between cancer stem cells and their niche govern metastatic colonization. Nature 481:85–91

7.

Liu AY, Zheng H, Ouyang G (2014) Periostin, a multifunctional matricellular protein in inflammatory and tumor microenvironments. Matrix Biol 37:150–156

8.

Kudo A (2011) Periostin in fibrillogenesis for tissue regeneration: periostin actions inside and outside the cell. Cell Mol Life Sci 68:3201–3207

9.

Kudo A, Kii I (2018) Periostin function in communication with extracellular matrices. J Cell Commun Signal 12:301–308

10.

Graja A, Garcia-Carrizo F, Jank AM, Gohlke S, Ambrosi TH, Jonas W, Ussar S, Kern M, Schürmann A, Aleksandrova K, Blüher M, Schulz TJ (2018) Loss of periostin occurs in aging adipose tissue of mice and its genetic ablation impairs adipose tissue lipid metabolism. Aging Cell 17:1–13

11.

Rios H, Koushik SV, Wang H, Wang J, Zhou H-M, Lindsley A, Rogers R, Chen Z, Maeda M, Kruzynska-Frejtag A, Feng JQ, Conway SJ (2005) Periostin null mice exhibit dwarfism, incisor enamel defects, and an early-onset periodontal disease-like phenotype. Mol Cell Biol 25:11131–11144

12.

Bonnet N, Standley KN, Bianchi EN, Stadelmann V, Foti M, Conway SJ, Ferrari SL (2009) The matricellular protein periostin is required for sost inhibition and the anabolic response to mechanical loading and physical activity. J Biol Chem 284:35939–35950

13.

Conway SJ, Izuhara K, Kudo Y, Litvin J, Markwald R, Ouyang G, Arron JR, Holweg CTJ, Kudo A (2014) The role of periostin in tissue remodeling across health and disease. Cell Mol Life Sci 71:1279–1288

14.

Bonnet N, Gineyts E, Ammann P, Conway SJ, Garnero P, Ferrari S (2013) Periostin deficiency increases bone damage and impairs injury response to fatigue loading in adult mice. PLoS ONE 8:1–15

15.

Ruan K, Bao S, Ouyang G (2009) The multifaceted role of periostin in tumorigenesis. Cell Mol Life Sci 66:2219–2230

16.

Masuoka M, Shiraishi H, Ohta S, Suzuki S, Arima K, Aoki S, Toda S, Inagaki N, Kurihara Y, Hayashida S, Takeuchi S, Koike K, Ono J, Noshiro H, Furue M, Conway SJ, Narisawa Y, Izuhara K (2012) Periostin promotes chronic allergic inflammation in response to Th2 cytokines. J Clin Investig 122:2590–2600

17.

Corren J, Lemanske RF, Hanania NA, Korenblat PE, Parsey MV, Arron JR, Harris JM, Scheerens H, Wu LC, Su Z, Mosesova S, Eisner MD, Bohen SP, Matthews JG (2011) Lebrikizumab treatment in adults with asthma. N Engl J Med 365:1088–1098

18.

Nishiyama T, Kii I, Kashima TG, Kikuchi Y, Ohazama A, Shimazaki M, Fukayama M, Kudo A (2011) Delayed re-epithelialization in periostin-deficient mice during cutaneous wound healing. PLoS ONE 6:1–10

19.

Shiraishi H, Masuoka M, Ohta S, Suzuki S, Arima K, Taniguchi K, Aoki S, Toda S, Yoshimoto T, Inagaki N, Conway SJ, Narisawa Y, Izuhara K (2012) Periostin contributes to the pathogenesis of atopic dermatitis by inducing TSLP production from keratinocytes. Allergol Int 61:563–572

20.

Takayama G, Arima K, Kanaji T, Toda S, Tanaka H, Shoji S, McKenzie ANJ, Nagai H, Hotokebuchi T, Izuhara K (2006) Periostin: a novel component of subepithelial fibrosis of bronchial asthma downstream of IL-4 and IL-13 signals. J Allergy Clin Immunol 118:98–104

21.

González-González L, Alonso J (2018) Periostin: a matricellular protein with multiple functions in cancer development and progression. Front Oncol 8:1–15

22.

Morra L, Moch H (2011) Periostin expression and epithelial-mesenchymal transition in cancer : a review and an update. Virchows Arch 459:465–475

23.

Venning FA, Wullkopf L, Erler JT (2015) Targeting ECM disrupts cancer progression. Front Oncol 5:1–15

24.

Shao R, Bao S, Bai X, Blanchette C, Anderson RM, Dang T, Gishizky ML, Marks JR, Wang X-F (2004) Acquired expression of periostin by human breast cancers promotes tumor angiogenesis through up-regulation of vascular endothelial growth factor receptor 2 expression. Mol Cell Biol 24:3992–4003

25.

Li C, Xu J, Wang QI, Geng S (2018) Prognostic value of periostin in early-stage breast cancer treated with conserving surgery and radiotherapy. Oncol Lett 15:8072–8078

26.

Lee YJ, Kim IS, Park SA, Kim Y, Lee JE, Noh DY, Kim KT, Ryu SH, Suh PG (2013) Periostin-binding DNA aptamer inhibits breast cancer growth and metastasis. Mol Ther 21:1004–1013

27.

Kim G, Lee J, Park M, Yoon J (2017) Epithelial periostin expression is correlated with poor survival in patients with invasive breast carcinoma. PLoS ONE 12:1–14

28.

McShane LM, Altman DG, Sauerbrei W, Taube SE, Gion M, Clark GM (2006) REporting recommendations for tumor MARKer prognostic studies (REMARK). Breast Cancer Res Treat 100:229–235

29.

Rachner TD, Kasimir-Bauer S, Göbel A, Erdmann K, Hoffmann O, Browne A, Wimberger P, Rauner M, Hofbauer LC, Kimmig R, Bittner A (2018) Prognostic value of RANKL/OPG serum levels and disseminated tumor cells in nonmetastatic breast cancer. Clin Cancer Res. https://doi.org/10.1158/1078-0432.CCR-18-2482

30.

Kasimir-Bauer S, Reiter K, Aktas B, Bittner AK, Weber S, Keller T, Kimmig R, Hoffmann O (2016) Different prognostic value of circulating and disseminated tumor cells in primary breast cancer: Influence of bisphosphonate intake? Sci Rep 6:1–10

31.

Gadermaier E, Tesarz M, Suciu AAM, Wallwitz J, Berg G, Himmler G (2018) Characterization of a sandwich ELISA for the quantification of all human periostin isoforms. J Clin Lab Anal 32:1–10

32.

Janni W, Vogl FD, Wiedswang G, Synnestvedt M, Fehm T, Juckstock J, Borgen E, Rack B, Braun S, Sommer H, Solomayer E, Pantel K, Nesland J, Friese K, Naume B (2011) Persistence of disseminated tumor cells in the bone marrow of breast cancer patients predicts increased risk for relapse–a European pooled analysis. Clin Cancer Res 17:2967–2976

33.

Hartkopf AD, Taran F-A, Wallwiener M, Hahn M, Becker S, Solomayer E-F, Brucker SY, Fehm TN, Wallwiener D (2014) Prognostic relevance of disseminated tumour cells from the bone marrow of early stage breast cancer patients—results from a large single-centre analysis. Eur J Cancer 50:2550–2559

34.

Hartkopf AD, Wallwiener M, Fehm TN, Hahn M, Walter CB, Gruber I, Brucker SY, Taran FA (2015) Disseminated tumor cells from the bone marrow of patients with nonmetastatic primary breast cancer are predictive of locoregional relapse. Ann Oncol 26:1155–1160

35.

Braun S, Vogl FD, Naume B, Janni W, Osborne MP, Coombes RC, Schlimok G, Diel IJ, Gerber B, Gebauer G, Pierga J-Y, Marth C, Oruzio D, Wiedswang G, Solomayer E-F, Kundt G, Strobl B, Fehm T, Wong GYC, Bliss J, Vincent-Salomon A, Pantel K (2005) A pooled analysis of bone marrow micrometastasis in breast cancer. N Engl J Med 353:793–802

36.

Ratajczak-Wielgomas K, Grzegrzolka J, Piotrowska A, Gomulkiewicz A, Witkiewicz W, Dziegiel P (2016) Periostin expression in cancer-associated fibroblasts of invasive ductal breast carcinoma. Oncol Rep 36:2745–2754

37.

Xu D, Xu H, Ren Y, Liu C, Wang X, Zhang H, Lu P (2012) Cancer stem cell-related gene periostin: a novel prognostic marker for breast cancer. PLoS ONE 7:1–10

38.

Lambert AW, Wong CK, Ozturk S, Papageorgis P, Raghunathan R, Alekseyev Y, Gower AC, Reinhard BM, Abdolmaleky HM, Thiagalingam S (2015) Tumor cell-derived periostin regulates cytokines that maintain breast cancer stem cells. Mol Cancer Res 14:103–113

39.

Nuzzo PV, Rubagotti A, Argellati F, Di Meglio A, Zanardi E, Zinoli L, Comite P, Mussap M, Boccardo F (2015) Prognostic value of preoperative serum levels of periostin (PN) in early breast cancer (BCa). Int J Mol Sci 16:17181–17192

40.

Rousseau JC, Sornay-Rendu E, Bertholon C, Chapurlat R, Garnero P (2014) Serum periostin is associated with fracture risk in postmenopausal women: a 7-year prospective analysis of the OFELY study. J Clin Endocrinol Metab 99:2533–2539

41.

Takahashi K, Meguro K, Kawashima H, Kashiwakuma D, Kagami S, Ohta S, Ono J, Izuhara K, Iwamoto I (2019) Serum periostin levels serve as a biomarker for both eosinophilic airway inflammation and fixed airflow limitation in well-controlled asthmatics. J Asthma 4(56):236–243

42.

Lu Y, Liu X, Jiao Y, Xiong X, Wang E, Wang X, Zhang Z, Zhang H, Pan L, Guan Y, Cai D, Ning G, Li X (2014) Periostin promotes liver steatosis and hypertriglyceridemia through downregulation of PPARα. J Clin Investig 1(124):3501–3513

43.

Gineyts E, Bonnet N, Bertholon C, Millet M, Pagnon-Minot A, Borel O, Geraci S, Bonnelye E, Croset M, Suhail A, Truica C, Lamparella N, Leitzel K, Hartmann D, Chapurlat R, Lipton A, Garnero P, Ferrari S, Clézardin P, Rousseau JC (2018) The C-terminal intact forms of periostin (iPTN) are surrogate markers for osteolytic lesions in experimental breast cancer bone metastasis. Calcif Tissue Int 103:567–580

44.

Sasaki H, Yu C-Y, Dai M, Tam C, Loda M, Auclair D, Chen LB, Elias A (2003) Elevated serum periostin levels in patients with bone metastases from breast but not lung cancer. Breast Cancer Res Treat 77:245–252

45.

Puglisi F, Puppin C, Pegolo E, Andreetta C, Pascoletti G, D'Aurizio F, Pandolfi M, Fasola G, Piga A, Damante G, Di Loreto C (2008) Expression of periostin in human breast cancer. J Clin Pathol 61:494–498

46.

Nakazawa Y, Taniyama Y, Sanada F, Morishita R (2018) Periostin blockade overcomes chemoresistance via restricting the expansion of mesenchymal tumor subpopulations in breast cancer. Sci Rep 8:1–14

47.

Hu W-W, Chen P-C, Chen J-M, Wu Y-M, Liu P-Y, Lu C-H, Lin Y-F, Tang C-H, Chao C-C (2017) Periostin promotes epithelial-mesenchymal transition via the MAPK/miR-381 axis in lung cancer. Oncotarget 8:62248–62260

48.

Hu Q, Tong S, Zhao X, Ding W, Gou Y, Xu K, Sun C, Xia G (2015) Periostin mediates TGF-β-induced epithelial mesenchymal transition in prostate cancer cells. Cell Physiol Biochem 36:799–809

49.

Mino M, Kanno K, Okimoto K, Sugiyama A, Kishikawa N, Kobayashi T, Ono J, Izuhara K, Kobayashi T, Ohdan H, Tazuma S (2017) Periostin promotes malignant potential by induction of epithelial-mesenchymal transition in intrahepatic cholangiocarcinoma. Hepatol Commun 1:1099–1109

50.

Jang MH, Kim HJ, Kim EJ, Chung YR, Park SY (2015) Expression of epithelial-mesenchymal transition-related markers in triple-negative breast cancer: ZEB1 as a potential biomarker for poor clinical outcome. Hum Pathol 46:1267–1274
Acknowledgements
The authors would like to thank Ms. Theresa Reiche for her secretarial assistance.
Funding
This study was supported by grants from the Deutsche Forschungsgemeinschaft and from the Deutsche Krebshilfe: 70113573 to AG and TDR, RA 2151/2-1 to TDR and LCH, Forschergruppe-1586 SKELMET to TDR and LCH and SPP-2084 µBONE to TDR, AG and LCH. RA 2151/2-1 to TDR and LCH, Forschergruppe-1586 SKELMET to TDR and LCH, SPP-2084 µBONE to TDR, AG and LCH from the Deutsche Forschungsgemeinschaft and the Deutsche Krebshilfe.
Ethics declarations
Conflict of interest
SKB is a consultant for QIAGEN, Hilden, Germany. The authors have received honoraria, unrestricted educational grants and research funding from to the individual or the institution by Alexion (LCH), Amgen (LCH, TDR), Roche (TDR), Shire (LCH, TDR), and UCB (LCH, TDR). All other authors declare no potential conflicts of interest.
Ethical approval
All procedures performed in studies involving human participants were in accordance with the ethical standards of the institutional and/or national research committee and with the 1964 Helsinki declaration and its later amendments or comparable ethical standards.
Informed consent
Samples of patients were obtained before therapy after written informed consent from all subjects using protocols approved by the clinical ethic committee of the University Hospital Essen (05/2856).
Additional information
Publisher's Note
Springer Nature remains neutral with regard to jurisdictional claims in published maps and institutional affiliations.
Electronic supplementary material
Below is the link to the electronic supplementary material.
About this article
Cite this article
Rachner, T.D., Göbel, A., Hoffmann, O. et al. High serum levels of periostin are associated with a poor survival in breast cancer. Breast Cancer Res Treat (2020). https://doi.org/10.1007/s10549-020-05570-0
Received:

Accepted:

Published:
Keywords
Periostin

Breast cancer

Disseminated tumor cells

Minimal residual disease

Prognostic marker