Abstract
Purpose
Women with residual invasive breast cancer at the primary site or axillary lymph nodes following neoadjuvant chemotherapy have a high risk of recurrence. Eribulin improves survival in patients with metastatic breast cancer who progress after anthracycline and taxane therapy. This phase 2 trial assessed the efficacy of postoperative eribulin in breast cancer patients who did not achieve a pCR following standard neoadjuvant chemotherapy.
Methods
Women with localized breast cancer who had residual invasive cancer following ≥ 4 cycles of standard anthracycline and/or taxane-containing neoadjuvant chemotherapy received adjuvant eribulin treatment. HER2-positive patients also received trastuzumab for 1 year. Adjuvant hormonal therapy and locoregional radiotherapy were administered as per institutional guidelines. Primary endpoint was the 2-year DFS rate. Three patient cohorts were analyzed: TNBC (Cohort A), HR+/HER2− (Cohort B), and HER2+ (Cohort C).
Results
One hundred twenty-six patients (Cohort A-53, Cohort B-42, and Cohort C-31) were enrolled. Neoadjuvant chemotherapy included a taxane and an anthracycline in 70%. Eribulin was well tolerated; 84% of patients received the planned 6 cycles. After a median follow-up of 28 months, the 24-month DFS rates were 56% (95% CI 42, 69), 83% (95% CI 67, 91), and 73% (95% CI 53, 86) for Cohorts A, B, and C, respectively. The most common grade 3/4 treatment-related adverse events were neutropenia (26%), leukopenia (13%), and neuropathy (7%).
Conclusion
Administration of adjuvant eribulin after neoadjuvant chemotherapy was feasible and well tolerated. The 24-month DFS rate did not reach the study target levels in any of the cohorts and was similar to DFS previously described in these cohorts following neoadjuvant chemotherapy alone.
This is a preview of subscription content, log in to check access.
Access options
Buy single article
Instant access to the full article PDF.
US$ 39.95
Price includes VAT for USA
Subscribe to journal
Immediate online access to all issues from 2019. Subscription will auto renew annually.
US$ 199
This is the net price. Taxes to be calculated in checkout.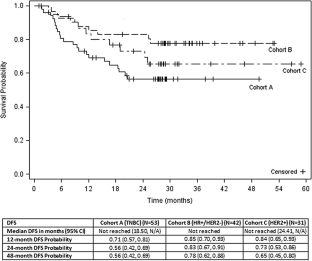 References
1.

Fisher B, Brown A, Mamounas E et al (1997) Effect of preoperative chemotherapy on local-regional disease in women with operable breast cancer: findings from National Surgical Adjuvant Breast and Bowel Project B-18. J Clin Oncol 15:2483–2493

2.

van der Hage JA, van de Velde CJ, Julien JP, Tubiana-Hulin M, Vandervelden C, Duchateau L (2001) Preoperative chemotherapy in primary operable breast cancer: results from the European Organization for Research and Treatment of Cancer trial 10902. J Clin Oncol 19:4224–4237

3.

Rastogi P, Anderson SJ, Bear HD et al (2008) Preoperative chemotherapy: updates of National Surgical Adjuvant Breast and Bowel Project protocols B-18 and B-27. J Clin Oncol 26:778–785

4.

Early Breast Cancer Trialists' Collaborative Group (2018) Long-term outcomes for neoadjuvant versus adjuvant chemotherapy in early breast cancer: meta-analysis of individual patient data from ten randomized trials. Lancet Oncol 19:27–39

5.

Kuerer HM, Newman LA, Smith TL et al (1999) Clinical course of breast cancer patients with complete pathologic primary tumor and axillary lymph node response to doxorubicin-based neoadjuvant chemotherapy. J Clin Oncol 17(2):460–469

6.

Cortazar P, Zhang L, Untch M, Mehta K, Costantino JP, Wolmark N et al (2014) Pathological complete response and long-term clinical benefit in breast cancer: the CTNeoBC pooled analysis. Lancet 384:164–172

7.

Mougalian SS, Hernandez M, Lei X et al (2016) Ten-year outcomes of patients with breast cancer with cytologically confirmed axillary lymph node metastases and pathologic complete response after primary systemic chemotherapy. JAMA Oncol 2:508–516

8.

Liedtke C, Mazouni C, Hess KR et al (2008) Response to neoadjuvant therapy and long-term survival in patients with triple-negative breast cancer. J Clin Oncol 26:1275–1281

9.

von Minckwitz G, Untch M, Blohmer J-U et al (2012) Definition and impact of pathologic complete response on prognosis after neoadjuvant chemotherapy in various intrinsic breast cancer subtypes. J Clin Oncol 30:1796–1804

10.

Untch M, Pasching PA, Konecny GE et al (2011) Pathologic complete response after neoadjuvant chemotherapy plus trastuzumab predicts favorable survival in human epidermal growth factor receptor 2-overexpressing breast cancer: results from the TECHNO trial of the AGO and GBG study groups. J Clin Oncol 29:3351–3357

11.

Untch M, von Minckwitz G, Gerber B et al (2018) Survival analysis after neoadjuvant chemotherapy with trastuzumab or lapatinib in patients with human epidermal growth factor receptor 2-positive breast cancer in the GeparQuinto (G5) study (GBG 44). J Clin Oncol 36:1308–1316

12.

Gianni L, Eiermann W, Semiglazov V et al (2014) Neoadjuvant and adjuvant trastuzumab in patients with Her2-positive locally advanced breast cancer (NOAH): follow-up of a randomised controlled superiority trial with a parallel HER2-negative cohort. Lancet Oncol 15:640–647

13.

de Azambuja E, Holmes AP, Piccart-Gebhart M et al (2014) Lapatinib with trastuzumab for HER2-positive early breast cancer (NeoALTTO): survival outcomes of a randomised, open-label, multicentre, phase 3 trial and their association with pathological complete response. Lancet Oncol 15:1137–1146

14.

Broglio KR, Quintana M, Foster M et al (2016) Association of pathologic complete response to neoadjuvant therapy in HER2-positive breast cancer with long-term outcomes. JAMA Oncol 2:751–760

15.

Berruti A, Amoroso V, Gallo F et al (2014) Pathologic complete response as a potential surrogate for the clinical outcome in patients with breast cancer after neoadjuvant therapy: a meta-regression of 29 randomized prospective studies. J Clin Oncol 32:3883–3891

16.

Gianni L, Baselga J, Eiermann W, Guillem Porta V, Semiglazov V, Lluch A, Zambetti M, Sabadell D, Raab G, Llombart Cussac A et al (2005) Feasibility and tolerability of sequential doxorubicin/paclitaxel followed by cyclophosphamide, methotrexate, and fluorouracil and its effects on tumor response as preoperative therapy. Clin Cancer Res 11:8715–8721

17.

Schott AF, Hayes DF (2012) Defining the benefits of neoadjuvant chemotherapy for breast cancer. J Clin Oncol 30:1747–1749

18.

Thomas E, Holmes FA, Smith TL et al (2004) The use of alternate, non-cross-resistant adjuvant chemotherapy on the basis of pathologic response to a neoadjuvant doxorubicin-based regimen in women with operable breast cancer: long-term results from a prospective randomized trial. J Clin Oncol 22:2294–2302

19.

Masuda N, Lee SJ, Ohtani S et al (2017) Adjuvant capecitabine for breast cancer after preoperative chemotherapy. N Engl J Med 376(22):2147–2159

20.

Gonzalez-Angulo AM, Lei X, Alvarez R et al (2015) Phase II randomized study of ixabepilone versus observation in patients with significant residual disease after neoadjuvant systemic therapy for HER2-negative breast cancer. Clin Breast Cancer 15:325–331

21.

Promberger R, Dubsky P, Mittlbock M et al (2015) Postoperative CMF does not ameliorate poor outcomes in women with residual invasive breast cancer after neoadjuvant epirubicin/docetaxel chemotherapy. Clin Breast Cancer 15:505–511

22.

von Minckwitz G, Huang CS, Mano MS et al (2019) Trastuzumab emtansine for residual invasive HER2-positive breast cancer. N Engl J Med 380:617–628

23.

Cortes J, O'Shaughnessy J, Loesch D, Blum JL, Vahdat LT, Petrakova K et al (2011) Eribulin monotherapy versus treatment of physician's choice in patients with metastatic breast cancer (EMBRACE): a phase 3 open-label randomised study. Lancet 377:914–923

24.

Twelves C, Cortes J, Vahdat L et al (2014) Efficacy of eribulin in women with metastatic breast cancer: a pooled analysis of two phase 3 studies. Breast Cancer Res Treat 148(3):553–561

25.

Carey L, Dees C, Sawyer L, Gatti L, Moore DT, Collichio F et al (2007) The triple negative paradox: primary tumor chemosensitivity of breast cancer subtypes. Clin Cancer Res 13(8):2329–2334

26.

von Minckwitz G, Procter M, de Azambuja E et al (2017) Adjuvant Pertuzumab and Trastuzumab in Early HER2-Positive Breast Cancer. N Engl J Med 377(2):122–131

27.

Martin M, Holmes FA, Ejlertsen B et al (2017) Neratinib after trastuzumab-based adjuvant therapy in HER2-positive breast cancer (ExteNET): 5-year analysis of a randomised, double-blind, placebo-controlled, phase 3 trial. Lancet Oncol 18(12):1688–1700

28.

Nanda R, Chow LQM, Dees EC et al (2016) Pembrolizumab in patients with advanced triple-negative breast cancer: Phase Ib KEYNOTE-012 study. J Clin Oncol 54:2460–2467

29.

Schmid P, Adams S, Rugo HS et al (2018) Atezolizumab and nab-paclitaxel in advanced triple-negative breast cancer. N Engl J Med 379:2108–2121

30.

Mazouni C, Kau SW, Frye D et al (2007) Inclusion of taxanes, particularly weekly paclitaxel, in preoperative chemotherapy improves pathologic complete response rate in estrogen receptor-positive breast cancers. Ann Oncol 18(5):874–880

31.

Ring AE, Smith IE, Ashley S, Fulford LG, Lakhani SR (2004) Oestrogen receptor status, pathological complete response and prognosis in patients receiving neoadjuvant chemotherapy for early breast cancer. Br J Cancer 91(12):2012–2017
Funding
This study was supported in part by grants from Eisai.
Ethics declarations
Conflict of interest
DAY reports consulting/advisory role funding paid to the institute from Novartis, Genentech/Roche, Daiichi Sankyo, Eisai, Celgene, Biotheranostocs, Nanostring Technologies, Bristol-Myers Squibb; research funding grants paid to the institution from AstraZeneca, Genentech/Roche, Syndax, Novartis, MedImmune, Lilly, Medivation, Pfizer, Eisai, Tesaro, Macrogenics, Abbvie, Immunomedics, Daiichi Sankyo, Merck, Clovis Oncology, Oncothyreon, InventisBio; speaker's bureau funding from Novartis, Genentech/Roche; travel/accommodations/expenses from Novartis and Genentech/Roche, all outside the submitted work. JDH reports research funding grants paid to the institution from Genetech and Astellas. The other authors have no conflicts of interest to report.
Ethical approval
All procedures performed in studies involving human participants were in accordance with the ethical standards of the FDA (ClinicalTrials.gov NCT01401959) and with the 1964 Helsinki declaration and its later amendments or comparable ethical standards.
Informed consent
Informed consent was obtained from all individual participants included in the study.
Additional information
Publisher's Note
Springer Nature remains neutral with regard to jurisdictional claims in published maps and institutional affiliations.
About this article
Cite this article
Yardley, D.A., Peacock, N., Daniel, B. et al. Phase II trial of eribulin in patients who do not achieve pathologic complete response (pCR) following neoadjuvant chemotherapy. Breast Cancer Res Treat (2020). https://doi.org/10.1007/s10549-020-05563-z
Received:

Accepted:

Published:
Keywords
Eribulin

Neoadjuvant therapy

Adjuvant therapy