Abstract
Purpose
Expression of estrogen receptor alpha (ER) and/or progesterone receptor (PR) defines luminal breast cancer. Even though androgen (AR) and glucocorticoid receptors (GR) are highly expressed in luminal breast cancers, prognostic value remains uncertain and concomitant expression of these four hormone receptors is still unexplored.
Methods
Here, we evaluated ER, PR, AR, and GR expression, using immunohistochemistry, in a cohort of 169 breast cancer patients and correlated these findings with clinical and pathological parameters.
Results
We found that AR is more frequently expressed and at higher levels in the ER+PR− subset compared to ER+PR+ tumors. There were no significant differences in GR expression between tumor subsets. Moreover, most luminal tumors also expressed either AR or GR and most basal tumors were also negative for AR and GR.
Conclusion
These data suggest that targeting AR in ER+PR− tumors may represent a promising therapeutic alternative in hormonal refractory tumors.
This is a preview of subscription content, log in to check access.
Access options
Buy single article
Instant unlimited access to the full article PDF.
US$ 39.95
Price includes VAT for USA
Subscribe to journal
Immediate online access to all issues from 2019. Subscription will auto renew annually.
US$ 199
This is the net price. Taxes to be calculated in checkout.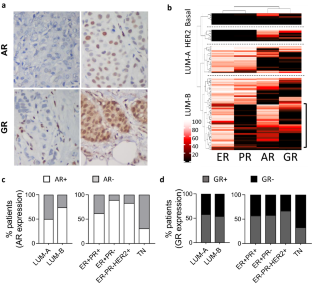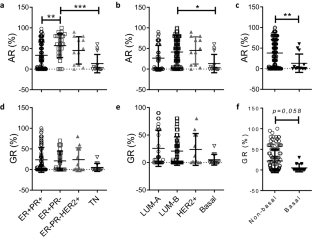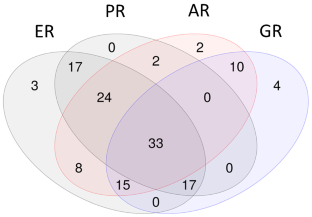 References
1.

Perou CM, Sorlie T, Eisen MB, van de Rijn M, Jeffrey SS, Rees CA, Pollack JR, Ross DT, Johnsen H, Akslen LA, Fluge O, Pergamenschikov A, Williams C, Zhu SX, Lonning PE, Borresen-Dale AL, Brown PO, Botstein D (2000) Molecular portraits of human breast tumours. Nature 406(6797):747–752

2.

Rakha EA, Reis-Filho JS, Ellis IO (2010) Combinatorial biomarker expression in breast cancer. Breast Cancer Res Treat 120(2):293–308. https://doi.org/10.1007/s10549-010-0746-x

3.

Rojas PA, May M, Sequeira GR, Elia A, Alvarez M, Martinez P, Gonzalez P, Hewitt S, He X, Perou CM, Molinolo A, Gibbons L, Abba MC, Gass H, Lanari C (2017) Progesterone receptor isoform ratio: a breast cancer prognostic and predictive factor for antiprogestin responsiveness. J Natl Cancer Inst 109(7):djw317

4.

Ricciardelli C, Bianco-Miotto T, Jindal S, Butler LM, Leung S, McNeil CM, O'Toole SA, Ebrahimie E, Millar EKA, Sakko AJ, Ruiz AI, Vowler SL, Huntsman DG, Birrell SN, Sutherland RL, Palmieri C, Hickey TE, Tilley WD (2018) The magnitude of androgen receptor positivity in breast cancer is critical for reliable prediction of disease outcome. Clin Cancer Res 24(10):2328–2341. https://doi.org/10.1158/1078-0432.CCR-17-1199

5.

McNamara KM, Kannai A, Sasano H (2018) Possible roles for glucocorticoid signalling in breast cancer. Mol Cell Endocrinol 466:38–50. https://doi.org/10.1016/j.mce.2017.07.004

6.

Sahores A, Figueroa V, May M, Liguori M, Rubstein A, Fuentes C, Jacobsen BM, Elia A, Rojas P, Sequeira GR, Alvarez MM, Gonzalez P, Gass H, Hewitt S, Molinolo A, Lanari C, Lamb CA (2018) Increased high molecular weight FGF2 in endocrine-resistant breast cancer. Horm Cancer. https://doi.org/10.1007/s12672-018-0339-4

7.

Ades F, Zardavas D, Bozovic-Spasojevic I, Pugliano L, Fumagalli D, de Azambuja E, Viale G, Sotiriou C, Piccart M (2014) Luminal B breast cancer: molecular characterization, clinical management, and future perspectives. J Clin Oncol 32(25):2794–2803. https://doi.org/10.1200/JCO.2013.54.1870

8.

Lopez G, Costanza J, Colleoni M, Fontana L, Ferrero S, Miozzo M, Fusco N (2019) Molecular insights into the classification of luminal breast cancers: the genomic heterogeneity of progesterone-negative tumors. Int J Mol Sci. https://doi.org/10.3390/ijms20030510

9.

Harbeck N, Thomssen C, Gnant M (2013) St. Gallen 2013: brief preliminary summary of the consensus discussion. Breast Care 8(2):102–109. https://doi.org/10.1159/000351193

10.

Dunnwald LK, Rossing MA, Li CI (2007) Hormone receptor status, tumor characteristics, and prognosis: a prospective cohort of breast cancer patients. Breast Cancer Res 9(1):R6. https://doi.org/10.1186/bcr1639

11.

Kraby MR, Valla M, Opdahl S, Haugen OA, Sawicka JE, Engstrom MJ, Bofin AM (2018) The prognostic value of androgen receptors in breast cancer subtypes. Breast Cancer Res Treat 172(2):283–296. https://doi.org/10.1007/s10549-018-4904-x

12.

Castellano I, Allia E, Accortanzo V, Vandone AM, Chiusa L, Arisio R, Durando A, Donadio M, Bussolati G, Coates AS, Viale G, Sapino A (2010) Androgen receptor expression is a significant prognostic factor in estrogen receptor positive breast cancers. Breast Cancer Res Treat 124(3):607–617. https://doi.org/10.1007/s10549-010-0761-y

13.

Christenson JL, Trepel JB, Ali HY, Lee S, Eisner JR, Baskin-Bey ES, Elias AD, Richer JK (2018) Harnessing a different dependency: how to identify and target androgen receptor-positive versus quadruple-negative breast cancer. Horm Cancer 9(2):82–94. https://doi.org/10.1007/s12672-017-0314-5

14.

Park S, Koo JS, Kim MS, Park HS, Lee JS, Lee JS, Kim SI, Park BW, Lee KS (2011) Androgen receptor expression is significantly associated with better outcomes in estrogen receptor-positive breast cancers. Ann Oncol 22(8):1755–1762. https://doi.org/10.1093/annonc/mdq678

15.

Qi JP, Yang YL, Zhu H, Wang J, Jia Y, Liu N, Song YJ, Zan LK, Zhang X, Zhou M, Gu YH, Liu T, Hicks DG, Tang P (2012) Expression of the androgen receptor and its correlation with molecular subtypes in 980 chinese breast cancer patients. Breast Cancer 6:1–8. https://doi.org/10.4137/BCBCR.S8323

16.

Micello D, Marando A, Sahnane N, Riva C, Capella C, Sessa F (2010) Androgen receptor is frequently expressed in HER2−positive, ER/PR−negative breast cancers. Virchows Arch 457(4):467–476. https://doi.org/10.1007/s00428-010-0964-y

17.

Yu Q, Niu Y, Liu N, Zhang JZ, Liu TJ, Zhang RJ, Wang SL, Ding XM, Xiao XQ (2011) Expression of androgen receptor in breast cancer and its significance as a prognostic factor. Ann Oncol 22(6):1288–1294. https://doi.org/10.1093/annonc/mdq586
Acknowledgements
The authors are very grateful to the staff of Hospital Magdalena V. de Martínez and to Dr. Silvia Vanzulli (Academia Nacional de Medicina) for the technical assistance.
Funding
This work was funded by Instituto Nacional del Cáncer (Grant #2018–2019), Agencia Nacional de Promoción de Ciencia y Tecnología (ANAPCYT, PICT 2015/1022), Fundación para el Progreso de la Medicina (Grant #C03), Fundación Gador, Fundación René Barón and, Fundación Williams. AE is a CONICET doctoral fellow. LG is a fellow from Hospital Universitario Austral. CL and CAL are members of CONICET´s Research Career.
Ethics declarations
Conflict of interest
All authors declare that they have no conflict of interest.
Ethical approval
All procedures performed in studies involving human participants were in accordance with the ethical standards of the institutional and/or national research committee and with the 1964 Helsinki declaration and its later amendments or comparable ethical standards. This study was approved by the Institutional Review Boards of the Hospital Magdalena V. de Martínez and IBYME-CONICET (CE 026/2012).
Informed consent
Informed consent was obtained from all individual participants included in this study.
Research involving human participants and/or animals
This article does not contain any studies with animals performed by any of the authors.
Additional information
Publisher's Note
Springer Nature remains neutral with regard to jurisdictional claims in published maps and institutional affiliations.
About this article
Cite this article
García, X., Elía, A., Galizzi, L. et al. Increased androgen receptor expression in estrogen receptor-positive/progesterone receptor-negative breast cancer. Breast Cancer Res Treat (2020) doi:10.1007/s10549-020-05527-3
Received:

Accepted:

Published:
Keywords
Androgen receptor

Breast cancer

Luminal B subtype

Human samples