Coated microneedles for transdermal delivery of a potent pharmaceutical peptide
Part of the following topical collections:
Abstract
Minimally invasive delivery of peptide and protein molecules represents a significant opportunity for product differentiation and value creation versus standard injectable routes of administration. One such technology utilizes microneedle (MN) patches and it has made considerable clinical advances in systemic delivery of potent macromolecules and vaccines. A sub-class of this technology has focused on preparation of solid dense MN arrays followed by precision formulation coating on the tips of the MN. The objective of this study was to develop a drug product using the MN technology that has similar bioperformance when compared to subcutaneous route of delivery and can provide improved stability under storage. Therapeutic peptide (Peptide A, Merck & Co., Inc., Kenilworth, NJ, USA) is being developed as a subcutaneous injection for chronic dosing with a submilligram estimated therapeutic dose. Peptide A has chemical and physical stability challenges in solution and this led to exploration of a viable drug product which could provide therapeutic dosages while overcoming the stability issues seen with the compound. This work focused on developing a coated solid microstructure transdermal system (sMTS) for Peptide A followed by detailed in vitro and preclinical evaluation for two different coating formulations. Based on initial assessment, ~250 μg of Peptide A could be coated with precision on a 1.27cm2 patch which contained 316 MN's. The delivery from these systems was achieved with absolute bioavailability being similar to the subcutaneous delivery (88% and 74% for coated sMTS 1 & 2 and 75% for subcutaneous delivery). Stability of Peptide A was also found to be significantly improved when coated on the sMTS system with minimal degradation recorded at room temperature storage as compared to the subcutaneous liquid formulation. Additionally, skin irritation (on pig skin) was also measured in this study and it was found to be minimal and self-resolving. This evaluation provided a viable option for developing a drug product with improved stability and successful delivery of the investigated molecule.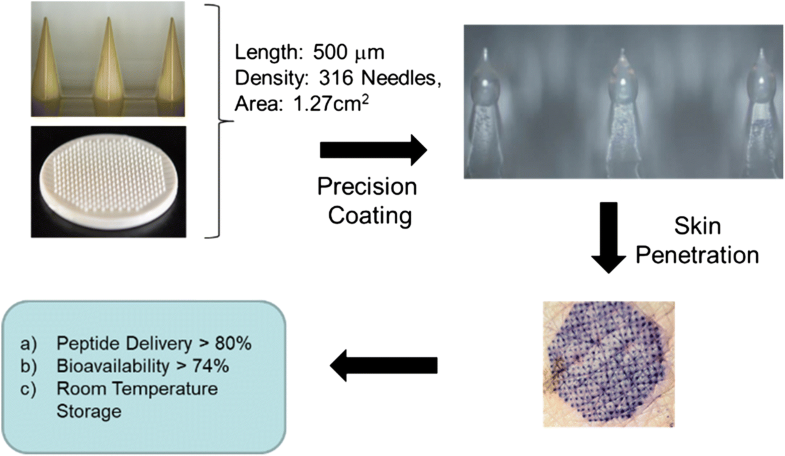 Keywords
Transdermal 
Microneedle 
Peptide 
Stability 
sMTS 
Notes
Acknowledgements
We would like to thank Henry Wu, Preclinical Development at Merck & Co., Inc., Kenilworth, NJ, USA, for his insightful comments and guidance in this work.
Copyright information
© Springer Science+Business Media, LLC, part of Springer Nature 2020