Abstract
Microchips can be fabricated, using semiconductor technologies, at microscopic level to be introduced into living cells for monitoring of intracellular parameters at a single cell level. As a first step towards intracellular chips development, silicon and polysilicon microparticles of controlled shape and dimensions were fabricated and introduced into human macrophages and mouse embryos by phagocytosis and microinjection, respectively. Microparticles showed to be non-cytotoxic for macrophages and were found to be localized mainly inside early endosomes, in tight association with endosomal membrane, and more rarely in acidic compartments. Embryos with microinjected microparticles developed normally to the blastocyst stage, confirming the non-cytotoxic effect of the particles. In view of these results silicon and polysilicon microparticles can serve as the frame for future intracellular chips development and this technology opens the possibility of real complex devices to be used as sensors or actuators inside living cells.
This is a preview of subscription content, log in to check access.
Access options
Buy single article
Instant unlimited access to the full article PDF.
US$ 39.95
Price includes VAT for USA
Subscribe to journal
Immediate online access to all issues from 2019. Subscription will auto renew annually.
US$ 99
This is the net price. Taxes to be calculated in checkout.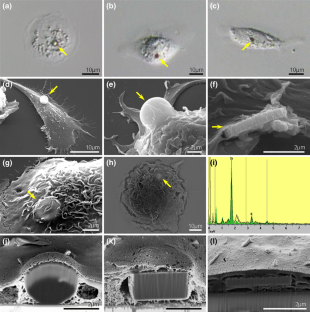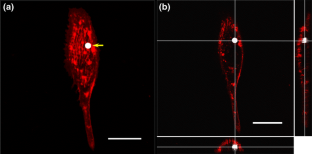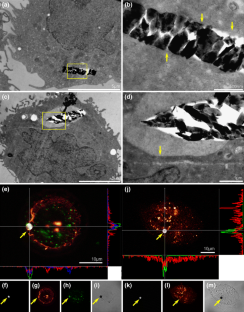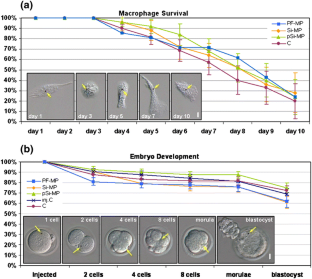 Abbreviations
CLSM:

confocal laser scanning microscopy

FIB:

focus ion beam

ICCs:

IntraCellular Chips

MEMS:

MicroElectroMechanical Systems

MP:

microparticle

NP:

nanoparticle

PF-MP:

polystyrene fluorescent microspheres

pSi-MP:

polysilicon MP

SEM:

scanning electron microscope

Si-MP:

Silicon MP

TEM:

transmission electron microscopy
References
S. Abes, D. Williams, P. Prevot, A. Thierry, M.J. Gait, B. Lebleu, J. Control. Release 110(3), 595 (2006)

G. Bao, S. Suresh, Nat. Mater. 2(11), 715 (2003)

J.D. Biggers, L.K. McGinnis, M. Raffin, Biol. Reprod. 63(1), 281 (2000)

T.P. Burg, M. Godin, S.M. Knudsen, W. Shen, G. Carlson, J.S. Foster, K. Babcock, S.R. Manalis, Nature 446(7139), 1066 (2007)

J. Choi, Q. Zhang, V. Reipa, N.S. Wang, M.E. Stratmeyer, V.M. Hitchins, P.L. Goering, J. Appl. Toxicol. 29(1), 52 (2009)

S.E. Cross, Y.S. Jin, J. Rao, J.K. Gimzewski, Nat. Nanotechnol. 2(12), 780 (2007)

C. de Chastellier, L. Thilo, Cell. Microbiol. 8(2), 242 (2006)

S. Faraasen, J. Voros, G. Csucs, M. Textor, H.P. Merkle, E. Walter, Pharm. Res. 20(2), 237 (2003)

C. Foged, B. Brodin, S. Frokjaer, A. Sundblad, Int. J. Pharm. 298(2), 315 (2005)

J. Fritz, M.K. Baller, H.P. Lang, H. Rothuizen, P. Vettiger, E. Meyer, H.J. Guntherodt, C. Gerber, J.K. Gimzewski, Science 288(5464), 316 (2000)

A.J. Gomes, A.S. Faustino, A.E.H. Machado, M.E.D. Zaniquelli, T.D. Rigoletto, C.N. Lunardi, L.O. Lunardi, Drug Deliv. 13(6), 447 (2006)

D.S. Gray, J.L. Tan, J. Voldman, C.S. Chen, Biosens. Bioelectron. 19(12), 1763 (2004)

J.K. Hsiao, C.P. Tsai, T.H. Chung, Y. Hung, M. Yao, H.M. Liu, C.Y. Mou, C.S. Yang, Y.C. Chen, D.M. Huang, Small 4(9), 1445 (2008)

K.K. Huynh, E.L. Eskelinen, C.C. Scott, A. Malevanets, P. Saftig, S. Grinstein, EMBO J. 26(2), 313 (2007)

A.M. Javier, O. Kreft, M. Semmling, S. Kempter, A.G. Skirtach, O.T. Bruns, P. del Pino, M.F. Bedard, J. Raedler, J. Kaes, C. Plank, G.B. Sukhorukov, W.J. Parak, Adv. Mater. 20(22), 4281 (2008)

P.B. Kang, A.K. Azad, J.B. Torrelles, T.M. Kaufman, A. Beharka, E. Tibesar, L.E. DesJardin, L.S. Schlesinger, J. Exp. Med. 202(7), 987 (2005)

H. Lee, Y. Liu, D. Ham, R.M. Westervelt, Lab Chip 7(3), 331 (2007)

J. Lu, M. Liong, J.I. Zink, F. Tamanoi, Small 3(8), 1341 (2007)

J.S. Mcdowell, R.J. Swanson, M. Maloney, L. Veeck, J. In Vitro Fert. Embryo Transf. 5(3), 144 (1988)

Y. Pan, S. Neuss, A. Leifert, M. Fischler, F. Wen, U. Simon, G. Schmid, W. Brandau, W. Jahnen-Dechent, Small 3, 1941 (2007)

C.E. Pedraza, L.G. Nikolcheva, M.T. Kaartinen, J.E. Barralet, M.D. McKee, Bone 43(4), 708 (2008)

S.C.W. Richardson, K.L. Wallom, E.L. Ferguson, S.P.E. Deacon, M.W. Davies, A.J. Powell, R.C. Piper, R. Duncan, J. Control. Release 127(1), 1 (2008)

G. Shekhawat, S.H. Tark, V.P. Dravid, Science 311(5767), 1592 (2006)

I. Slowing, B.G. Trewyn, V.S.Y. Lin, J. Am. Chem. Soc. 128(46), 14792 (2006)

I.I. Slowing, B.G. Trewyn, V.S.Y. Lin, J. Am. Chem. Soc. 129(28), 8845 (2007)

E. Tasciotti, X.W. Liu, R. Bhavane, K. Plant, A.D. Leonard, B.K. Price, M.M.C. Cheng, P. Decuzzi, J.M. Tour, F. Robertson, M. Ferrari, Nat. Nanotechnol. 3(3), 151 (2008)

L. Thiele, B. Rothen-Rutishauser, S. Jilek, H. Wunderli-Allenspach, H.P. Merkle, E. Walter, J. Control. Release 76(1–2), 59 (2001)

L. Thiele, H.P. Merkle, E. Walter, Pharm. Res. 20(2), 221 (2003)

A.P.F. Trombone, C.L. Silva, L.P. Almeida, R.S. Rosada, K.M. Lima, C. Oliver, M.C. Jamur, A.A. Coelho-Castelo, Genet. Vaccines Ther. 5, 9 (2007)

H. Vallhov, S. Gabrielsson, M. Stromme, A. Scheynius, A.E. Garcia-Bennett, Nano Lett. 7(12), 3576 (2007)

N. van der Wel, D. Hava, D. Houben, D. Fluitsma, M. van Zon, J. Pierson, M. Brenner, P.J. Peters, Cell 129(7), 1287 (2007)

A. Verma, O. Uzun, Y.H. Hu, Y. Hu, H.S. Han, N. Watson, S.L. Chen, D.J. Irvine, F. Stellacci, Nat. Mater. 7(7), 588 (2008)
Acknowledgements
This work was supported by the Spanish government under the MINAHE 2 (TEC2005-07996-C02-01) and the MINAHE 3 (TEC2008-06883-C03-01 and TEC2008-06883-C03-03). We also wish to thank the MEC-GICSERV program, the SGR program from the Catalan government (2005SGR-00437), the IBM-CNM clean room staff, and the staff at the Servei de Microscopia at Universitat Autònoma Barcelona.
Electronic Supplementary Material
Below is the link to the electronic supplementary material.
About this article
Cite this article
Fernández-Rosas, E., Gómez, R., Ibañez, E. et al. Internalization and cytotoxicity analysis of silicon-based microparticles in macrophages and embryos. Biomed Microdevices 12, 371–379 (2010). https://doi.org/10.1007/s10544-009-9393-6
Keywords
Silicon

Polysilicon

Microparticle

MEMS

Cytotoxicity