Abstract
Treatment of MCF-7 cells with tamoxifen induced vacuole formation and cell death. Levels of the autophagy marker, microtubule-associated protein light chain 3 (LC3)-II also increased, and GFP-LC3 accumulated in and around vacuoles in MCF-7 cells exposed to tamoxifen, indicating that autophagy is involved in tamoxifen-induced changes. Live-cell confocal microscopy with FluoZin-3 staining and transmission electron microscopy with autometallographic staining revealed that labile zinc(II) ion (Zn2+) accumulated in most acidic LC3(+) autophagic vacuoles (AVs). Chelation of Zn2+ with N,N,N′,N′-tetrakis (2-pyridylmethyl) ethylenediamine (TPEN) blocked the increase in phospho-Erk and LC3-II levels, and attenuated AV formation and cell death. Conversely, the addition of ZnCl2 markedly potentiated tamoxifen-induced extracellular signal-regulated kinase (Erk) activation, autophagy and cell death, indicating that Zn2+ has an important role in these events. Tamoxifen-induced death was accompanied by increased oxidative stress and lysosomal membrane permeabilization (LMP) represented as release of lysosomal cathepsins into cytosol. Treatment with the antioxidant N-acetyl-l-cysteine (NAC) blunted the increase in Zn2+ levels and reduced LC3-II conversion, cathepsin D release and cell death induced by tamoxifen. And cathepsin inhibitors attenuated cell death, indicating that LMP contributes to tamoxifen-induced cell death. Moreover, TPEN blocked tamoxifen-induced cathepsin D release and increase in oxidative stress. The present results indicate that Zn2+ contributes to tamoxifen-induced autophagic cell death via increase in oxidative stress and induction of LMP.
This is a preview of subscription content, log in to check access.
Access options
Buy single article
Instant unlimited access to the full article PDF.
US$ 39.95
Price includes VAT for USA
Subscribe to journal
Immediate online access to all issues from 2019. Subscription will auto renew annually.
US$ 199
This is the net price. Taxes to be calculated in checkout.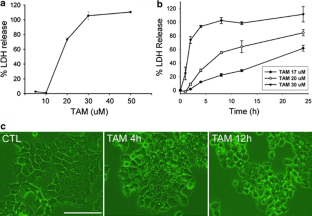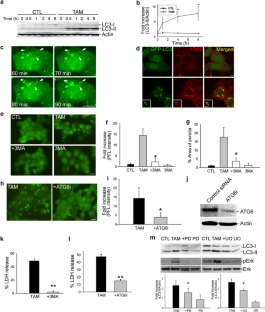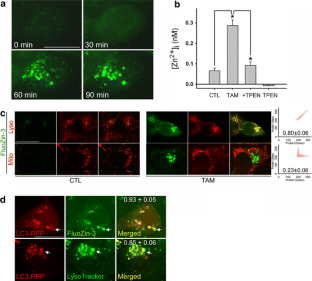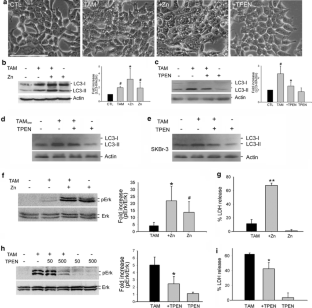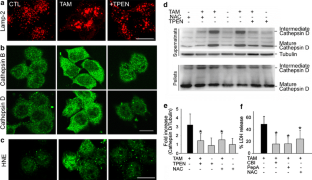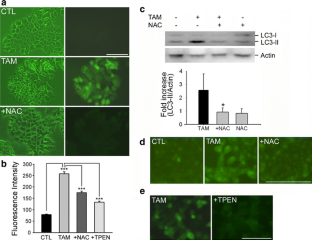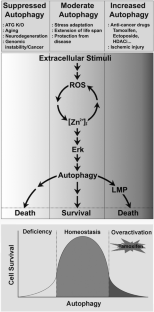 Abbreviations
3-MA:

3-methyladenine

AMG:

Autometallography

ATG:

Autophagy-related gene

AV:

Autophagic vacuole

ER:

Estrogen receptor

Erk:

Extracellular signal-regulated kinase

Lamp-2:

Lysosomal-associated membrane protein-2

LC3-II:

Microtuble-associated protein light chain 3-II

LDH:

Lactate dehydrogenase

LMP:

Lysosomal membrane permeabilization

MT:

Metallothionein

NAC:

N-acetyl-l-cysteine

ROI:

Region of interest

ROS:

Reactive oxygen species

SERM:

Selective estrogen receptor modulator

TPEN:

N,N,N',N′-tetrakis (2-pyridylmethyl) ethylenediamine
References
Bampton ET, Goemans CG, Niranjan D, Mizushima N, Tolkovsky AM (2005) The dynamics of autophagy visualized in live cells: from autophagosome formation to fusion with endo/lysosomes. Autophagy 1:23–36

Bursch W, Ellinger A, Kienzl H, Torok L, Pandey S, Sikorska M, Walker R, Hermann RS (1996) Active cell death induced by the anti-estrogens tamoxifen and ICI 164 384 in human mammary carcinoma cells (MCF-7) in culture: the role of autophagy. Carcinogenesis 17:1595–1607

Chen Y, McMillan-Ward E, Kong J, Israels SJ, Gibson SB (2008) Oxidative stress induces autophagic cell death independent of apoptosis in transformed and cancer cells. Cell Death Differ 15:171–182

Cheng Y, Qiu F, Tashiro S, Onodera S, Ikejima T (2008) ERK and JNK mediate TNFalpha-induced p53 activation in apoptotic and autophagic L929 cell death. Biochem Biophys Res Commun 376:483–488

Choi DW, Koh JY (1998) Zinc and brain injury. Annu Rev Neurosci 21:347–375

de Medina P, Payre B, Boubekeur N, Bertrand-Michel J, Terce F, Silvente-Poirot S, Poirot M (2009) Ligands of the antiestrogen-binding site induce active cell death and autophagy in human breast cancer cells through the modulation of cholesterol metabolism. Cell Death Differ 16:1372–1384

Ellington AA, Berhow M, Singletary KW (2005) Induction of macroautophagy in human colon cancer cells by soybean B-group triterpenoid saponins. Carcinogenesis 26:159–167

Feng W, Huang S, Wu H, Zhang M (2007) Molecular basis of Bcl-xL's target recognition versatility revealed by the structure of Bcl-xL in complex with the BH3 domain of Beclin-1. J Mol Biol 372:223–235

Frederickson CJ, Koh JY, Bush AI (2005) The neurobiology of zinc in health and disease. Nat Rev Neurosci 6:449–462

Gelmann EP (1997) Tamoxifen for the treatment of malignancies other than breast and endometrial carcinoma. Semin Oncol 24:S1-65–S61-70

Haase H, Maret W (2003) Intracellular zinc fluctuations modulate protein tyrosine phosphatase activity in insulin/insulin-like growth factor-1 signaling. Exp Cell Res 291:289–298

Heerdt AS, Borgen PI (1999) Current status of tamoxifen use: An update for the surgical oncologist. J Surg Oncol 72:42–49

Hwang JJ, Park MH, Choi SY, Koh JY (2005) Activation of the Trk signaling pathway by extracellular zinc. Role of metalloproteinases. J Biol Chem 280:11995–12001

Hwang JJ, Lee SJ, Kim TY, Cho JH, Koh JY (2008) Zinc and 4-hydroxy-2-nonenal mediate lysosomal membrane permeabilization induced by H2O2 in cultured hippocampal neurons. J Neurosci 28:3114–3122

Jensen EV, Jordan VC (2003) The estrogen receptor: a model for molecular medicine. Clin Cancer Res 9:1980–1989

Kabeya Y, Mizushima N, Ueno T, Yamamoto A, Kirisako T, Noda T, Kominami E, Ohsumi Y, Yoshimori T (2000) LC3, a mammalian homologue of yeast Apg8p, is localized in autophagosome membranes after processing. EMBO J 19:5720–5728

Kallio A, Zheng A, Dahllund J, Heiskanen KM, Harkonen P (2005) Role of mitochondria in tamoxifen-induced rapid death of MCF-7 breast cancer cells. Apoptosis 10:1395–1410

Klein D, Lichtmannegger J, Heinzmann U, Muller-Hocker J, Michaelsen S, Summer KH (1998) Association of copper to metallothionein in hepatic lysosomes of Long-Evans cinnamon (LEC) rats during the development of hepatitis [see comments]. Eur J Clin Invest 28:302–310

Koh JY, Choi DW (1987) Quantitative determination of glutamate mediated cortical neuronal injury in cell culture by lactate dehydrogenase efflux assay. J Neurosci Methods 20:83–90

Kroemer G, Jaattela M (2005) Lysosomes and autophagy in cell death control. Nat Rev Cancer 5:886–897

Lee TH, Chuang LY, Hung WC (2000a) Induction of p21WAF1 expression via Sp1-binding sites by tamoxifen in estrogen receptor-negative lung cancer cells. Oncogene 19:3766–3773

Lee YS, Kang YS, Lee SH, Kim JA (2000b) Role of NAD(P)H oxidase in the tamoxifen-induced generation of reactive oxygen species and apoptosis in HepG2 human hepatoblastoma cells. Cell Death Differ 7:925–932

Levine B, Kroemer G (2008) Autophagy in the pathogenesis of disease. Cell 132:27–42

Li Y, Maret W (2009) Transient fluctuations of intracellular zinc ions in cell proliferation. Exp Cell Res 315:2463–2470

Liang XH, Jackson S, Seaman M, Brown K, Kempkes B, Hibshoosh H, Levine B (1999) Induction of autophagy and inhibition of tumorigenesis by beclin 1. Nature 402:672–676

Liang XH, Yu J, Brown K, Levine B (2001) Beclin 1 contains a leucine-rich nuclear export signal that is required for its autophagy and tumor suppressor function. Cancer Res 61:3443–3449

Maret W, Vallee BL (1998) Thiolate ligands in metallothionein confer redox activity on zinc clusters. Proc Natl Acad Sci USA 95:3478–3482

Matsui Y, Takagi H, Qu X, Abdellatif M, Sakoda H, Asano T, Levine B, Sadoshima J (2007) Distinct roles of autophagy in the heart during ischemia and reperfusion: roles of AMP-activated protein kinase and Beclin 1 in mediating autophagy. Circ Res 100:914–922

Mizushima N, Levine B, Cuervo AM, Klionsky DJ (2008) Autophagy fights disease through cellular self-digestion. Nature 451:1069–1075

Nixon RA (2006) Autophagy in neurodegenerative disease: friend, foe or turncoat? Trends Neurosci 29:528–535

Park JA, Koh JY (1999) Induction of an immediate early gene egr-1 by zinc through extracellular signal-regulated kinase activation in cortical culture: its role in zinc-induced neuronal death. J Neurochem 73:450–456

Pattingre S, Tassa A, Qu X, Garuti R, Liang XH, Mizushima N, Packer M, Schneider MD, Levine B (2005) Bcl-2 antiapoptotic proteins inhibit Beclin 1-dependent autophagy. Cell 122:927–939

Plutner H, Davidson HW, Saraste J, Balch WE (1992) Morphological analysis of protein transport from the ER to Golgi membranes in digitonin-permeabilized cells: role of the P58 containing compartment. J Cell Biol 119:1097–1116

Scarlatti F, Bauvy C, Ventruti A, Sala G, Cluzeaud F, Vandewalle A, Ghidoni R, Codogno P (2004) Ceramide-mediated macroautophagy involves inhibition of protein kinase B and up-regulation of beclin 1. J Biol Chem 279:18384–18391

Scherz-Shouval R, Shvets E, Fass E, Shorer H, Gil L, Elazar Z (2007) Reactive oxygen species are essential for autophagy and specifically regulate the activity of Atg4. EMBO J 26:1749–1760

Takeuchi H, Kondo Y, Fujiwara K, Kanzawa T, Aoki H, Mills GB, Kondo S (2005) Synergistic augmentation of rapamycin-induced autophagy in malignant glioma cells by phosphatidylinositol 3-kinase/protein kinase B inhibitors. Cancer Res 65:3336–3346

Taylor KM, Vichova P, Jordan N, Hiscox S, Hendley R, Nicholson RI (2008) ZIP7-mediated intracellular zinc transport contributes to aberrant growth factor signaling in antihormone-resistant breast cancer Cells. Endocrinology 149:4912–4920

Uchiyama Y, Koike M, Shibata M (2008) Autophagic neuron death in neonatal brain ischemia/hypoxia. Autophagy 4:404–408

Vijayanathan V, Thomas TJ, Nair SK, Shirahata A, Gallo MA, Thomas T (2006) Bending of the estrogen response element by polyamines and estrogen receptors alpha and beta: a fluorescence resonance energy transfer study. Int J Biochem Cell Biol 38:1191–1206

Watts CK, Sweeney KJ, Warlters A, Musgrove EA, Sutherland RL (1994) Antiestrogen regulation of cell cycle progression and cyclin D1 gene expression in MCF-7 human breast cancer cells. Breast Cancer Res Treat 31:95–105

Yamamoto S, Tanaka K, Sakimura R, Okada T, Nakamura T, Li Y, Takasaki M, Nakabeppu Y, Iwamoto Y (2008) Suberoylanilide hydroxamic acid (SAHA) induces apoptosis or autophagy-associated cell death in chondrosarcoma cell lines. Anticancer Res 28:1585–1591

Zheng A, Kallio A, Harkonen P (2007) Tamoxifen-induced rapid death of MCF-7 breast cancer cells is mediated via extracellularly signal-regulated kinase signaling and can be abrogated by estrogen. Endocrinology 148:2764–2777

Zheng X, Chu F, Mirkin BL, Sudha T, Mousa SA, Rebbaa A (2008) Role of the proteolytic hierarchy between cathepsin L, cathepsin D and caspase-3 in regulation of cellular susceptibility to apoptosis and autophagy. Biochim Biophys Acta 1783:2294–2300
Acknowledgments
We thank Drs. Noboru Mizushima and Maria Colombo for generous gifts of LC3 cDNA and RFP-LC3 plasmid respectively. This study was supported by a grant of the Korea Healthcare technology R&D Project, Ministry for Health, Welfare & Family Affairs, Republic of Korea [A084270].
Electronic supplementary material
Below is the link to the electronic supplementary material.
Live cell confocal microscopic images (2 minutes/frame) of MCF-7 cells transfected with LC3-GFP, 60-90 minutes after addition of 17 μM tamoxifen in HBSS. Images were obtained from z-series collections (35 z-section images of 1 μm thickness). (AVI 464 kb)
Live cell confocal microscopic images (2 minutes/frame) of a MCF-7 cell stained with FluoZin-3. Cells were treated with 17 μM tamoxifen and images were obtained from z-series collection (38 z-section images of 1 μm thickness) for 86 minutes. (AVI 170 kb)
Live cell confocal microscopic images (1 minutes/frame) of a MCF-7 cell stained with FluoZin-3. Cells were treated with 17 μM tamoxifen and images were obtained from z-series collection (33 z-section images of 1 μm thickness) for 90 minutes. (AVI 483 kb)
Live cell confocal microscopic images (2 minutes/frame) of MCF-7 cells transfected with LC3-GFP, 60-90 minutes after addition of 17 μM tamoxifen in HBSS. Images were obtained from z-series collections (35 z-section images of 1 μm thickness). (AVI 464 kb)
Live cell confocal microscopic images (2 minutes/frame) of a MCF-7 cell stained with FluoZin-3. Cells were treated with 17 μM tamoxifen and images were obtained from z-series collection (38 z-section images of 1 μm thickness) for 86 minutes. (AVI 170 kb)
Live cell confocal microscopic images (1 minutes/frame) of a MCF-7 cell stained with FluoZin-3. Cells were treated with 17 μM tamoxifen and images were obtained from z-series collection (33 z-section images of 1 μm thickness) for 90 minutes. (AVI 483 kb)
About this article
Cite this article
Hwang, J.J., Kim, H.N., Kim, J. et al. Zinc(II) ion mediates tamoxifen-induced autophagy and cell death in MCF-7 breast cancer cell line. Biometals 23, 997–1013 (2010) doi:10.1007/s10534-010-9346-9
Received:

Accepted:

Published:

Issue Date:
Keywords
Cathepsin

Extracellular signal-regulated kinase

Lysosome

Lysosomal membrane permeabilization

Microtuble-associated protein light chain 3

Oxidative stress