A seaweed increases ecosystem multifunctionality when invading bare mudflats
Introduction
One of the most successful marine invaders worldwide is the seaweed
Gracilaria vermiculophylla
(Gulbransen et al.
2013
; Hu and Juan
2014
; Thomsen et al.
2016b
). A highly variable abundance of
Gracilaria
in many different invaded habitats and bioregions has motivated researchers to quantify impacts on a variety of ecological response variables (Gulbransen and McGlathery
2013
; Thomsen et al.
2013
; Davoult et al.
2017
). Ramus et al. (
2017
) therefore used a manipulative field experiment to test for density-dependent effects of
Gracilaria
on 11 ecosystem functions (see Fig.
1
for a description of the functions). From their experiment and analyses, Ramus et al. concluded that in comparison to bare mudflats,
Gracilaria
increases multiple ecosystem functions (Figs.
2
H and S2E in Ramus et al.
2017
).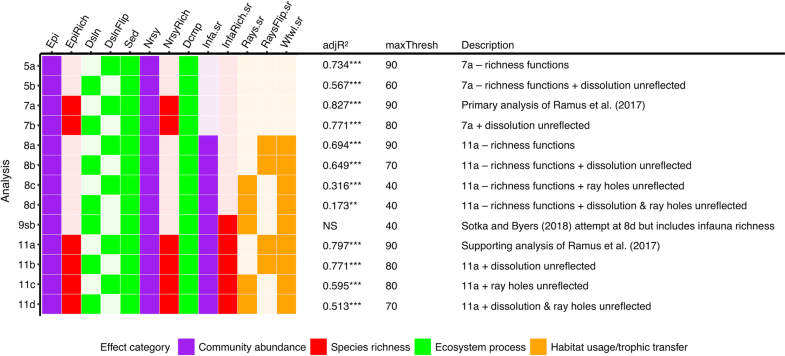 Keywords
Biodiversity 
Ecosystem engineer 
Ecosystem functioning 
Experimental designs 
Facilitation 
Foundation species 
Gracilaria vermiculophylla
Notes
Acknowledgements
We thank two reviewers for comments that improved this manuscript.
Copyright information
© Springer Nature Switzerland AG 2018