Abstract
Objective
To provide an alternative therapeutic modality for rheumatoid arthritis (RA), a novel bispecific antibody (BsAb) targeting human tumor necrosis factor α (TNF-α) and human complement component C5a was constructed.
Results
BsAb was expressed in Pichia pastoris and secreted into the culture medium as a functional protein. In vitro functional study demonstrated that BsAb could simultaneously bind to TNF-α and C5a and neutralize their biological actions. Furthermore, BsAb showed significant improvements in both the antigen-binding affinity and the neutralizing ability as compared to its original antibodies produced in E. coli. It was also found that TNF-α and C5a had an additive/synergistic effect on promoting the production of inflammatory cytokines and chemokines and C5a receptor (C5aR) expression in human macrophages. Compared to single inhibition of TNF-α or C5a with respective antibody, BsAb showed a superior efficacy in blocking inflammatory cytokines, chemokines, and C5aR response, as well as in lowering the C5a-mediated chemotaxis of macrophages via C5aR in vitro.
Conclusions
With improved production processing and the ability to simultaneously block TNF-α and C5a action, BsAb has a great potential to be developed into a therapeutic agent and may offer a better therapeutic index for RA.
This is a preview of subscription content, log in to check access.
Access options
Buy single article
Instant access to the full article PDF.
US$ 39.95
Price includes VAT for USA
Subscribe to journal
Immediate online access to all issues from 2019. Subscription will auto renew annually.
US$ 199
This is the net price. Taxes to be calculated in checkout.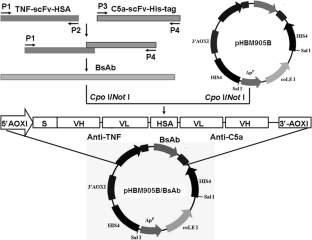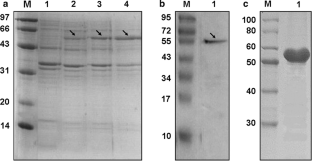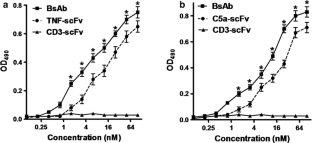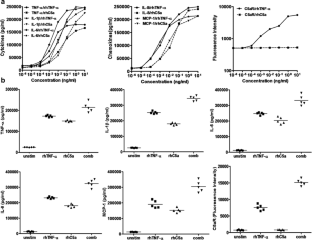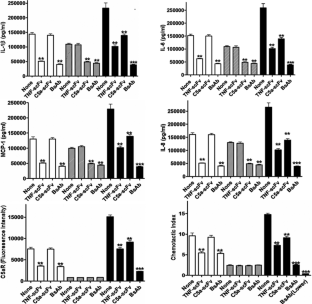 Funding
This work was supported by the National Natural Science Foundation of China (Grant No. 30973669) and the Key Science-Technology foundation of Hubei Provincial Department of Education (Grant No. D20141002).
Ethics declarations
Conflict of interest
The authors declare that they have no conflict of interest.
Research involving human and animal rights
This article dose not contain any studies with human participants or animal performed by any of the authors.
Additional information
Publisher's Note
Springer Nature remains neutral with regard to jurisdictional claims in published maps and institutional affiliations.
About this article
Cite this article
Chen, J., He, Z., Fan, Y. et al. Production of a bispecific antibody targeting TNF-α and C5a in Pichia pastoris and its therapeutic potential in rheumatoid arthritis. Biotechnol Lett (2020). https://doi.org/10.1007/s10529-020-02830-3
Received:

Accepted:

Published:
Keywords
Bispecific antibody

Complement component C5a

Rheumatoid arthritis

Tumor necrosis factor α