Abstract
We have developed a technique for isolating and culturing primary lung cancer cells extracted from patient tissue to facilitate anti-cancer drug development. Patient-derived lung cancer tissues were mechanically dissociated to 40–100 μm. Dispase was then used to isolate cultured lung cancer cell populations, which were re-plated on Matrigel-coated dishes containing N2-supplemented medium and growth factors. This method allows pure populations of primary non-small cell lung cancer cells to be grown in vitro. The isolated cells exhibited hallmark cancerous properties such as abnormal chromosomes and in vivo tumor formation. The cell lines generated through this procedure may help to advance our knowledge of certain forms of lung cancer and may also be useful for developing patient-specific anti-cancer drug screening procedures.
This is a preview of subscription content, log in to check access.
Access options
Buy single article
Instant unlimited access to the full article PDF.
US$ 39.95
Price includes VAT for USA
Subscribe to journal
Immediate online access to all issues from 2019. Subscription will auto renew annually.
US$ 199
This is the net price. Taxes to be calculated in checkout.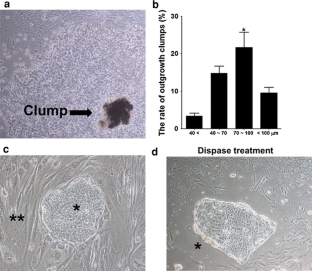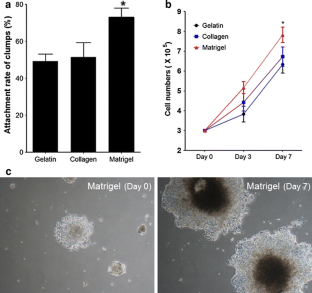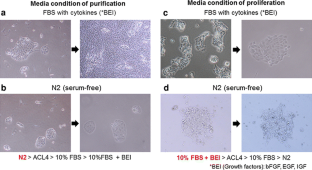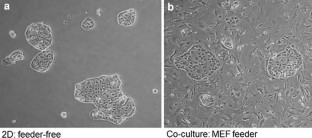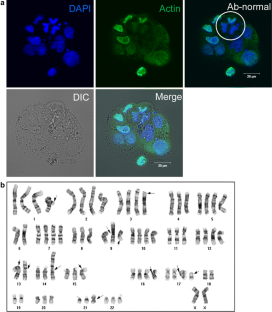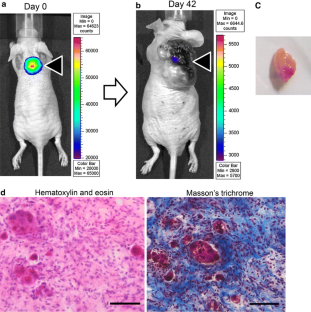 References
Casey TM, Eneman J, Crocker A, White J, Tessitore J, Stanley M, Harlow S, Bunn JY, Weaver D, Muss H, Plaut K (2008) Cancer associated fibroblasts stimulated by transforming growth factor beta 1 (TGF-beta 1) increase invasion rate of tumor cells: a population study. Breast Cancer Res Treat 110(1):39–49. doi:10.1007/s10549-007-9684-7

Collins LG, Haines C, Perkel R, Enck RE (2007) Lung cancer: diagnosis and management. Am Fam Physician 75(1):56–63

Crescenzi E, Chiaviello A, Canti G, Reddi E, Veneziani BM, Palumbo G (2006) Low doses of cisplatin or gemcitabine plus Photofrin/photodynamic therapy: disjointed cell cycle phase-related activity accounts for synergistic outcome in metastatic non-small cell lung cancer cells (H1299). Mol Cancer Ther 5(3):776–785. doi:10.1158/1535-7163.MCT-05-0425

Dutrillaux B, Viegas-Pequignot E (1981) High resolution R- and G-banding on the same preparation. Hum Genet 57(1):93–95

Eramo A, Haas TL, De Maria R (2010) Lung cancer stem cells: tools and targets to fight lung cancer. Oncogene 29(33):4625–4635. doi:10.1038/onc.2010.207

Ettinger DS, Akerley W, Bepler G, Blum MG et al (2010) Non-small cell lung cancer. J Natl Compr Cancer Netw JNCCN 8(7):740–801

Jakowlew SB (2006) Transforming growth factor-beta in cancer and metastasis. Cancer Metastasis Rev 25(3):435–457. doi:10.1007/s10555-006-9006-2

Jing Y, Han Z, Zhang S, Liu Y, Wei L (2011) Epithelial-mesenchymal transition in tumor microenvironment. Cell Biosci 1:29. doi:10.1186/2045-3701-1-29

Leung EL, Fiscus RR, Tung JW, Tin VP, Cheng LC, Sihoe AD, Fink LM, Ma Y, Wong MP (2010) Non-small cell lung cancer cells expressing CD44 are enriched for stem cell-like properties. PLoS ONE 5(11):e14062. doi:10.1371/journal.pone.0014062

Masuda N, Fukuoka M, Takada M, Kudoh S, Kusunoki Y (1991) Establishment and characterization of 20 human non-small cell lung cancer cell lines in a serum-free defined medium (ACL-4). Chest 100(2):429–438

Moon SH, Kim JS, Park SJ, Lim JJ, Lee HJ, Lee SM, Chung HM (2011) Effect of chromosome instability on the maintenance and differentiation of human embryonic stem cells in vitro and in vivo. Stem Cell Res 6:50–59

Nguyen GH, Murph MM, Chang JY (2011) Cancer stem cell radioresistance and enrichment: where frontline radiation therapy may fail in lung and esophageal cancers. Cancers 3(1):1232–1252. doi:10.3390/cancers3011232

Oh SK, Kim HS, Park YB, Seol HW, Kim YY, Cho MS, Ku SY, Choi YM, Kim DW, Moon SY (2005) Methods for expansion of human embryonic stem cells. Stem Cells 23(5):605–609. doi:10.1634/stemcells.2004-0297

Okudela K, Woo T, Mitsui H, Yazawa T, Shimoyamada H, Tajiri M, Ogawa N, Masuda M, Kitamura H (2010) Morphometric profiling of lung cancers-its association with clinicopathologic, biologic, and molecular genetic features. Am J Surg Pathol 34(2):243–255. doi:10.1097/PAS.0b013e3181c79a6f

Pine SR, Marshall B, Varticovski L (2008) Lung cancer stem cells. Dis Markers 24(4–5):257–266

Spitz MR, Wei Q, Dong Q, Amos CI, Wu X (2003) Genetic susceptibility to lung cancer: the role of DNA damage and repair. Cancer epidemiology, biomarkers & prevention : American Association for Cancer Research, co-sponsored by the American Society of Preventive Oncology 12(8):689–698
Acknowledgments
This research was supported by a Grant (SS100010) from the Seoul R&BD Program. In addition, this research was supported by the Bio & Medical Technology Development Program of the National Research Foundation (NRF) funded by the Korean government (MEST) (2012-0006107).
Additional information
Joseph Seo and Soon-Jung Park contributed equally to this study as first author.
Sung-Hwan Moon and Hyung-Min Chung contributed equally to this study as corresponding authors.
Electronic supplementary material
Below is the link to the electronic supplementary material.
Supplementary material 1 (AVI 2143 kb)
Supplementary material 2 (AVI 2403 kb)
About this article
Cite this article
Seo, J., Park, S., Kim, J. et al. Effective method for the isolation and proliferation of primary lung cancer cells from patient lung tissues. Biotechnol Lett 35, 1165–1174 (2013). https://doi.org/10.1007/s10529-013-1189-3
Received:

Accepted:

Published:

Issue Date:
Keywords
Culture technique

Isolation

Proliferation

Primary lung cancer Cells

Patient lung tissue