Abstract
Blastospores are yeast-like infective cells to arthropod pests and can be obtained shortly by liquid culture. However, fungal isolates exhibit striking variation in production, desiccation tolerance and virulence. In this study, we screened three isolates of Beauveria bassiana (Balsamo) Vuillemin and three of Cordyceps fumosorosea (Wize) (Hypocreales: Cordycipitaceae) for blastospore production and assessed desiccation tolerance by air drying. The virulence of these isolates were determined against Bemisia tabaci (Gennadius) (Hemiptera: Aleyrodidae) biotype B, Spodoptera frugiperda (J.E. Smith) and Chrysodeixis includens (Walker) (Lepidoptera: Noctuidae). The isolates ESALQ-1296 and ESALQ-3422 of C. fumosorosea and ESALQ-4958 of B. bassiana yielded blastospore concentrations above 1 × 109 ml−1, but only the two C. fumosorosea isolates retained viability rates above 75% after drying. Blastospores of both fungal species were more effective in killing the three insect species than aerial conidia. In summary, blastospores of C. fumosorosea ESALQ-1296 hold the best promise for broad-spectrum pest control in soybean.
This is a preview of subscription content, log in to check access.
Access options
Buy single article
Instant access to the full article PDF.
US$ 39.95
Price includes VAT for USA
Subscribe to journal
Immediate online access to all issues from 2019. Subscription will auto renew annually.
US$ 99
This is the net price. Taxes to be calculated in checkout.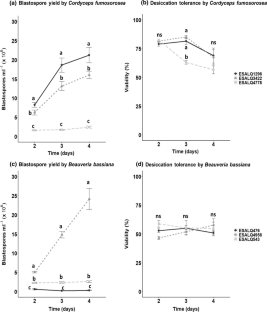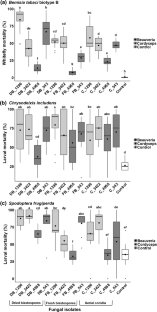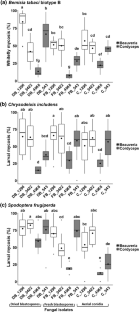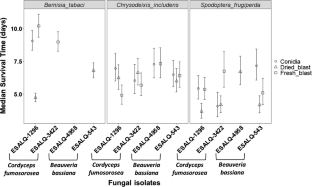 References
Ausique JJS, D'Alessandro CP, Conceschi MR, Mascarin GM, Delalibera I Jr (2017) Efficacy of entomopathogenic fungi against adult Diaphorina citri from laboratory to field applications. J Pest Sci 90:947–960

Avery PB, Hunter WB, Hall DG, Jackson MA, Powell CA, Rogers ME (2009) Diaphorina citri (Hemiptera: Psyllidae) infection and dissemination of the entomopathogenic fungus Isaria fumosorosea (Hypocreales: Cordycipitaceae) under laboratory conditions. Fla Entomol 92:608–618

Behle RW, Garcia-Gutierrez C, Tamez-Guerra P, Mcguire MR, Jackson MA (2006) Pathogenicity of blastospores and conidia of Paecilomyces fumosoroseus against larvae of the mexican bean beetle, Epilachna varivestis mulsant. Southwest Entomol 31:289–295

Bueno RCOF, Raetano CG, Junior JD, Carvalho FK (2017) Integrated management of soybean pests: the example of Brazil. Outlooks on Pest Management 28:149–153

De Barro PJ, Liu SS, Boykin LM, Dinsdale AB (2011) Bemisia tabaci: a statement of species status. Annu Rev Entomol 56:1–19

Faria M, Hotchichikiss JH, Wraight SP (2012) Application of modified atmosphere packaging (gas flushing and active packaging) for extending the shelf life of Beauveria bassiana conidia at high temperatures. Biol Control 61:78–88

Fatoretto MB, Moral RA, Demétrio CGB, Pádua CS, Menarin V, Rojas VMA, D'Alessandro CP, Delalibera I Jr (2018) Overdispersed fungus germination data: statistical analysis using R. Biocontrol Sci Technol 28:1034–1053

Hunter WB, Avery PB, Pick D, Powell CA (2011) Broad spectrum potential of Isaria fumosorosea against insect pests of citrus. Fla Entomol 94:1051–1054

Hussain A, Tian M, He Y, Ahmed S (2009) Entomopathogenic fungi disturbed the larval growth and feeding performance of Ocinara varians (Lepidoptera: Bombycidae) larvae. Insect Sci 16:511–517

Hussein HM, Zemek R, Habuštová SO, Prenerová E, Adel MM (2013) Laboratory evaluation of a new strain CCM 8367 of Isaria fumosorosea (syn. Paecilomyces fumosoroseus) on Spodoptera littoralis (Boisd.). Arch Phytopathol Plant Prot 46:1307–1319

Iwanicki NS, Ferreira BO, Mascarin GM, Delalibera I Jr (2018) Modified Adamek's medium renders high yields of Metarhizium robertsii blastospores that are desiccation tolerant and infective to cattle-tick larvae. Fungal Biol 122:883–890

Jackson MA (2012) Dissolved oxygen levels affect dimorphic growth by the entomopathogenic fungus Isaria fumosorosea. Biocontrol Sci Technol 22:67–79

Jackson C (2016) flexsurv: A platform for parametric survival modeling in R. J Stat Soft 70:1–33

Jackson MA, Jaronski ST (2009) Production of microsclerotia of the fungal entomopathogen Metarhizium anisopliae and their potential for use as a biocontrol agent for soil-inhabiting insects. Mycol Res 113:842–850

Jackson MA, Payne AR (2007) Evaluation of the desiccation tolerance of blastospores of Paecilomyces fumosoroseus (Deuteromycotina: Hyphomycetes) using a lab-scale, air-drying chamber with controlled relative humidity. Biocontrol Sci Technol 17:709–719

Jackson MA, Mcguire MR, Lacey LA, Wraight SP (1997) Liquid culture production of desiccation tolerant blastospores of the bioinsecticidal fungus Paecilomyces fumosoroseus. Mycol Res 101:35–41

Jaronski ST, Jackson MA (2012) Mass production of entomopathogenic Hypocreales. In: Lacey LA (ed) Manual of techniques in invertebrate pathology. Academic Press, London, pp 257–286

Jaronski ST, Mascarin GM (2016) Mass production of entomopathogenic fungi: state of the art. In: Morales-Ramos JA, Rojas MG, Shapiro-Ilan DI (eds) Mass production of beneficial organisms: invertebrates and entomopathogens. Academic Press, pp 357–413

Kepler RM, Luangsa-Ard JJ, Hywel-Jones NL, Quandt CA, Sung GH, Rehner SA, Aime MC, Henkel TW, Sanjuan T, Zare R, Chen M, Li Z, Rossman AY, Spatafora JW, Shrestha B (2017) A phylogenetically-based nomenclature for Cordycipitaceae (Hypocreales). IMA fungus 8:335–353

Kleespies RG, Zimmermann G (1992) Production of blastospores by three strains of Metarhizium anisopliae (metch.) sorokin in submerged culture. Biocontrol Sci Technol 2:127–135

Lacey LA, Wraight SP, Kirk AA (2008) Entomopathogenic fungi for control of Bemisia tabaci biotype B: foreign exploration, research and implementation. In: Gould J, Hoelmer K, Goolsby J (eds) Classical biological control of Bemisia tabaci in the United States—a review of interagency research and implementation. Springer, Dordrecht, pp 33–69

Lenth RV (2018). emmeans: Estimated marginal means, aka least-squares means [Computer software manual]. Retrieved from https://cran.r-project.org/package=emmeans (R package version 1.1.3)

Mascarin GM, Kobori NN, Quintela ED, Delalibera I Jr (2013) The virulence of entomopathogenic fungi against Bemisia tabaci biotype B (Hemiptera: Aleyrodidae) and their conidial production using solid substrate fermentation. Biol Control 66:209–218

Mascarin GM, Jackson MA, Kobori NN, Behle RW, Delalibera I Jr (2015a) Liquid culture fermentation for rapid production of desiccation tolerant blastospores of Beauveria bassiana and Cordyceps fumosorosea strains. J Invertebr Pathol 127:11–20

Mascarin GM, Jackson MA, Kobori NN, Behle RW, Dunlap CA, Delalibera I Jr (2015b) Glucose concentration alters dissolved oxygen levels in liquid cultures of Beauveria bassiana and affects the formation and efficacy of blastospores. Appl Microbiol Biotechnol 99:6653–6665

Mascarin GM, Alves RPJ, Fernandes EKK, Quintela ED, Dunlap CA, Arthurs SP (2018) Phenotype responses to abiotic stresses, asexual reproduction and virulence among isolates of the entomopathogenic fungus Cordyceps javanica (Hypocreales: Cordycipitaceae). Microbiol Res 216:12–22

Mascarin GM, Lopes RB, Delalibera I Jr, Fernandes EKK, Luz C, Faria M (2019) Current status and perspectives of fungal entomopathogens used for microbial control of arthropod pests in Brazil. J Invertebr Pathol 165:46–53

Moral RA, Hinde J, Demétrio CGB (2017) Half-normal plots and overdispersed models in R: The hnp package. J Stat Softw 81:1–23

Oliveira DGP, Pauli G, Mascarin G, Delibera I Jr (2015) A protocol for determination of conidial viability of the fungal entomopathogens Beauveria bassiana and Metarhizium anisopliae from commercial products. J Microbiol Methods 119:44–52

Rohrlich C, Merle I, Mze Hassani I, Verger M, Zuin M, Besse S, Robène I, Nibouche S, Costet L (2018) Variation in physiological host range in three strains of two species of the entomopathogenic fungus Beauveria. PLoS ONE 13(7):e0199199

Vandenberg JD, Jackson MA, Lacey LA (1998) Relative efficacy of blastospores and aerial conidia of Paecilomyces fumosoroseus against the russian wheat aphid. J Invertebr Pathol 72:181–183
Acknowledgements
The first author thanks the São Paulo Research Foundation (FAPESP) [grant number 21387/2016–9] and the Coordination for the Improvement of Higher Educational Personnel (CAPES) for the scholarships. We also thank FAPESP [grant number 2018/02317-5] as part of the SPARCBIO (São Paulo Advanced Research Center for Biological Control) located at ESALQ/USP with support of FAPESP, Koppert and University of São Paulo (USP).
Ethics declarations
Conflict of interest
The authors declare that they have no conflict of interest.
Ethical approval
This article does not contain any studies with human participants or animals performed by any of the authors.
Additional information
Disclaimer
Mention of commercial products in this article is solely for the purpose of providing specific information and does not imply recommendation or endorsement by the Brazil Department of Agriculture.
Handling Editor: Nicolai Meyling
Electronic supplementary material
Below is the link to the electronic supplementary material.
About this article
Cite this article
Corrêa, B., da Silveira Duarte, V., Silva, D.M. et al. Comparative analysis of blastospore production and virulence of Beauveria bassiana and Cordyceps fumosorosea against soybean pests. BioControl (2020). https://doi.org/10.1007/s10526-020-09999-6
Received:

Accepted:

Published:
Keywords
Biological control

Submerged fermentation

Hypocreales

Aleyrodidae

Noctuidae

Glycine max