Abstract
Aspergillus spp. are the most common phytopathogenic fungi able to produce various types of aflatoxins. Yeasts can produce volatile organic compounds (VOCs) that may be used as biocontrol agents against mycotoxigenic fungi. In this study, we aimed to evaluate antagonistic yeasts that are potentially capable of producing active VOCs against the aflatoxin-producing fungus, Aspergillus flavus A39. In total, 366 epiphytic and endophytic yeast strains isolated from leaves of rice, sugarcane, and corn in Thailand were screened for their potential. Only 49 yeast strains were able to produce antifungal volatile organic compounds (VOCs). Candida nivariensis DMKU-CE18 was the most effective yeast strain to inhibit the mycelium growth (64.9 ± 7.0% inhibition) and conidial germination (49.3 ± 3.3% inhibition) of A. flavus A39, and to reduce aflatoxin production (74.8 ± 6.5% reduction) in corn grains. The analysis results of headspace gas chromatography/mass spectrometry (GC/MS) revealed that the major VOC produced by this yeast strain was closest to 1-pentanol.
This is a preview of subscription content, log in to check access.
Access options
Buy single article
Instant access to the full article PDF.
US$ 39.95
Price includes VAT for USA
Subscribe to journal
Immediate online access to all issues from 2019. Subscription will auto renew annually.
US$ 99
This is the net price. Taxes to be calculated in checkout.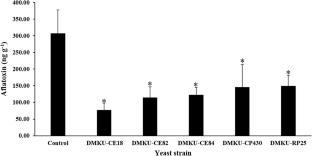 References
Afsah-Hejri L (2013) Saprophytic yeasts: effective biocontrol agents against Aspergillus flavus. Int Food Res J 20:3403–3409

Aidoo K (1993) Post-harvest storage and preservation of tropical crops. Int Biodeterior Biodegrad 32(1–3):161–173

Alcoba-Flórez J, Méndez-Álvarez S, Cano J, Guarro J, Pérez-Roth E, del Pilar Arévalo M (2005) Phenotypic and molecular characterization of Candida nivariensis sp. nov., a possible new opportunistic fungus. J Clin Microbiol 43(8):4107–4111

Amaike S, Keller NP (2011) Aspergillus flavus. Annu Rev Phytopathol. 49:107–133

Arrarte E, Garmendia G, Rossini C, Wisniewski M, Vero S (2017) Volatile organic compounds produced by Antarctic strains of Candida sake play a role in the control of postharvest pathogens of apples. Biol Control 109:14–20

Borman AM, Petch R, Linton CJ, Palmer MD, Bridge PD, Johnson EM (2008) Candida nivariensis, an emerging pathogenic fungus with multidrug resistance to antifungal agents. J Clin Microbiol 46:933–938

Bu'Lock JD (1980) Mycotoxins as secondary metabolites. In: Steyn PS (ed) The biosynthesis of mycotoxins: a study in secondary metabolism. Academic Press, New York, pp 1–16

Çelýk K, Denlý M, Savas T (2003) Reduction of toxic effects of aflatoxin B1 by using baker yeast (Saccharomyces cerevisiae) in growing broiler chicks diets. R Bras Zootec 32(3):615–619

Chen P-H, Chen R-Y, Chou J-Y (2018) Screening and evaluation of yeast antagonists for biological control of Botrytis cinerea on strawberry fruits. Mycobiology 46(1):33–46

Chinaphuti A, Trikarunasawat C, Wongurai A, Kositcharoenkul S (2002) Production of in-house ELISA test kit for detection of aflatoxin in agricultural commodities and their validations. Kasetsart J (Nat Sci) 36:179–186

Comitini F, Ciani M (2010) The zymocidial activity of Tetrapisispora phaffii in the control of Hanseniaspora uvarum during the early stages of winemaking. Lett Appl Microbiol 50(1):50–56

Farbo MG, Urgeghe PP, Fiori S, Marcello A, Oggiano S, Balmas V, Hassan ZU, Jaoua S, Migheli Q (2018) Effect of yeast volatile organic compounds on ochratoxin A-producing Aspergillus carbonarius and A. ochraceus. Int J Food Microbiol 284:1–10

Figueiredo-Carvalho MH, Ramos Lde S, Barbedo LS, Chaves AL, Muramoto IA, Santos AL, Almeida-Paes R, Zancopé-Oliveira RM (2016) First description of Candida nivariensis in Brazil: antifungal susceptibility profile and potential virulence attributes. Mem Inst Oswaldo Cruz 111:51–58

Fujita S, Senda Y, Okusi T, Ota Y, Takada H, Yamada K, Kawano M (2007) Catheter-related fungemia due to fluconazole-resistant Candida nivariensis. J Clin Microbiol 45:3459–3461

Gong A-D, Li H-P, Shen L, Zhang J-B, Wu A-B, He W-J, Yuan Q-S, He J-D, Liao Y-C (2015) The Shewanella algae strain YM8 produces volatiles with strong inhibition activity against Aspergillus pathogens and aflatoxins. Front Microbiol 6:1091

Gotor-Vila A, Teixidó N, Di Francesco A, Usall J, Ugolini L, Torres R, Mari M (2017) Antifungal effect of volatile organic compounds produced by Bacillus amyloliquefaciens CPA-8 against fruit pathogen decays of cherry. Food Microbiol 64:219–225

Grzegorczyk M, Żarowska B, Restuccia C, Cirvilleri G (2017) Postharvest biocontrol ability of killer yeasts against Monilinia fructigena and Monilinia fructicola on stone fruit. Food Microbiol 61:93–101

Guchi E (2015) Implication of aflatoxin contamination in agricultural products. Am J Food Nutr 3(1):12–20

Hua S-ST, Baker JL, Flores-Espiritu M (1999) Interactions of saprophytic yeasts with a nor mutant of Aspergillus flavus. Appl Environ Microbiol 65(6):2738–2740

Hua S-ST, Beck JJ, Sarreal SBL, Gee W (2014) The major volatile compound 2-phenylethanol from the biocontrol yeast, Pichia anomala, inhibits growth and expression of aflatoxin biosynthetic genes of Aspergillus flavus. Mycotoxin Res 30(2):71–78

Huang R, Li G, Zhang J, Yang L, Che H, Jiang D, Huang H (2011) Control of postharvest Botrytis fruit rot of strawberry by volatile organic compounds of Candida intermedia. Phytopathology 101(7):859–869

Huang R, Che H, Zhang J, Yang L, Jiang D, Li G (2012) Evaluation of Sporidiobolus pararoseus strain YCXT3 as biocontrol agent of Botrytis cinerea on post-harvest strawberry fruits. Biol Control 62(1):53–63

Ismail A, Bedell GW, Lupan DM (1985) Siderophore production by the pathogenic yeast Candida albicans. Biochem Biophys Res Commun 130(2):885–891

Janisiewicz W, Korsten L (2002) Biological control of postharvest diseases of fruits. Annu Rev Phytopathol 40:411–441

Khunnamwong P, Jindamorakot S, Limtong S (2018) Endophytic yeast diversity in leaf tissue of rice, corn and sugarcane cultivated in Thailand assessed by a culture-dependent approach. Fungal Biol. 122(8):785–799

Leelasuphakul W, Hemmanee P, Chuenchitt S (2008) Growth inhibitory properties of Bacillus subtilis strains and their metabolites against the green mold pathogen (Penicillium digitatum Sacc.) of citrus fruit. Postharvest Biol Technol 48(1):113–121

Limtong S, Nasanit R (2017) Phylloplane yeasts in tropical climates. In: Buzzini P, Lachance MA, Yurkov A (eds) Yeasts in natural ecosystems: diversity. Springer, Cham, pp 199–223

Magan N, Hope R, Cairns V, Aldred D (2003) Post-harvest fungal ecology: impact of fungal growth and mycotoxin accumulation in stored grain. In: Xu X, Bailey JA, Cooke BM (eds) Epidemiology of mycotoxin producing fungi. Springer, Dordrecht, pp 723–730

Mannaa M, Kim KD (2016) Microbe-mediated control of mycotoxigenic grain fungi in stored rice with focus on aflatoxin biodegradation and biosynthesis inhibition. Mycobiology 44(2):67–78

Masoud W, Kaltoft CH (2006) The effects of yeasts involved in the fermentation of Coffea arabica in East Africa on growth and ochratoxin A (OTA) production by Aspergillus ochraceus. Int J Food Microbiol 106(2):229–234

Masoud W, Poll L, Jakobsen M (2005) Influence of volatile compounds produced by yeasts predominant during processing of Coffea arabica in East Africa on growth and ochratoxin A (OTA) production by Aspergillus ochraceus. Yeast 22(14):1133–1142

Mends MT, Yu E, Strobel GA, Riyaz S, Booth E, Geary B, Sears J, Taatjes C, Hadi M (2012) An endophytic Nodulisporium sp. producing volatile organic compounds having bioactivity and fuel potential. J Pet Environ Biotechnol 3(3):117

Min W-K, Kweon D-H, Park K, Park Y-C, Seo J-H (2011) Characterisation of monoclonal antibody against aflatoxin B1 produced in hybridoma 2C12 and its single-chain variable fragment expressed in recombinant Escherichia coli. Food Chem 126(3):1316–1323

Moss M (1998) Recent studies of mycotoxins. J Appl Microbiol 84:62S–76S

Oro L, Feliziani E, Ciani M, Romanazzi G, Comitini F (2018) Volatile organic compounds from Wickerhamomyces anomalus, Metschnikowia pulcherrima and Saccharomyces cerevisiae inhibit growth of decay causing fungi and control postharvest diseases of strawberries. Int J Food Microbiol 265:18–22

Parafati L, Vitale A, Restuccia C, Cirvilleri G (2017) Performance evaluation of volatile organic compounds by antagonistic yeasts immobilized on hydrogel spheres against gray, green and blue postharvest decays. Food Microbiol 63:191–198

Payne C, Bruce A, Staines H (2000) Yeast and bacteria as biological control agents against fungal discolouration of Pinus sylvestris blocks in laboratory-based tests and the role of antifungal volatiles. Holzforschung 54(6):563–569

Petersson S, Schnürer J (1995) Biocontrol of mold growth in high-moisture wheat stored under airtight conditions by Pichia anomala, Pichia guilliermondii and Saccharomyces cerevisiae. Appl Environ Microbiol 61(3):1027–1032

Ponsone ML, Chiotta ML, Combina M, Dalcero A, Chulze S (2011) Biocontrol as a strategy to reduce the impact of ochratoxin A and Aspergillus section Nigri in grapes. Int J Food Microbiol 151(1):70–77

Raspor P, Miklič-Milek D, Avbelj M, Čadež N (2010) Biocontrol of grey mould disease on grape caused by Botrytis cinerea with autochthonous wine yeasts. Food Technol Biotechnol 48(3):336–343

Rezende DC, Fialho MB, Brand SC, Blumer S, Pascholati SF (2015) Antimicrobial activity of volatile organic compounds and their effect on lipid peroxidation and electrolyte loss in Colletotrichum gloeosporioides and Colletotrichum acutatum mycelia. Afr J Microbiol Res 9(23):1527–1535

Rosa MM, Tauk-Tornisielo SM, Rampazzo PE, Ceccato-Antonini SR (2010) Evaluation of the biological control by the yeast Torulaspora globosa against Colletotrichum sublineolum in sorghum. World J Microbiol Biotechnol 26(8):1491–1502

Spadaro D, Gullino ML (2004) State of the art and future prospects of the biological control of postharvest fruit diseases. Int J Food Microbiol 91(2):185–194

Srisuk N, Nutaratat P, Surussawadee J, Limtong S (2019) Yeast communities in sugarcane phylloplane. Microbiology 88(3):353–369

Suwannarach N, Kaewyana C, Yodmeeklin A, Kumla J, Matsui K, Lumyong S (2017) Evaluation of Muscodor cinnamomi as an egg biofumigant for the reduction of microorganisms on eggshell surfaces and its effect on egg quality. Int J Food Microbiol 244:52–61

Toffano L, Fialho MB, Pascholati SF (2017) Potential of fumigation of orange fruits with volatile organic compounds produced by Saccharomyces cerevisiae to control citrus black spot disease at postharvest. Biol Control 108:77–82

Türker M (2014) Yeast biotechnology: diversity and applications. In: 27th VH yeast conference: advances in science and industrial production of baker's yeast, Istanbul, 14–15 April 2014, pp 1–26

Velmourougane K, Bhat R, Gopinandhan T, Panneerselvam P (2011) Management of Aspergillus ochraceus and ochratoxin-A contamination in coffee during on-farm processing through commercial yeast inoculation. Biol Control 57(3):215–221

Waenlor W, Wiwanitkit V (2003) Aflatoxin contamination of food and food products in Thailand: an overview. Southeast Asian J Trop Med Public Health 34:184–190

Waliyar F, Umeh V, Traore A, Osiru M, Ntare B, Diarra B, Kodio O, Kumar KVK, Sudini H (2015) Prevalence and distribution of aflatoxin contamination in groundnut (Arachis hypogaea L.) in Mali, West Africa. Crop Prot 70:1–7

Wilson CL, Pusey P (1985) Potential for biological control of postharvest plant diseases. Plant Dis 69(5):375–378

World Health Organization (2018) Aflatoxin. In: Food safety digest. DIALOG. https://www.who.int/foodsafety/FSDigest_Aflatoxins_EN.pdf?fbclid=IwAR23wb_6iGDd-MFJVJKRXTM11qEK7_n9BSw4QZr89yTocEpUlxqpVoNt5T8. Cited 31 July 2018

Zain ME (2011) Impact of mycotoxins on humans and animals. J Saudi Chem Soc 15(2):129–144

Zeidan R, Ul-Hassan Z, Al-Thani R, Balmas V, Jaoua S (2018) Application of low-fermenting yeast Lachancea thermotolerans for the control of toxigenic fungi Aspergillus parasiticus, Penicillium verrucosum and Fusarium graminearum and their mycotoxins. Toxins 10(6):242

Zhou Y, Li W, Zeng J, Shao Y (2018) Mechanisms of action of the yeast Debaryomyces nepalensis for control of the pathogen Colletotrichum gloeosporioides in mango fruit. Biol Control 123:111–119
Acknowledgements
This work was supported by the Thailand Research Fund (TRF) through the TRF Research-Team Promotion Grant (RTA 6080004). The authors would like to thank Dr Amara Chinaphuti, Department of Agriculture (DOA), Thailand, for providing Aspergillus flavus A39.
Ethics declarations
Conflicts of interest
The authors declare that there are no conflicts of interest.
Ethical approval
This article does not contain any studies with human participants or animals performed by any of the authors.
Additional information
Handling Editor: Jane Debode
Electronic supplementary material
Below is the link to the electronic supplementary material.
About this article
Cite this article
Jaibangyang, S., Nasanit, R. & Limtong, S. Biological control of aflatoxin-producing Aspergillus flavus by volatile organic compound-producing antagonistic yeasts. BioControl (2020). https://doi.org/10.1007/s10526-020-09996-9
Received:

Accepted:

Published:
Keywords
Aflatoxin

Aspergillus flavus
Candida nivariensis

Volatile organic compounds

Yeasts