Abstract
Sundarban area of West Bengal State in India is a complex-diverse-risk prone agro-ecosystem grappled with degraded soil, water logging, brackish ground water, and marginal farm holdings. South west monsoon rain-fed paddy crop is the major production system, and the farm families have to migrate to other areas for employment during the post-monsoon season. Farm pond-based rainwater harvesting and optimally utilizing it to cultivate vegetables and rearing fish in the pond would provide them employment, income, and self-reliance on a sustainable basis which is the solution. Rainwater harvesting-based production system models, namely, land shaping for aqua-agri integration, brackishwater pond-based polyculture, and paddy-cum-fish farming, were implemented to 370 beneficiary families to enhance the livelihood security at Kakdwip and Namkhana blocks of South 24 Parganas district of West Bengal. A set of 15 indicators were identified by the subject matter scientists to assess the outcome of the interventions in enhancing the livelihood security of farm families. Impact analysis was done using "before vs after" and "control vs treatment" research design. Primary data were collected from 120 proportionate random sample beneficiary farm families using a structured questionnaire and focus group meetings. The findings substantially indicated that all the three farming models have contributed for enhancing the livelihood security levels of the farm families in terms of creation of livelihood asset mainly the farm pond, conservation of natural water for multiple cropping and aquaculture, enhanced capabilities, employment generation, improved production from the land/pond, enhanced income from farming, access to better market price, access to development institutions, minimization of migration during off-season, enhanced self-reliant, and social status of the farm families. The analyses have confirmed that all the three farming models have significantly contributed for the livelihood security of the coastal farm families (p < 0.01). Therefore, the study suggested that the government may evolve a scheme with inbuilt subsidy in up-scaling these models in the entire Sundarban region for enhancing the livelihood security of farm families.
This is a preview of subscription content, log in to check access.
Access options
Buy single article
Instant unlimited access to the full article PDF.
US$ 39.95
Price includes VAT for USA
Subscribe to journal
Immediate online access to all issues from 2019. Subscription will auto renew annually.
US$ 99
This is the net price. Taxes to be calculated in checkout.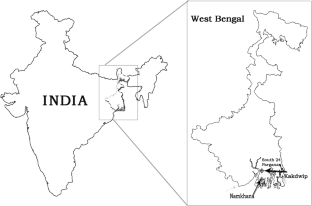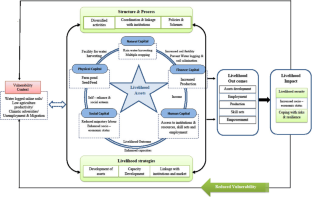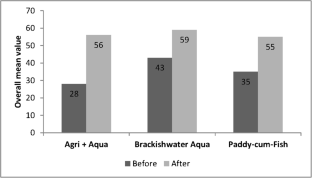 References
Ahmed N, Garnett ST (2011) Integrated rice-fish farming in Bangladesh: meeting the challenges of food security. Food Secur 3(1):81–92

Ahmed M, Lorica MH (2002) Improving developing country food security through aquaculture development-lessons from Asia. Food Policy 27(2):125–141

Anandajayasekeram PRP, Workneh S, Hoekstra D (2008) Concepts and practices in agricultural extension in developing countries: a source book. IFPRI, Washington, DC, USA and Nairobi, Kenya

Burman D, Bandyopadhyay BK, Mandal S, et al (2013) Land shaping - A Unique Technology for Improving Productivity of Coastal Land. Bulletin No. 02/201. Regional Research Station, Central Soil Salinity Research Institute, South 24 Parganas. 38p.

Christoplos I, Farrington J, and Kidd A (2001). Extension, poverty and vulnerability: Inception report of a study for the Neuchâtel Initiative. Working paper 144. Overseas Development Institute, London, UK

DFID (1999) Sustainable livelihoods guidance sheets. DFID, UK

Douthwaite BTK, van de Fliert E, Schulz S (2003) Impact pathway evaluation: an approach for achieving and attributing impact in complex systems. Agric Syst 78(2):243–265

Edwards P (2000) Aquaculture, poverty impacts and livelihoods, Institute, Natural Resource Perspectives, Overseas Development Institute Series No. 56, p4

Food and Agriculture Organization (FAO) (2012) The state of world fisheries and aquaculture. FAO fisheries and aquaculture department publications, Rome, Italy

Halwart M, Soto D, Arthur JR (2007) Cage aquaculture, Regional reviews and global overviews. FAO, Rome FAO Fisheries Technical Paper 498: 240 p

Mandal S, Sarangi SK, Burman D, et al (2013) Land shaping models for enhancing agricultural productivity in salt affected coastal areas of West Bengal – an economic analysis. Ind J Agric Econ 68(3):389–401 https://ideas.repec.org/a/ags/inijae/206342.html

Mandal S, Burman D, Bandyopadhyay BK, et al (2015) Crop-Fish Integration through Land Shaping Models for Enhancing Farm Income under Eastern Coastal Region of India. Agric Econ Res Rev 28(Conference Number):47–54 https://doi.org/10.5958/0974-0279.2015.00021.X

Mwaijande FA, Lugendo P (2015) Fish-farming value chain analysis: policy implications for transformations and robust growth in Tanzania. J Rural Commun Dev 10(2):47–62 http://citeseerx.ist.psu.edu/viewdoc/download?doi=10.1.1.860.6998&rep=rep1&type=pdf

Noble AD, Ruaysoongnern S (2002) The role of indigenous technology and science in rehabilitating degraded light textured soils using high activity clays and bioremediation. International Water Management Institute (IWMI) and Khon Kaen-40002, Thailand

Pandey D.N (2005) Poverty impact assessment of joint forest management in Jharkhand India, paper presented in the rural week hosted by PROFOR and ESSD forests team: session on Forest livelihoods and vulnerability, Washington, D.C.

Roy SD (2013) Impact of fish farming on land relations: evidence from a village study in West Bengal. Ind J Agric Econ 68(2):222–239 https://ideas.repec.org/a/ags/inijae/206332.html

Sharmi S, Islam MS, and Hasan, MK (2012) Socioeconomic analysis of alternative farming systems in improving livelihood security of small farmers' in selected areas of Bangladesh, The Agriculturists, 10 (1): 51-63

Shava E, Gunhidzirai C (2017) Fish farming as an innovative strategy for promoting food security in drought risk regions of Zimbabwe. J Disast Risk Stud 9(1):491–500

Swathilekhsmi PS, Venugopalan R, Padmini K (2008) Livelihood analysis using wealth ranking tool of PRA. Indian Res J Ext Edu 8(2&3):75–77 https://www.seea.org.in/vol8-2-2008/21.pdf

Uddin MT, Takeya H (2006). Comparative Study on Integrated Farming in Bangladesh and Other Countries. Bangladesh J. Agric. Econs. Bangladesh Agricultural University 29(1-2):1–12.

Xie J et al (2011) Conservation of traditional rice varieties in a globally important agricultural heritage system (GIAHS): Rice-fish co-culture. Agric Sci China 10:101–105
Acknowledgments
The authors gratefully acknowledge the cooperation rendered by the farm families, institutional partners, and colleagues in conducting this research.
Funding information
The funding support was provided as part of the National Agricultural Innovations Project (NAIP) by the Indian Council of Agricultural Research, New Delhi is greatly acknowledged.
Ethics declarations
Conflict of interest
The authors declare that they have no conflict of interest.
Ethical approval
This article does not contain any studies with animals performed by any of the authors.
Additional information
Publisher's note
Springer Nature remains neutral with regard to jurisdictional claims in published maps and institutional affiliations.
About this article
Cite this article
Kumaran, M., Ghoshal, T.K., De, D. et al. Aquaculture-based production systems for the livelihood security of coastal farm families in the risk-prone agro-ecosystem of India: an appraisal. Aquacult Int (2020) doi:10.1007/s10499-019-00495-y
Received:

Accepted:

Published:
Keywords
Rainwater harvesting

Aquaculture

Marginal families

Livelihood security

Agri-aqua integration

Farming systems research and extension