Abstract
Demodex spp. mites are the most complex organisms of the human skin microbiome and were discovered more than 175 years ago, yet only little basic research is published about them. As they can be pathophysiologically relevant ectoparasites associated with rosacea, pityriasis folliculorum, and other inflammatory skin diseases, more research should be encouraged. Being a large microorganism or a tiny animal, there are no established basic methods to handle these mites. Here, we describe techniques enabling the extraction of Demodex mites from human skin, their analysis in different ex-vivo settings, the lysis of their exoskeleton, their preservation by freezing, and observation microscopically using specific fluorescent dyes or their inherent autofluorescence. These procedures should facilitate future Demodex research and fuel further the generation of knowledge. Furthermore it is intended to ultimatively enable the mite's cultivation in vitro and reveal its pathophysiological mechanisms.
This is a preview of subscription content, log in to check access.
Access options
Buy single article
Instant unlimited access to the full article PDF.
US$ 39.95
Price includes VAT for USA
Subscribe to journal
Immediate online access to all issues from 2019. Subscription will auto renew annually.
US$ 199
This is the net price. Taxes to be calculated in checkout.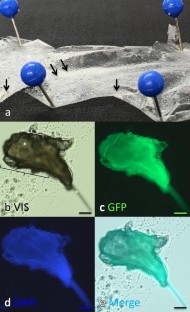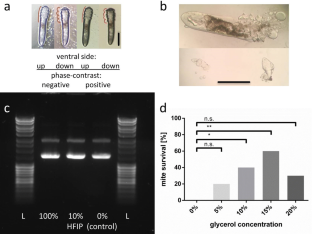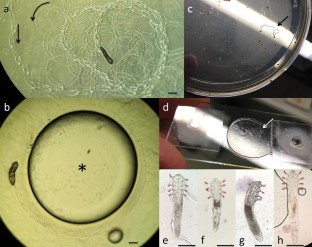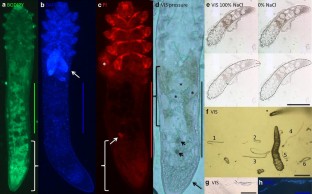 References
Aytekin S, Yaşar Ş, Göktay F, Güneş P (2016) Spontaneous fluorescence of Demodex in the dark. J Eur Acad Dermatol Venereol 30(2):359–360. DOI:https://doi.org/10.1111/jdv.12776

Brenner S (1974) The genetics of Caenorhabditis elegans. Genetics 77(1):71–94

Cardwell LA, Alinia H, Moradi Tuchayi S, Feldman SR (2016) New developments in the treatment of rosacea-role of once-daily ivermectin cream. Clin Cosmet Investig Dermatol 9:71–77. https://doi.org/10.2147/CCID.S98091

Chen W, Plewig G (2014) Human demodicosis: revisit and a proposed classification. Br J Dermatol 170(6):1219–1225. DOI:https://doi.org/10.1111/bjd.12850

Chen WenChieh, Plewig G (2015) Are Demodex mites principal, conspirator, accomplice, witness or bystander in the cause of rosacea? Am J Clin Dermatol 16(2):67–72. https://doi.org/10.1007/s40257-015-0115-y

Clanner-Engelshofen BM, Ruzicka T, Reinholz M (2018) Efficient isolation and observation of the most complex human commensal, Demodex spp. Exp Appl Acarol 76(1):71–80. https://doi.org/10.1007/s10493-018-0289-0

Clanner-Engelshofen BM, French LE, Reinholz M (2019) Corynebacterium kroppenstedtii subsp. demodicis is the endobacterium of Demodex folliculorum. J Eur Acad Dermatol Venereol. DOI:https://doi.org/10.1111/jdv.16069. [epub ahead of print ).

Desch C (1989) The digestive system of Demodex folliculorum (Acari: Democidae) of man: a light and electron microscope study. Prog Acarol 1:187–195

Gatault S, Foley R, Shiels L, Powell FC (2019) Evaluation of Demodex mite viability using motility and scattered light intensity. Exp Appl Acarol 77(4):463–469. DOI:https://doi.org/10.1007/s10493-019-00358-4

Lacey N, Russell-Hallinan A, Powell FC (2016) Study of Demodex mites: challenges and solutions. J Eur Acad Dermatol Venereol 30(5):764–775. https://doi.org/10.1111/jdv.13517

Lacey N, Russell-Hallinan A, Zouboulis CC, Powell FC (2018) Demodex mites modulate sebocyte immune reaction: possible role in the pathogenesis of rosacea. Br J Dermatol.https://doi.org/10.1111/bjd.16540

Marks R, Dawber RP (1971) Skin surface biopsy. An improved technique for the examination of the horny layer. Br J Dermatol 84(2):117–123

Pillai CKS, Paul W, Sharma CP (2009) Chitin and chitosan polymers: chemistry, solubility and fiber formation. Prog Polym Sci 34(7):641–678. https://doi.org/10.1016/j.progpolymsci.2009.04.001

Spickett SG (1961) Studies on Demodex folliculorum Simon (1842). I. Life history. Parasitology 51(1–2):181–192. https://doi.org/10.1017/S003118200006858X
Additional information
Publisher's Note
Springer Nature remains neutral with regard to jurisdictional claims in published maps and institutional affiliations.
About this article
Cite this article
Clanner-Engelshofen, B.M., French, L.E. & Reinholz, M. Methods for extraction and ex-vivo experimentation with the most complex human commensal, Demodex spp.. Exp Appl Acarol 80, 59–70 (2020) doi:10.1007/s10493-019-00450-9
Received:

Accepted:

Published:

Issue Date:
Keywords
Demodicidae

Mite

Fluorescence microscopy

Viability

DNA extraction