Abstract
We assessed individual and collective responses to HIV pre-exposure prophylaxis ('PrEP') among a network of male sex workers and clients. From 2011 to May 2017, keyword searches on an online discussion forum identified 668 posts that referenced PrEP. We conducted four analyses: (i) discourse analysis identifying reactions to PrEP, (ii) thematic analysis constructing rhetorical strategies, (iii) content analysis comparing discursive positions and rhetorical strategies, and (iv) longitudinal analyses assessing trends over time. Forum posts adopted one of three discursive positions (reluctance, interest, advocacy), drawing upon four non-exclusive strategies (deference to experts and evidence, acknowledging personal and shared experiences, establishing philosophical arguments, engaging in speculation). Posts from sex workers were more likely than clients to be supportive of PrEP (96% vs. 42%; χ2 = 18.46, p < 0.001) while over time this network moved from being predominantly reluctant about PrEP (61% of posts in 2012) to advocating for its use (65% of posts in 2017; Z = 5.01, p < 0.001).
Resumen
Evaluamos las respuestas individuales y colectivas a la profilaxis pre-exposición para el VIH (el "PrEP" en Inglés) entre una red de trabajadores sexuales masculinos y de clientes. Desde 2011 hasta mayo de 2017, las búsquedas de palabras claves en un foro de discusión en línea identificaron 668 publicaciones que se refirieron al PrEP. Realizamos cuatro análisis: (i) análisis del discurso identificando las reacciones al PrEP, (ii) análisis temático construyendo estrategias retóricas, (iii) análisis de contenido comparando posiciones discursivas y estrategias retóricas, y (iv) análisis longitudinal evaluando tendencias sobre el tiempo. Los mensajes del foro adoptaron una de tres posiciones discursivas (reluctancia, interés, abogacía), basándose en cuatro estrategias no exclusivas (deferencia a los expertos y evidencia, reconociendo experiencias personales y compartidas, estableciendo argumentos filosóficos, participando en especulaciones). Los mensajes del foro de los trabajadores sexuales eran más propensos que los clientes a apoyar el PrEP (96% frente a 42%; χ2 = 18.46, p < 0.001), mientras que sobre este tiempo esta red pasó de ser predominantemente reticente al PrEP (61% de los mensajes del foro en 2012) a abogando por su uso (65% de los mensajes del foro en 2017; Z = 5.01, p < 0.001).
This is a preview of subscription content, log in to check access.
Access options
Buy single article
Instant access to the full article PDF.
US$ 39.95
Price includes VAT for USA
Subscribe to journal
Immediate online access to all issues from 2019. Subscription will auto renew annually.
US$ 99
This is the net price. Taxes to be calculated in checkout.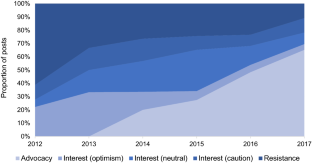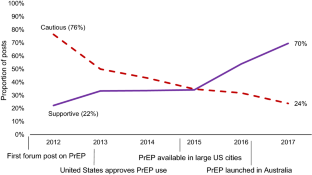 References
1.

Grant RM, Lama JR, Anderson PL, et al. Preexposure chemoprophylaxis for HIV prevention in men who have sex with men. N Engl J Med. 2010;363(27):2587.

2.

Cohen MS, Muessig K, Smith M, Powers K, Kashuba A. Antiviral agents and HIV prevention: controversies, conflicts, and consensus. AIDS. 2012;26:1585–98.

3.

Wright E, Grulich A, Roy K, et al. Australasian Society for HIV, viral hepatitis and sexual health medicine HIV pre-exposure prophylaxis: clinical guidelines. Update April 2018. J Virus Erad. 2018;4(2):143–59.

4.

Centers for Disease Control and Prevention. US Public Health Service: preexposure prophylaxis for the prevention of HIV infection in the United States–2017 update: a clinical practice guideline. 2018. https://www.cdc.gov/hiv/pdf/risk/prep/cdc-hiv-prep-guidelines-2017.pdf.

5.

Cairns G, McCormack S, Molina JM. The European preexposure prophylaxis revolution. Curr Opin HIV AIDS. 2016;11(1):74–9.

6.

WHO. Consolidated guidelines on the use of antiretroviral drugs for treating and preventing HIV infection: recommendations for a public health approach. 2nd ed. Geneva: World Health Organization; 2016.

7.

Zablotska IB. Likely impact of pre-exposure prophylaxis on HIV epidemics among men who have sex with men. Sex Health. 2017;14(1):97–105.

8.

Holt M. Progress and challenges in ending HIV and AIDS in Australia. AIDS Behav. 2017;21(2):331–4.

9.

Kippax S, Stephenson N. Socialising the biomedical turn in HIV prevention. London: Anthem Press; 2016.

10.

Nguyen MV, O'Malley MJ, Pirkle MC. Remedicalizing an epidemic: from HIV treatment as prevention to HIV treatment is prevention. AIDS. 2011;25(11):1435.

11.

Minichiello V, Scott J. Male sex work and society. New York: Harrington Park Press; 2014.

12.

Mgbako O, Park SH, Mayer KH, et al. Transactional sex and preferences for pre-exposure prophylaxis (PrEP) administration modalities among men who have sex with men (MSM). J Sex Res. 2019;56:650.

13.

Beyrer C, Crago AL, Bekker LG, et al. An action agenda for HIV and sex workers. Lancet. 2015;385(9964):287–301.

14.

Underhill K, Morrow KM, Colleran CM, et al. Access to healthcare, HIV/STI testing, and preferred pre-exposure prophylaxis providers among men who have sex with men and men who engage in street-based sex work in the US. PLoS ONE. 2014;9(11):e112425.

15.

Willig C. Beyond appearances: a critical realist approach to social constructionist work. In: Nightingale JD, Cromby J, editors. Social constructionist psychology: a critical analysis of theory and practice. Buckingham: Open University Press; 1999.

16.

Burr V. Social constructionism. 3rd ed. East Sussex: Routledge; 2015.

17.

Potter J, Wetherell M. Discourse and social psychology: beyond attitudes and behaviour. Thousand Oaks: SAGE; 1987.

18.

Braun V, Clarke V. Using thematic analysis in psychology. Qual Res Psychol. 2006;3(2):77–101.

19.

Krippendorff K. Content analysis: an introduction to its methodology. Thousand Oaks: Sage; 2012.

20.

Wilcoxon F. Individual comparisons by ranking methods. Biometrics. 1945;1:80–3.

21.

Kippax S. Understanding and integrating the structural and biomedical determinants of HIV infection: a way forward for prevention. Curr Opin HIV AIDS. 2008;3(4):489–94.

22.

Fonner VA, Dalglish SL, Kennedy CE, et al. Effectiveness and safety of oral HIV preexposure prophylaxis for all populations. AIDS. 2016;30(12):1973–83.

23.

McCormack S, Dunn DT, Desai M, et al. Pre-exposure prophylaxis to prevent the acquisition of HIV-1 infection (PROUD): effectiveness results from the pilot phase of a pragmatic open-label randomised trial. Lancet. 2016;387(10013):53–60.

24.

Weick KE. Sensemaking in organisations. London: Sage; 1995.

25.

Weick KE, Sutcliffe KM, Obstfeld D. Organizing and the process of sensemaking. Organ Sci. 2005;16(4):409–21.

26.

Chen M. New legislation aimed at fighting trafficking on digital platforms could put sex workers in danger. The Nation 2018. https://www.thenation.com/article/new-legislation-aimed-at-fighting-trafficking-on-digital-platforms-could-put-sex-workers-in-danger/. Accessed 12 Sept 2018.

27.

Holt M, Lea T, Schmidt HM, et al. Willingness to use and have sex with men taking HIV pre-exposure prophylaxis (PrEP): results of online surveys of Australian gay and bisexual men, 2011-2015. Sex Transm Infect. 2017;93(6):438–44.

28.

Lea T, Kolstee J, Murphy D, et al. Changing attitudes to and engagement with biomedical HIV prevention by gay and bisexual men: key findings from the PrEPARE Project 2017. Sydney: Centre for Social Research in Health, UNSW Sydney; 2017.
Acknowledgements
This research was funded by a grant from the Australian Research Council (DP170104575) with support from the Scarlet Alliance and the New South Wales Sex Workers Outreach Project. The funding source did not have any involvement in the collection, analysis and interpretation of data, or in the writing of this manuscript and decision to submit for publication.
Ethics declarations
Conflict of interest
The authors declare that they have no competing interests.
Additional information
Publisher's Note
Springer Nature remains neutral with regard to jurisdictional claims in published maps and institutional affiliations.
About this article
Cite this article
MacGibbon, J., Minichiello, V., Prestage, G. et al. How Male Sex Workers and Their Clients Shifted from Reluctance About HIV Pre-exposure Prophylaxis to Advocating for Its Use: A Longitudinal Mixed Methods Study. AIDS Behav 24, 782–790 (2020). https://doi.org/10.1007/s10461-019-02618-1
Keywords
HIV prevention

Biomedical technologies

Male sex work

Gay and bisexual men

Safer sex norms