Abstract
Few studies in sub-Saharan Africa have assessed men's knowledge about the likelihood of serodiscordance in couples with an HIV-positive partner and how this is affected by antiretroviral therapy (ART). Using a Likert scale and probabilistic scale, we elicited beliefs of 2532 rural Ugandan men about the likelihood of seroconcordance in married couples with an HIV-positive female partner who is either taking ART or not taking ART. Logistic regression analyses explored associations between beliefs and various health behaviors. Probabilistic scale responses were consistent with Likert scale responses. Seroconcordance was believed to be likely in the scenarios without ART and with ART, with mean seroconcordance likelihood of 8.1 and 6.6, respectively, on a scale of 0–10. The majority of participants (57%) believed the likelihood of seroconcordance was lower in the scenario with ART. The results suggest a need for enhanced education among men about serodiscordance in stable relationships and about the preventive effects of ART.
This is a preview of subscription content, log in to check access.
Access options
Buy single article
Instant access to the full article PDF.
US$ 39.95
Price includes VAT for USA
Subscribe to journal
Immediate online access to all issues from 2019. Subscription will auto renew annually.
US$ 99
This is the net price. Taxes to be calculated in checkout.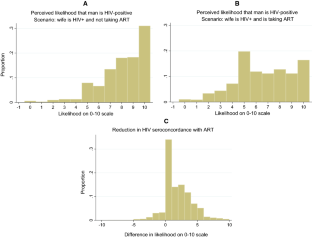 References
1.

World Health Organization. Guidance on couples HIV testing and counselling including antiretroviral therapy for treatment and prevention in serodiscordant couples: recommendations for a public health approach. Geneva: World Health Organization; 2012.

2.

Eyawo O, de Walque D, Ford N, Gakii G, Lester RT, Mills EJ. HIV status in discordant couples in sub-Saharan Africa: a systematic review and meta-analysis. Lancet Infect Dis. 2010;10(11):770–7.

3.

Lingappa JR, Lambdin B, Bukusi EA, Ngure K, Kavuma L, Inambao M, et al. Regional differences in prevalence of HIV-1 discordance in Africa and enrollment of HIV-1 discordant couples into an HIV-1 prevention trial. PLoS ONE. 2008;3(1):e1411.

4.

UNAIDS. Prevention gap report. New York: UNAIDS; 2016.

5.

Staveteig S, Wang S, Head S, Bradley S, Nybro E. Demographic patterns of HIV testing uptake in sub-Saharan Africa. DHS comparative reports no. 30. Calverton: ICF International; 2013.

6.

UNAIDS. Blind spot: reaching out to men and boys. Geneva: UNAIDS; 2017.

7.

Kilembe W, Wall KM, Mokgoro M, Mwaanga A, Dissen E, Kamusoko M, et al. Knowledge of HIV serodiscordance, transmission, and prevention among couples in Durban, South Africa. PLoS ONE. 2015;10(4):e0124548.

8.

Kelley AL, Karita E, Sullivan PS, Katangulia F, Chomba E, Carael M, et al. Knowledge and perceptions of couples' voluntary counseling and testing in urban Rwanda and Zambia: a cross-sectional household survey. PLoS ONE. 2011;6(5):e19573.

9.

Camlin CS, Ssemmondo E, Chamie G, El Ayadi AM, Kwarisiima D, Sang N, et al. Men "missing" from population-based HIV testing: insights from qualitative research. AIDS Care. 2016;28(sup3):67–73.

10.

Cohen MS, Chen YQ, McCauley M, Gamble T, Hosseinipour MC, Kumarasamy N, et al. Prevention of HIV-1 infection with early antiretroviral therapy. N Engl J Med. 2011;365(6):493–505.

11.

Chamie G, Schaffer EM, Ndyabakira A, Emperador DM, Kwarisiima D, Camlin CS, et al. Comparative effectiveness of novel non-monetary incentives to promote HIV testing: a randomized trial. AIDS. 2018;32:1443–51.

12.

Manski CF. Measuring expectations. Econometrica. 2004;72(5):1329–76.

13.

Delavande A, Giné X, McKenzie D. Measuring subjective expectations in developing countries: a critical review and new evidence. J Dev Econ. 2011;94(2):151–63.

14.

Bond V, Hoddinott G, Viljoen L, Simuyaba M, Musheke M, Seeley J. Good health and moral responsibility: key concepts underlying the interpretation of treatment as prevention in South Africa and Zambia before rolling out universal HIV testing and treatment. AIDS Patient Care STDs. 2016;30(9):425–34.

15.

Baker P, Dworkin S, Tong S, Banks I, Shand T, et al. The men's health gap: men must be included in the global health equity agenda. Bull World Health Organ. 2014. https://doi.org/10.2471/BLT.13.132795.

16.

Nozaki I, Kuriyama M, Manyepa P, Zyambo MK, Kakimoto K, Bärnighausen T. False beliefs about ART effectiveness, side effects and the consequences of non-retention and non-adherence among ART patients in Livingstone, Zambia. AIDS Behav. 2013;17(1):122–6.
Acknowledgements
We gratefully acknowledge our research staff, community advisory board members, and especially the communities and participants involved in this study.
Funding
This study was funded by the National Institute of Mental Health at the National Institutes of Health (R01MH105254).
Ethics declarations
Conflict of interest
All authors declare that they have no conflicts of interest.
Ethical Approval
All procedures performed in studies involving human participants were in accordance with the Ethical Standards of the Institutional and/or National Research Committee and with the 1964 Helsinki Declaration and its later amendments or comparable ethical standards.
Informed Consent
Informed consent was obtained from all individual participants included in the study.
Additional information
Publisher's Note
Springer Nature remains neutral with regard to jurisdictional claims in published maps and institutional affiliations.
About this article
Cite this article
Ndyabakira, A., Chamie, G., Emperador, D. et al. Men's Beliefs About the Likelihood of Serodiscordance in Couples with an HIV-Positive Partner: Survey Evidence from Rural Uganda. AIDS Behav 24, 967–974 (2020). https://doi.org/10.1007/s10461-019-02531-7
Keywords
HIV prevention

Antiretroviral treatment

Beliefs

Serodiscordant relationships

Men

Uganda