Abstract
Receiving regular HIV care is crucial for maintaining good health among persons with HIV. However, racial and gender disparities in HIV care receipt exist. Discrimination and its impact may vary by race/ethnicity and gender, contributing to disparities. Data from 1578 women in the Women's Interagency HIV Study ascertained from 10/1/2012 to 9/30/2016 were used to: (1) estimate the relationship between discrimination and missing any scheduled HIV care appointments and (2) assess whether this relationship is effect measure modified by race/ethnicity. Self-reported measures captured discrimination and the primary outcome of missing any HIV care appointments in the last 6 months. Log-binomial models accounting for measured sources of confounding and selection bias were fit. For the primary outcome analyses, women experiencing discrimination typically had a higher prevalence of missing an HIV care appointment. Moreover, there was no statistically significant evidence for effect measure modification by race/ethnicity. Interventions to minimize discrimination or its impact may improve HIV care engagement among women.
This is a preview of subscription content, log in to check access.
Access options
Buy single article
Instant unlimited access to the full article PDF.
US$ 39.95
Price includes VAT for USA
Subscribe to journal
Immediate online access to all issues from 2019. Subscription will auto renew annually.
US$ 99
This is the net price. Taxes to be calculated in checkout.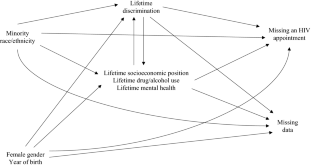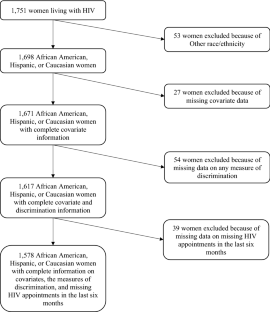 References
1.

Gardner EM, McLees MP, Steiner JF, Del Rio C, Burman WJ. The spectrum of engagement in HIV care and its relevance to test-and-treat strategies for prevention of HIV infection. Clin Infect Dis. 2011;52(6):793–800.

2.

Giordano TP, White AC Jr, Sajja P, Graviss EA, Arduino RC, Adu-Oppong A, et al. Factors associated with the use of highly active antiretroviral therapy in patients newly entering care in an urban clinic. J Acquir Immune Defic Syndrom (1999). 2003;32(4):399–405.

3.

Mugavero MJ, Lin HY, Allison JJ, Giordano TP, Willig JH, Raper JL, et al. Racial disparities in HIV virologic failure: do missed visits matter? J Acquir Immune Defic Syndrom (1999). 2009;50(1):100–8.

4.

Mugavero MJ, Lin HY, Willig JH, Westfall AO, Ulett KB, Routman JS, et al. Missed visits and mortality among patients establishing initial outpatient HIV treatment. Clin Infect Dis. 2009;48(2):248–56.

5.

Horberg MA, Hurley LB, Silverberg MJ, Klein DB, Quesenberry CP, Mugavero MJ. Missed office visits and risk of mortality among HIV-infected subjects in a large healthcare system in the United States. AIDS Patient Care STDs. 2013;27(8):442–9.

6.

Mugavero MJ, Westfall AO, Cole SR, Geng EH, Crane HM, Kitahata MM, et al. Beyond core indicators of retention in HIV care: missed clinic visits are independently associated with all-cause mortality. Clin Infect Dis. 2014;59(10):1471–9.

7.

Howe CJ, Napravnik S, Cole SR, Kaufman JS, Adimora AA, Elston B, et al. African American race and HIV virological suppression: beyond disparities in clinic attendance. Am J Epidemiol. 2014;179(12):1484–92.

8.

Cohen JK, Santos G-M, Moss NJ, Coffin PO, Block N, Klausner JD. Regular clinic attendance in two large San Francisco HIV primary care settings. Aids Care-Psychol Soc-Med Asp Aids/Hiv. 2016;28(5):579–84.

9.

Mugavero MJ, Lin HY, Allison JJ, Willig JH, Chang PW, Marler M, et al. Failure to establish HIV care: characterizing the "no show" phenomenon. Clin Infect Dis. 2007;45(1):127–30.

10.

Kang SY, Goldstein MF, Deren S. Gender differences in health status and care among HIV-infected minority drug users. AIDS Care. 2008;20(9):1146–51.

11.

Rothman RE, Kelen GD, Harvey L, Shahan JB, Hairston H, Burah A, et al. Factors associated with no or delayed linkage to care in newly diagnosed human immunodeficiency virus (HIV)-1-infected patients identified by emergency department-based rapid HIV screening programs in two urban EDs. Acad Emerg Med. 2012;19(5):497–503.

12.

Meyer JP, Zelenev A, Wickersham JA, Williams CT, Teixeira PA, Altice FL. Gender disparities in HIV treatment outcomes following release from jail: results from a multicenter study. Am J Public Health. 2014;104(3):434–41.

13.

Sohler NL, Li X, Cunningham CO. Gender disparities in HIV health care utilization among the severely disadvantaged: can we determine the reasons? AIDS Patient Care STDs. 2009;23(9):775–83.

14.

Aziz M, Smith KY. Challenges and successes in linking HIV-infected women to care in the United States. Clin Infect Dis. 2011;52(Suppl 2):S231–7.

15.

Jary David, Jary Julia. Collins Dictionary of Sociology. 4th ed. London: Collins; 2006.

16.

Williams DR, Mohammed SA. Discrimination and racial disparities in health: evidence and needed research. J Behav Med. 2009;32(1):20–47.

17.

Lewis TT, Cogburn CD, Williams DR. Self-reported experiences of discrimination and health: scientific advances, ongoing controversies, and emerging issues. Annu Rev Clin Psychol. 2015;11:407–40.

18.

Seeman TE, Crimmins E, Huang MH, Singer B, Bucur A, Gruenewald T, et al. Cumulative biological risk and socio-economic differences in mortality: MacArthur studies of successful aging. Soc Sci Med. 2004;58(10):1985–97.

19.

Djuric Z, Bird CE, Furumoto-Dawson A, Rauscher GH, Ruffin MT, Stowe RP, et al. Biomarkers of psychological stress in health disparities research. Open Biomark J. 2008;1:7–19.

20.

Williams DR, Neighbors HW, Jackson JS. Racial/ethnic discrimination and health: findings from community studies. Am J Public Health. 2008;98(9 Suppl):S29–37.

21.

Britt-Spells AM, Slebodnik M, Sands LP, Rollock D. Effects of perceived discrimination on depressive symptoms among black men residing in the united states: a meta-analysis. Am J Men's Health. 2018;12(1):52–63.

22.

Yehia BR, Stewart L, Momplaisir F, Mody A, Holtzman CW, Jacobs LM, et al. Barriers and facilitators to patient retention in HIV care. BMC Infect Dis. 2015;15:246.

23.

Zuniga JA, Yoo-Jeong M, Dai T, Guo Y, Waldrop-Valverde D. The role of depression in retention in care for persons living with HIV. AIDS Patient Care STDs. 2016;30(1):34–8.

24.

Pence BW, Mills JC, Bengtson AM, Gaynes BN, Breger TL, Cook RL, et al. Association of increased chronicity of depression with hiv appointment attendance, treatment failure, and mortality among HIV-infected adults in the United States. JAMA Psychiatry. 2018;75(4):379–85.

25.

Pascoe EA, Smart Richman L. Perceived discrimination and health: a meta-analytic review. Psychol Bull. 2009;135(4):531–54.

26.

Centers for Disease Control and Prevention. Estimated HIV incidence and prevalence in the United States, 2010–2015. Atlanta: Centers for Disease Control and Prevention; 2018.

27.

Wingood GM, Diclemente RJ, Mikhail I, McCree DH, Davies SL, Hardin JW, et al. HIV discrimination and the health of women living with HIV. Women Health. 2007;46(2–3):99–112.

28.

Turan B, Rogers AJ, Rice WS, Atkins GC, Cohen MH, Wilson TE, et al. Association between perceived discrimination in healthcare settings and HIV medication adherence: mediating psychosocial mechanisms. AIDS Behav. 2017;21(12):3431–9.

29.

Bogart LM, Wagner GJ, Galvan FH, Klein DJ. Longitudinal relationships between antiretroviral treatment adherence and discrimination due to HIV-serostatus, race, and sexual orientation among African-American men with HIV. Ann Behav Med. 2010;40(2):184–90.

30.

Barkan SE, Melnick SL, Preston-Martin S, Weber K, Kalish LA, Miotti P, et al. The women's interagency HIV study. WIHS Collaborative Study Group. Epidemiology. 1998;9(2):117–25.

31.

Bacon MC, von Wyl V, Alden C, Sharp G, Robison E, Hessol N, et al. The Women's Interagency HIV Study: an observational cohort brings clinical sciences to the bench. Clin Diagn Lab Immunol. 2005;12(9):1013–9.

32.

Adimora AA, Ramirez C, Benning L, Greenblatt RM, Kempf M-C, Tien PC, et al. Cohort profile: the women's interagency HIV study (WIHS). Int J Epidemiol. 2018;47(2):393–400.

33.

Williams DR. Race, socioeconomic status, and health. The added effects of racism and discrimination. Ann N Y Acad Sci. 1999;896:173–88.

34.

Gilbert PA, Zemore SE. Discrimination and drinking: a systematic review of the evidence. Soc Sci Med (1982). 1982;2016(161):178–94.

35.

Hunte HE, Barry AE. Perceived discrimination and DSM-IV-based alcohol and illicit drug use disorders. Am J Public Health. 2012;102(12):e111–7.

36.

Gee GC, Delva J, Takeuchi DT. Relationships between self-reported unfair treatment and prescription medication use, illicit drug use, and alcohol dependence among Filipino Americans. Am J Public Health. 2007;97(5):933–40.

37.

Williams DR. Measuring Discrimination Resource 2016 [Available from: https://scholar.harvard.edu/files/davidrwilliams/files/measuring_discrimination_resource_june_2016.pdf

38.

Williams DR, Yan Y, Jackson JS, Anderson NB. Racial differences in physical and mental health: socio-economic status, stress and discrimination. J Health Psychol. 1997;2(3):335–51.

39.

Kessler RC, Mickelson KD, Williams DR. The prevalence, distribution, and mental health correlates of perceived discrimination in the United States. J Health Soc Behav. 1999;40(3):208–30.

40.

Radloff LS. The CES-D Scale: a self-report depression scale for research in the general population. Appl Psychol Meas. 1977;1(3):385–401.

41.

Spitzer RL, Kroenke K, Williams JB, Lowe B. A brief measure for assessing generalized anxiety disorder: the GAD-7. Arch Intern Med. 2006;166(10):1092–7.

42.

Lewinsohn PM, Seeley JR, Roberts RE, Allen NB. Center for Epidemiologic Studies Depression Scale (CES-D) as a screening instrument for depression among community-residing older adults. Psychol Aging. 1997;12(2):277–87.

43.

US Department of Health and Human Services U.S. Department of Agriculture. 2015–2020Dietary guidelines for Americans. Washington: US Department of Health and Human Services U.S. Department of Agriculture; 2015.

44.

Wacholder S. Binomial regression in GLIM: estimating risk ratios and risk differences. Am J Epidemiol. 1986;123(1):174–84.

45.

Howe CJ, Cole SR, Westreich DJ, Greenland S, Napravnik S, Eron JJ Jr. Splines for trend analysis and continuous confounder control. Epidemiology (Cambridge, Mass). 2011;22(6):874–5.

46.

Robins JM, Hernan MA, Brumback B. Marginal structural models and causal inference in epidemiology. Epidemiology (Cambridge, Mass). 2000;11(5):550–60.

47.

VanderWeele TJ. Marginal structural models for the estimation of direct and indirect effects. Epidemiology (Cambridge, Mass). 2009;20(1):18–26.

48.

Hernan MA, Robins JM. Causal inference. Boca Raton: Chapman & Hall/CRC; 2019.

49.

Cole SR, Hernan MA. Constructing inverse probability weights for marginal structural models. Am J Epidemiol. 2008;168(6):656–64.

50.

Wilson TE, Kay ES, Turan B, Johnson MO, Kempf M-C, Turan JM, et al. Healthcare empowerment and HIV viral control: mediating roles of adherence and retention in care. Am J Prev Med. 2018;54(6):756–64.

51.

Krieger N, Williams DR, Moss NE. Measuring social class in US public health research: concepts, methodologies, and guidelines. Annu Rev Public Health. 1997;18:341–78.
Acknowledgements
Data in this manuscript were collected by the Women's Interagency HIV Study (WIHS). The contents of this publication are solely the responsibility of the authors and do not represent the official views of the National Institutes of Health (NIH). WIHS (Principal Investigators): UAB-MS WIHS (Mirjam-Colette Kempf and Deborah Konkle-Parker), U01-AI-103401; Atlanta WIHS (Ighovwerha Ofotokun and Gina Wingood), U01-AI-103408; Bronx WIHS (Kathryn Anastos and Anjali Sharma), U01-AI-035004; Brooklyn WIHS (Howard Minkoff and Deborah Gustafson), U01-AI-031834; Chicago WIHS (Mardge Cohen and Audrey French), U01-AI-034993; Metropolitan Washington WIHS (Seble Kassaye), U01-AI-034994; Miami WIHS (Margaret Fischl and Lisa Metsch), U01-AI-103397; UNC WIHS (Adaora Adimora), U01-AI-103390; Connie Wofsy Women's HIV Study, Northern California (Ruth Greenblatt, Bradley Aouizerat, and Phyllis Tien), U01-AI-034989; WIHS Data Management and Analysis Center (Stephen Gange and Elizabeth Golub), U01-AI-042590; Southern California WIHS (Joel Milam), U01-HD-032632 (WIHS I—WIHS IV). The WIHS is funded primarily by the National Institute of Allergy and Infectious Diseases (NIAID), with additional co-funding from the Eunice Kennedy Shriver National Institute of Child Health and Human Development (NICHD), the National Cancer Institute (NCI), the National Institute on Drug Abuse (NIDA), and the National Institute on Mental Health (NIMH). Targeted supplemental funding for specific projects is also provided by the National Institute of Dental and Craniofacial Research (NIDCR), the National Institute on Alcohol Abuse and Alcoholism (NIAAA), the National Institute on Deafness and other Communication Disorders (NIDCD), and the NIH Office of Research on Women's Health. WIHS data collection is also supported by UL1-TR000004 (UCSF CTSA), UL1-TR000454 (Atlanta CTSA), P30-AI-050410 (UNC CFAR), and P30-AI-027767 (UAB CFAR).
Funding
This study was funded by the National Institutes of Health Grants U01-AI-103401, U01-AI-103408, U01-AI-035004, U01-AI-031834, U01-AI-034993, U01-AI-034994, U01-AI-103397, U01-AI-103390, U01-AI-034989, U01-AI-042590, U01-HD-032632, UL1-TR000004, UL1-TR000454, P30-AI-050410, and P30-AI-027767.
Ethics declarations
Conflict of interest
The authors declare that they have no conflict of interest.
Ethical Approval
All procedures performed in studies involving human participants were in accordance with the ethical standards of the institutional and/or national research committee and with the 1964 Helsinki declaration and its later amendments or comparable ethical standards.
Informed Consent
Informed consent was obtained from all individual participants included in the study.
Additional information
Publisher's Note
Springer Nature remains neutral with regard to jurisdictional claims in published maps and institutional affiliations.
Electronic supplementary material
Below is the link to the electronic supplementary material.
About this article
Cite this article
Cressman, A.E., Howe, C.J., Nunn, A.S. et al. The Relationship Between Discrimination and Missed HIV Care Appointments Among Women Living with HIV. AIDS Behav 24, 151–164 (2020) doi:10.1007/s10461-019-02522-8
Keywords
HIV

Social discrimination

Outpatient care

Women

Health status disparities