Abstract
Rodent models of retinal angiogenesis play a pivotal role in angiogenesis research. These models are a window to developmental angiogenesis, to pathological retinopathy, and are also in vivo tools for anti-angiogenic drug screening in cancer and ophthalmic research. The mouse model of oxygen-induced retinopathy (OIR) has emerged as one of the leading in vivo models for these purposes. Many of the animal studies that laid the foundation for the recent breakthrough of anti-angiogenic treatments into clinical practice were performed in the OIR model. However, readouts from the OIR model have been time-consuming and can vary depending on user experience. Here, we present a computer-aided quantification method that is characterized by (i) significantly improved efficiency, (ii) high correlation with the established hand-measurement protocols, and (iii) high intra- and inter-individual reproducibility of results. This method greatly facilitates quantification of retinal angiogenesis while at the same time increasing lab-to-lab reproducibility of one of the most widely used in vivo models in angiogenesis research.
This is a preview of subscription content, log in to check access.
Access options
Buy single article
Instant unlimited access to the full article PDF.
US$ 39.95
Price includes VAT for USA
Subscribe to journal
Immediate online access to all issues from 2019. Subscription will auto renew annually.
US$ 99
This is the net price. Taxes to be calculated in checkout.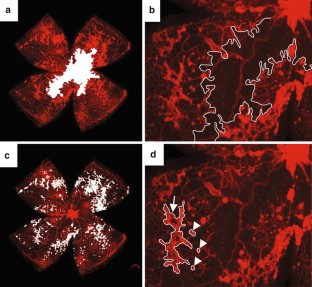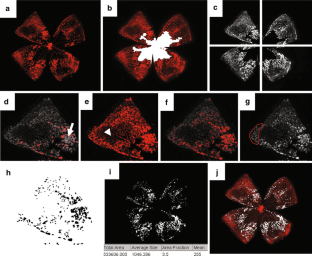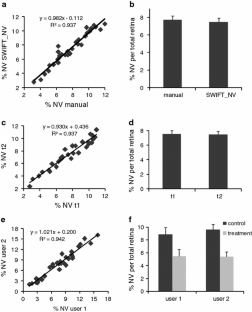 References
1.

Kennedy D (2006) Breakthrough of the Year. Science : 1841

2.

Rosenfeld PJ et al (2006) Ranibizumab for neovascular age-related macular degeneration. N Engl J Med 355(14):1419–1431

3.

Ranieri G et al (2006) Vascular endothelial growth factor (VEGF) as a target of bevacizumab in cancer: from the biology to the clinic. Curr Med Chem 13(16):1845–1857

4.

Smith LE et al (1994) Oxygen-induced retinopathy in the mouse. Invest Ophthalmol Vis Sci 35(1):101–111

5.

Pierce EA et al (1995) Vascular endothelial growth factor/vascular permeability factor expression in a mouse model of retinal neovascularization. Proc Natl Acad Sci USA 92(3):905–909

6.

Smith LE et al (1999) Regulation of vascular endothelial growth factor-dependent retinal neovascularization by insulin-like growth factor-1 receptor. Nat Med 5(12):1390–1395

7.

Aiello LP et al (1995) Suppression of retinal neovascularization in vivo by inhibition of vascular endothelial growth factor (VEGF) using soluble VEGF-receptor chimeric proteins. Proc Natl Acad Sci USA 92(23):10457–10461

8.

Bainbridge JW et al (2002) Inhibition of retinal neovascularisation by gene transfer of soluble VEGF receptor sFlt-1. Gene Ther 9(5):320–326

9.

Ozaki H et al (2000) Blockade of vascular endothelial cell growth factor receptor signaling is sufficient to completely prevent retinal neovascularization. Am J Pathol 156(2):697–707

10.

Rota R et al (2004) Marked inhibition of retinal neovascularization in rats following soluble-flt-1 gene transfer. J Gene Med 6(9):992–1002

11.

Sone H et al (1999) Effects of intraocular or systemic administration of neutralizing antibody against vascular endothelial growth factor on the murine experimental model of retinopathy. Life Sci 65(24):2573–2580

12.

Google scholar search 6/15/09 for "oxygen induced retinopathy mice"

13.

Vanhaesebrouck S et al (2009) Oxygen-induced retinopathy in mice: amplification by neonatal IGF-I deficit and attenuation by IGF-I administration. Pediatr Res 65(3):307–310

14.

Higgins RD et al (1999) Diltiazem reduces retinal neovascularization in a mouse model of oxygen induced retinopathy. Curr Eye Res 18(1):20–27

15.

Spierer A et al (2005) An increase in superoxide dismutase ameliorates oxygen-induced retinopathy in transgenic mice. Eye 19(1):86–91

16.

Banin E et al (2006) T2-TrpRS inhibits preretinal neovascularization and enhances physiological vascular regrowth in OIR as assessed by a new method of quantification. Invest Ophthalmol Vis Sci 47(5):2125–2134

17.

Chen J et al (2008) Erythropoietin deficiency decreases vascular stability in mice. J Clin Invest 118(2):526–533

18.

Connor KM et al (2007) Increased dietary intake of omega-3-polyunsaturated fatty acids reduces pathological retinal angiogenesis. Nat Med 13(7):868–873

19.

Guma M et al (2009) Genetic and pharmacological inhibition of JNK ameliorates hypoxia-induced retinopathy through interference with VEGF expression. Proc Natl Acad Sci USA 106(21):8760–8765
Additional information
A. Stahl and K. M. Connor contributed equally.
Electronic supplementary material
Below is the link to the electronic supplementary material.
Quicktime movie of SWIFT NV quantification (MOV 7207 kb)
About this article
Cite this article
Stahl, A., Connor, K.M., Sapieha, P. et al. Computer-aided quantification of retinal neovascularization. Angiogenesis 12, 297–301 (2009) doi:10.1007/s10456-009-9155-3
Received:

Accepted:

Published:

Issue Date:
Keywords
Oxygen-induced retinopathy

OIR

Retina

Neovascularization

Quantification

SWIFT_NV