Abstract
Superb microvascular imaging (SMI) reduces motion artifacts significantly and allows visualization of low-velocity blood flow in vessels; thus, thrombi are clearly demonstrated compared to conventional B-mode and color Doppler imaging. Ultrasonographic images of the lower extremities of a 69-year-old woman with acute ischemic stroke complicated with deep vein thrombosis (DVT) are presented. Because SMI allows visualization of low-velocity blood flow, echo contrast between the thrombus and the surrounding flow makes it possible to clearly visualize the thrombus. SMI is a useful method to evaluate DVT, especially early after thrombus formation when it is difficult to delineate size and length because of echolucency.
This is a preview of subscription content, log in to check access.
Access options
Buy single article
Instant unlimited access to the full article PDF.
US$ 39.95
Price includes VAT for USA
Subscribe to journal
Immediate online access to all issues from 2019. Subscription will auto renew annually.
US$ 99
This is the net price. Taxes to be calculated in checkout.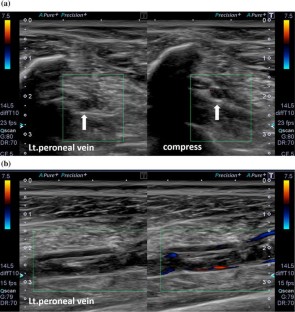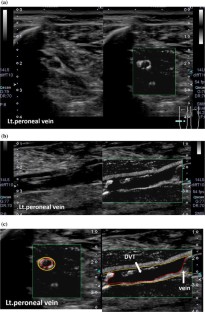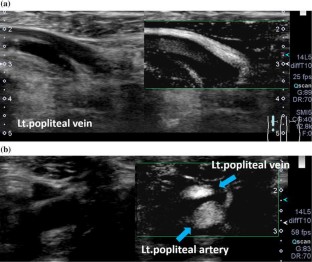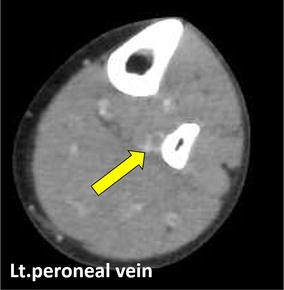 References
1.

Blaivas M, Lambert MJ, Harwood RA, et al. Lower-extremity Doppler for deep venous thrombosis-can emergency physicians be accurate and fast? Acad Emerg Med. 2000;7:120–6.

2.

Frazee BW, Snoey ER, Levitt A. Emergency department compression ultrasound to diagnose proximal deep vein thrombosis. J Emerg Med. 2001;20:107–12.

3.

Jacoby J, Cesta M, Axelband J, et al. Can emergency medicine residents detect acute deep venous thrombosis with a limited, twosite ultrasound examination? J Emerg Med. 2007;32:197–200.

4.

Crisp JG, Lovato LM, Jang TB. Compression ultrasonography of the lower extremity with portable vascular ultrasonography can accurately detect deep venous thrombosis in the emergency department. Ann Emerg Med. 2010;56:601–10.

5.

Caronia J, Sarzynski A, Tofighi B, et al. Resident performed twopoint compression ultrasound is inadequate for diagnosis of deep vein thrombosis in the critically ill. J Thromb Thrombolysis. 2014;37:298–302.

6.

Zitek T, Baydoun J, Yepez S, et al. Mistakes and pitfalls associated with two-point compression ultrasound for deep vein thrombosis. West J Emerg Med. 2016;17:201–8.

7.

Bucek RA, Kos T, Schober E, et al. Ultrasound with levovist in the diagnosis of suspected calf vein thrombosis. Ultrasound Med Biol. 2001;27:455–60.

8.

Hasegawa J, Suzuki N. SMI for imaging of placental infarction. Placenta. 2016;47:96–8.

9.

Cantisani V, David E, Ferrari D, et al. Color Doppler ultrasound with superb microvascular imaging compared to contrast-enhanced ultrasound and computed tomography angiography to identify and classify endoleaks in patients undergoing EVAR. Ann Vasc Surg. 2017;40:136–45.

10.

Lee DH, Lee JY, Han JK. Superb microvascular imaging technology for ultrasound examinations: initial experiences for hepatic tumors. Eur J Radiol. 2016;85:2090–5.

11.

Zhang H, Du J, Wang H, et al. Comparison of diagnostic values of ultrasound micro-flow imaging and contrast-enhanced ultrasound for neovascularization in carotid plaques. Exp Ther Med. 2017;14:680–8.
Ethics declarations
Ethical statements
All procedures followed were approved by the St. Marianna University Bioethics Committee and performed in accordance with the Helsinki Declaration of 1964 and later versions. Informed consent was obtained from the patient for inclusion in this study.
Conflict of interest
The authors have no conflicts of interest to declare.
Electronic supplementary material
Below is the link to the electronic supplementary material.
Supplementary material 1 (MP4 85759 kb)
About this article
Cite this article
Hagiwara, Y., Sasaki, R., Shimizu, T. et al. The utility of superb microvascular imaging for the detection of deep vein thrombosis. J Med Ultrasonics 45, 665–669 (2018). https://doi.org/10.1007/s10396-018-0883-0
Received:

Accepted:

Published:

Issue Date:
Keywords
Superb microvascular imaging

Venous thromboembolism

Deep vein thrombosis

Compression ultrasound technique

Ultrasound examination of the lower extremities