Abstract
Aim
The aim of this study was to determine the knowledge levels, awareness, and attitudes of physicians working in family medicine units in Adana city center, Turkey, on child abuse and neglect (CAN) and to evaluate the quality of education given to family physicians on CAN.
Subjects and methods
This was a cross-sectional study of family physicians providing health services in the urban districts of Adana. A personal information form was used to query the sociodemographic characteristics of the physicians, their educational status, occupational experience, status in encountering cases of CAN, and approach to CAN. The Scale for the Identification of Symptoms and Risks of Child Abuse and Neglect (SISRCAN) was used to assess the physicians' level of knowledge about CAN.
Results
A total of 375 family physicians participated in the study. Of these, 39.2% (n = 147) stated that they had encountered a case of CAN. Of the physicians who had encountered CAN, 48.2% considered themselves partially adequate, 25.1% fully competent, and 22.4% inadequate in intervention. The rate of diagnosing abuse was higher in those who had received education in this regard (p < 0.001). The mean total SISRCAN score of the family physicians who participated in the study was calculated as 261.50 ± 22.75 (3.90 ± 0.33). There was no significant relationship between the status of receiving education on CAN and the scores obtained from the scale.
Conclusion
It can be concluded that family physicians do not have sufficient knowledge and awareness about CAN. Additionally, educational activities in this regard are inadequate and need to be re-structured and increased.
This is a preview of subscription content, log in to check access.
Access options
Buy single article
Instant access to the full article PDF.
US$ 39.95
Price includes VAT for USA
Subscribe to journal
Immediate online access to all issues from 2019. Subscription will auto renew annually.
US$ 99
This is the net price. Taxes to be calculated in checkout.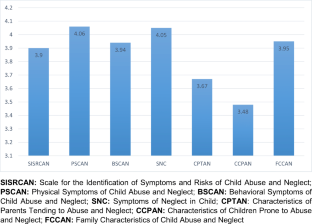 References
Acehan S, Bilen A, Ay MO, Gülen M, Avci A, İçme F (2013) Çocuk istismarı ve ihmalinin değerlendirilmesi. Arşiv Kaynak Tarama Dergisi 22(4):591–614

Alikasifoglu M, Erginoz E, Ercan O, Albayrak-Kaymak D, Uysal O, Ilter O (2006) Sexual abuse among female high school students in Istanbul, Turkey. Child Abuse Negl 30(3):247–255

Anıl AB, Anıl M, Astarcıoğlu G, Şen S, Aksu N (2009) Çocuk istismarına bağlı ölümcül kafa travması: iki vaka. Çocuk Dergisi 9(4):199–202

Borres MP, Hägg A (2007) Child abuse study among Swedish physicians and medical students. Pediatr Int 49(2):177–182

Crume TL, DiGuiseppi C, Byers T, Sirotnak AP, Garrett CJ (2002) Underascertainment of child maltreatment fatalities by death certificates, 1990-1998. Pediatrics 110(2):18

Demir H. (2013) Edirne ili aile sağlığı merkezlerinde görevli hekimlerin çocuk istismarı ve ihmali hakkında bilgi, farkındalık ve tutumlarının belirlenmesi. Tıpta Uzmanlık Tezi, Trakya Üniversitesi, Tıp Fakültesi

Eija P, Mika H, Aune F, Leila L (2014) How public health nurses identify and intervene in child maltreatment based on the national clinical guideline. Nursing research and practice 2014:425460

Herman Giddens ME, Brown G, Verbiest S, Carlson PJ, Hooten EG, Howell E (1999) Underascertainment of child abuse mortality in the United States. JAMA 282(5):463–467

İzmirli M, Sur H, Polat N (2000) Çocuğa karşı dayak olgusu ve çocuk istismarı. Çocuk Forumu Dergisi 3(1):37–49

Johnson CF. (2007) Abuse and neglect of children. In: Behrman RE, Kliegman RM, Arvin AM(eds.). Nelson Textbook of Pediatrics (18th ed) Philadephia: WB Saunders, p.171–172

Kara B, Biçer Ü, Gökalp AS (2004) Çocuk istismarı. Çocuk Sağlığı ve Hastalıkları Dergisi 47(2):140–151

Kara Ö (2010) Ankara İlinde Görev Yapan Pediatri Asistanları, Uzmanları Ve Pratisyen Hekimlerin Çocuk İstismarı ve İhmali Konusunda Bilgi Düzeyleri ve Yaklaşımlarının Karşılaştırılması. Tıpta Uzmanlık Tezi, Ankara Üniversitesi, Tıp Fakültesi

Kocaer Ü. (2006) Hekim ve hemşirelerin çocuk istismarı ve ihmaline yönelik farkındalık düzeyleri. Yüksek Lisans Tezi. Marmara Üniversitesi, Sağlık Bilimleri Enstitüsü

Leung PW, Wong WC, Tang CS, Lee A (2010) Attitudes and child abuse reporting behaviours among Hong Kong GPs. Fam Pract 28(2):195–201

Marshall WN, Locke C (1997) Statewide survey of physician attitudes to controversies about child abuse. Child Abuse Negl 21(2):171–179

Oral R, Can D, Vatansere K, Özenmiş M, Orhar Y. (1995) Attitude and knowledge levels of general practitioners and pediatric residents about child abuse and neglect. Turkish Pediatry Congress (23–27 Ekim 1995, İstanbul)

Oral ÜK, Engin P, Büyükyazıcı Z. (2010) Türkiye'de Çocuk İstismarı ve Aile İçi Şiddet Araştırması Özet Raporu; 18–40

Orhon FS, Ulukol B, Bingoler B, Gulnar SB (2006) Attitudes of Turkish parents, pediatric residents, and medical students toward child disciplinary practices. Child Abuse Negl 30(10):1081–1092

Sundell K (1997) Child-care personnel's failure to report child maltreatment: some Swedish evidence. Child Abuse Negl 21(1):93–105

Tirosh E, Shechter SO, CohenA JM (2003) Attitudes towards corporal punishment and reporting of abuse. Child Abuse Negl 27(8):929–937

Topbaş M (2004) İnsanlığın büyük bir ayıbı: Çocuk istismarı. TSK Koruyucu Hekimlik Bülteni 3(4):76–80

Türker G. (2017) Aile hekimleri, hemşire ve ebelerin çocuk istismarı ve ihmali konusunda farkındalık düzeyleri: Burdur örneği. Yüksek lisans tezi. Selçuk Üniversitesi, Sağlık Bilimleri Enstitüsü

U.S. Department of Health & Human Services. Child Maltreatment (2015). Erişim: (https://www.acf.hhs.gov/sites/default/files/cb/cm2015.pdf ) Date of Access: 27.08.2018

Uysal A, Erefe N. (1998) Çocuk İstismar ve İhmalinin Belirti ve Risklerini Tanılamada Hemşire ve Ebelerin Bilgi Düzeylerinin Saptanması. Yüksek Lisans Tezi. Ege Üniversitesi, Sağlık Bilimleri Enstitüsü,

WHO fact sheets. Child Maltreatment. http://www.who.int/en/news-room/fact-sheets/detail/child-maltreatment Date of Access: 25.08.2018
Ethics declarations
Conflict of interest
The authors declare that they have no conflict of interest and that no funding was received for the study.
Ethical approval
Cukurova University Faculty of Medicine, Non-Interventional Clinical Research Ethics Committee. Meeting Number: 51, Decision Number 17. Date: 04.03.2016.
Informed consent
Informed consent was obtained from all participants.
Ethical information
Cukurova University Faculty of Medicine Non-Interventional Clinical Research.
Ethics committee
Number of Meetings: 51, Decision Number: 17, Date: 04.03.2016.
Additional information
Publisher's note
Springer Nature remains neutral with regard to jurisdictional claims in published maps and institutional affiliations.
Key Practitioner Message
What is known?
• Child abuse and neglect (CAN) is a serious public health problem which has complex causes and devastating consequences.
• According to the World Health Organization (WHO) 40 million children between 1 and 14 years old are being subjected to child abuse and neglect.
• Difficulties in the diagnosis of CAN and inadequate reporting are worsening the situation.
What is new?
• The scores of family physicians from the Scale for the Identification of Symptoms and Risks of Child Abuse and Neglect (SISRCAN) used in this study did not differ according to their status of education on CAN.
• Family physicians who encountered CAN cases scored higher on SISRCAN than those who did not.
• Family physicians who were educated about CAN had a higher rate of encountering CAN cases, which indicates that, although receiving an education on CAN did not lead to a theoretical difference in their SISRCAN scores, the education increased the physicians' awareness and provided practical benefits for the diagnosis.
• Family physicians had the lowest scores related to characteristics of children vulnerable to abuse and neglect and characteristics of families prone to abuse and neglect. This may act as a barrier in early detection and prevention of CAN cases.
What is significant for clinical practice?
• Family physicians, who act as a first access point for health care services, need a more comprehensive education on CAN, which should be enriched with practical applications.
• Family physicians, equipped with the ability to recognize the risk groups, may prevent CAN cases before they occur.
This article has been presented as an oral presentation at the Second International 20th National Congress of Public Health on 13–17 November 2018 in Antalya.
About this article
Cite this article
Solak, Y., Yoldascan, B.E. & Okyay, R.A. Assessment of the knowledge, awareness, and attitudes of family physicians in Adana regarding child abuse and neglect. J Public Health (Berl.) (2020). https://doi.org/10.1007/s10389-020-01220-3
Received:

Accepted:

Published:
Keywords
Child abuse and neglect

Family physicians

Awareness

Education