Abstract
Aim
To analyze the socioeconomic conditions and health status of older persons living in 11 Quilombola communities (settlements originally created by escaped slaves) in the Baixada Maranhense region, Brazil.
Subjects and methods
A cross-sectional household survey of the socioeconomic status, sanitary conditions, health behavior, and self-reported morbidities was conducted with 208 older persons. Fisher's exact test and the chi-squared test were performed (α = 5%) to determine statistically significant gender and age differences in the prevalence of morbidities and multimorbidities (≥ 2 and ≥ 3 diseases). The respondents were categorized into three age ranges: 60 to 69 years, 70 to 79 years, and ≥ 80 years.
Results
The median age was 70. The majority of respondents had poor socioeconomic status and sanitary conditions and showed poor results across all dimensions of health (self-reported health status, limitations in performing activities of daily living, and leisure time physical activity). The most prevalent morbidities were high blood pressure, back problems, and glaucoma/cataracts. Statistically significant gender differences were only found for high cholesterol, asthma/bronchitis, and cancer (p < 0.05). The prevalence of multimorbidity was found to be high (52.9% for ≥ 2 diseases and 26.4% for ≥ 3 diseases; p < 0.001). The prevalence of both groups of multimorbidity was greater among women (p < 0.05) and in the 70 to 79-year age group. Statistically significant differences in prevalence rates across age groups were found among men for both multimorbidity groups (≥ 2 chronic diseases, p = 0.003, and ≥ 3 chronic diseases, p < 0.001).
Conclusion
The findings show that older Quilombolas experience poor health and social conditions characterized by the lack of public investment to bring their health status in line with that of the general population.
This is a preview of subscription content, log in to check access.
Access options
Buy single article
Instant access to the full article PDF.
US$ 39.95
Price includes VAT for USA
Subscribe to journal
Immediate online access to all issues from 2019. Subscription will auto renew annually.
US$ 99
This is the net price. Taxes to be calculated in checkout.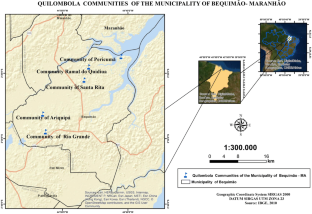 Acknowledgements
We thank the older persons living in the Quilombola communities who participated in this study, community leaders, Bequimão Town Council and Social Services Department, and the family health teams. We are also grateful to the Federal University of Maranhão for the logistical support provided and to the state research foundation, Foundation of Research of Maranhão (FAPEMA) (acronym in Portuguese), and National Council for Scientific and Technological Development (CNPq—acronym in Portuguese) for their financial support.
Funding
This project was partially funded by the State of Maranhão Research Foundation (FAPEMA, acronym in Portuguese) and National Council for Scientific and Technological Development (CNPq, acronym in Portuguese). The views expressed are those of the authors and do not reflect those of FAPEMA and CNPq.
Ethics declarations
The study was approved by the Research Ethics Committee of the University Hospital of the Federal University of Maranhão (approval no. 2.476.488, 28/01/2018), and all participants signed an informed consent form before data collection.
Conflict of interest
The authors declare that they have no conflict of interest.
Additional information
Publisher's note
Springer Nature remains neutral with regard to jurisdictional claims in published maps and institutional affiliations.
About this article
Cite this article
Costa, A.S.V., dos Santos Rodrigues, L., de Deus Cabral, J. et al. Survey of the living conditions and health status of older persons living in Quilombola communities in Bequimão, Brazil: the IQUIBEQ Project. J Public Health (Berl.) (2020). https://doi.org/10.1007/s10389-020-01198-y
Received:

Accepted:

Published:
Keywords
Older persons

Social conditions

Groups of African descent

Health status

Health surveys