Abstract
Aim
The objective of this article is the economic evaluation of the EndoPredict test in the assessment of the indication for chemotherapy in female breast cancer patients with intermediate risk of recurrence.
Subjects and methods
A retrospective cost analysis based on patient files in a German breast center was conducted, including female estrogen receptor positive (ER+) and HER2-negative (HER2-) primary breast cancer patients. The EndoPredict test was performed retrospectively on archived tumor material. Direct medical costs (in- and outpatient treatment, drug prescriptions including chemotherapy and additional medications) were evaluated. Furthermore, hypothetical direct costs were calculated for a scenario where treatment decisions would have considered the results of the EndoPredict test.
Results
Eighty-two women [mean age 62 (37–77) years] met the inclusion criteria; half of them received chemotherapy. In total, using the information from the EndoPredict, chemotherapy could have been avoided in 16 patients. Average costs of outpatient chemotherapy were 14,835€/patient. Costs for the EndoPredict were 1811€/patient. Total costs in the hypothetical scenario amounted to 968,273€ (inpatient care: 447,524€; outpatient care including pharmaceuticals: 372,247€; EndoPredict: 148,502€).
Conclusion
This retrospective analysis indicates potential cost savings with the application of the EndoPredict in the treatment decision in direct medical costs of about 10.5%, corresponding to 1.384€/test.
This is a preview of subscription content, log in to check access.
Access options
Buy single article
Instant access to the full article PDF.
US$ 39.95
Price includes VAT for USA
Subscribe to journal
Immediate online access to all issues from 2019. Subscription will auto renew annually.
US$ 99
This is the net price. Taxes to be calculated in checkout.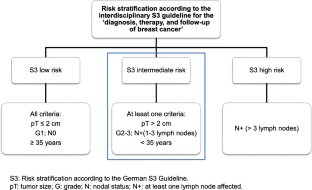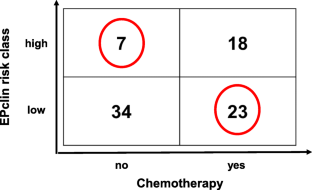 References
AOK Bundesverband (2012) Übersicht über die für 2012 gültigen Landesbasisfallwerte in den einzelnen Bundesländern. http://www.aok-gesundheitspartner.de/imperia/md/gpp/bund/krankenhaus/budgetverhandlung/bundesbasisfallwert/lbfw_2012_stand10012013.pdf. (Accessed 22 Dec 2015)

AWMF Leitlinienprogramm Onkologie (2012) Interdisziplinäre S3-Leitlinie für die Diagnostik, Therapie und Nachsorge des Mammakarzinoms. Langversion 3.0. http://www.awmf.org/uploads/tx_szleitlinien/032-045OL_l_S3__Brustkrebs_Mammakarzinom_Diagnostik_Therapie_Nachsorge_2012-07.pdf. (Accessed 16 Nov 2015)

Blank PR, Filipits M, Dubsky P, Gutzwiller F, Lux MP, Brase JC, Weber KE, Rudas M, Greil R, Loibl S, Szucs TD, Kronenwett R, Schwenkglenks M, Gnant M (2015) Cost-effectiveness analysis of prognostic gene expression signature-based stratification of early breast cancer patients. Pharmacoeconomics 2015; 33:179–190. https://doi.org/10.1007/s40273-014-0227-x

Coates AS, Winer EP, Goldhirsch A, Gelber RD, Gnant M, Piccart-Gebhart M, Thürlimann B, Senn HJ, Panel Members (2015) Tailoring therapies - improving the management of early breast cancer: St Gallen international expert consensus on the primary therapy of early breast Cancer 2015. Ann Oncol 2015; 26:1533–1546. https://doi.org/10.1093/annonc/mdv221

Cobain EF, Hayes DF (2015) Indications for prognostic gene expression profiling in early breast cancer. Curr Treat Options in Oncol 2015; 16:23. https://doi.org/10.1007/s11864-015-0340-x

Denkert C, Kronenwett R, Schlake W, Bohmann K, Penzel R, Weber KE, Höfler H, Lehmann U, Schirmacher P, Specht K, Rudas M, Kreipe HH, Schraml P, Schlake G, Bago-Horvath Z, Tiecke F, Varga Z, Moch H, Schmidt M, Prinzler J, Kerjaschki D, Sinn BV, Müller BM, Filipits M, Petry C, Dietel M (2012) Decentral gene expression analysis for ER+/Her2- breast cancer: results of a proficiency testing program for the EndoPredict assay. Virchows Arch 2012; 460:251–259. https://doi.org/10.1007/s00428-012-1204-4

DIMDI Deutsches Institut für Medizinische Dokumentation und Information (2015) Operationen- und Prozedurenschlüssel (OPS). https://www.dimdi.de/static/de/klassi/ops/index.htm. (Accessed 16 Nov 2015)

Dubsky P, Filipits M, Jakesz R, Rudas M, Singer CF, Greil R, Dietze O, Luisser I, Klug E, Sedivy R, Bachner M, Mayr D, Schmidt M, Gehrmann MC, Petry C, Weber KE, Kronenwett R, Brase JC, Gnant M; Austrian Breast and Colorectal Cancer Study Group (ABCSG) (2013) EndoPredict improves the prognostic classification derived from common clinical guidelines in ER-positive, HER2-negative early breast cancer. Ann Oncol 2013; 24:640–647. https://doi.org/10.1093/annonc/mds334

Eaker S, Wigertz A, Lambert PC, Bergkvist L, Ahlgren J et al (2011) Breast Cancer, sickness absence, income and marital status. A study on life situation 1 year prior diagnosis compared to 3 and 5 years after diagnosis. PLoS One 6(3):e18040. https://doi.org/10.1371/journal.pone.0018040

Filipits M, Rudas M, Jakesz R, Dubsky P, Fitzal F, Singer CF, Dietze O, Greil R, Jelen A, Sevelda P, Freibauer C, Müller V, Jänicke F, Schmidt M, Kölbl H, Rody A, Kaufmann M, Schroth W, Brauch H, Schwab M, Fritz P, Weber KE, Feder IS, Hennig G, Kronenwett R, Gehrmann M, Gnant M, EP Investigators (2011) A new molecular predictor of distant recurrence in ER-positive, HER2-negative breast cancer adds independent information to conventional clinical risk factors. Clin Cancer Res 2011; 17:6012–6020. https://doi.org/10.1158/1078-0432.CCR-11-0926

Gnant M (2009) Steger GG (2009) fighting overtreatment in adjuvant breast cancer therapy. Lancet 374:2029–2030. https://doi.org/10.1016/S0140-6736(09)62097-3

Hayes DF (2012) Targeting adjuvant chemotherapy: a good idea that needs to be proven! J Clin Oncol 2012; 30:1264–1267. https://doi.org/10.1200/JCO.2011.38.4529

IARC International Agency for Research on Cancer (2012) Breast Cancer. Estimated Incidence, Mortality and Prevalence Worldwide in 2012. http://globocan.iarc.fr/Pages/fact_sheets_cancer.aspx. (Accessed 16 Nov 2015)

Kassenärztliche Bundesvereinigung (2015) Einheitlicher Bewertungsmaßstab (EBM). http://www.kbv.de/html/ebm.php. (Accessed 16 Nov 2015)

Klauber J, Geraedts M, Friedrich J, Wasem J (2015) Krankenhaus-Report 2015 – Schwerpunkt Strukturwandel, 1st edn. Schattauer-Verlag, Stuttgart

Lauer-Fischer GmbH (2015) Lauer-Taxe. http://www2.lauer-fischer.de/produkte/lauer-taxe/webapo-infosystem. (Accessed 16 Nov 2015)

Lux MP, Reichelt C, Karnon J, Tänzer TD, Radosavac D, Fasching PA, Beckmann MW, Thiel FC (2011) Cost-benefit analysis of endocrine therapy in the adjuvant setting for postmenopausal patients with hormone receptor-positive breast Cancer, based on survival data and future prices for generic drugs in the context of the German health care system. Breast Care 2011; 6:381–389. https://doi.org/10.1159/000333118

Robert Koch-Institut RKI (2015) Krebs in Deutschland 2011/2012, Berlin

Senkus E, Kyriakides S, Penault-Llorca F, Poortmans P TA, Zackrisson S CF (2013) Primary breast cancer: ESMO clinical practice guidelines for diagnosis, treatment and follow-up. Ann Oncol 2013; Oct;24. https://doi.org/10.1093/annonc/mdt284

Statistisches Bundesamt (2011) Mikrozensus - Fragen zur Gesundheit - Körpermaße 2009. https://www.destatis.de/DE/Publikationen/Thematisch/Gesundheit/Gesundheitszustand/Koerpermasse5239003099004.pdf?__blob=publicationFile. (Accessed 16 Nov 2015)

Ward S, Scope A, Rafia R, Pandor A, Harnan S, Evans P, Wyld L (2013) Gene expression profiling and expanded immunohistochemistry tests to guide the use of adjuvant chemotherapy in breast cancer management: a systematic review and cost-effectiveness analysis. Health Technol Assess 2013; 17:1–302. https://doi.org/10.3310/hta17440
Funding
This study was non-financially supported by the "Verein zur Bekämpfung der Volkskrankheiten im Ruhrgebiet e.V." and by an unrestricted grant from Myriad International GmbH.
Ethics declarations
Conflict of interest
This study was non-financially supported by the "Verein zur Bekämpfung der Volkskrankheiten im Ruhrgebiet e.V." and by an unrestricted grant by Myriad International GmbH. Christoph Petry has been previously employed by Sividon Diagnostics and is a former shareholder of Sividon Diagnostics; Ralf Kronenwett is employed by Myriad International GmbH and a former shareholder of Sividon Diagnostics.
Ethical approval
This article does not contain any studies with human participants or animals performed by any of the authors.
Informed consent
This was a retrospective study; informed consent was not necessary.
Additional information
Publisher's note
Springer Nature remains neutral with regard to jurisdictional claims in published maps and institutional affiliations.
About this article
Cite this article
Neusser, S., Philipp, L., Schlake, G. et al. Retrospective cost-analysis of the EndoPredict test in patients with primary breast cancer in a German breast center. J Public Health (Berl.) (2020). https://doi.org/10.1007/s10389-020-01193-3
Received:

Accepted:

Published:
Keywords
Breast neoplasms

Costs and cost analysis

Germany

Prognostic gene expression test

Chemotherapy

Drug therapy