Abstract
Aim
In this study, we conduct a systematic review of literature to understand the effectiveness of interventions on continuum of maternal and child healthcare services, the inter-linkages across different levels of continuum of care and the impact of continuum of care on child mortality in South Asian countries from 2000 to 2017.
Methods
The Electronic databases like, Popline, PubMed, Science Direct, Scopus, Web of Science, EBSCO and Google Scholar were systematically scrutinised to obtain relevant papers. A total of 19 papers were shortlisted for the final analysis. As per our knowledge, this is the first study which conceptualises the continuum of maternal health care framework through demand-based and supply-based interventions. In addition to this, we also present pathway models collating the evidence of continuum of maternal health care services in improving maternal and child health. Furthermore, both narrative synthesis approach and theme-wise categorisation approach is adopted to analyse the selected studies.
Results
Our findings reveal a strong relationship between Demand-based & Supply-based interventions and continuum of maternal and child healthcare. Demand-based intervention (i.e. training health workers, spreading awareness through flip-charts, and folk dance) is effective in improving the CoC, while, Supply-based interventions (i.e. building hospitals, providing medicines and other equipment) strengthens the CoC in the context of South Asian countries. It also divulges strong inter-linkages across the CoC interventions.
Conclusion
Hence, the policy makers and public agencies should emphasize more on strengthening Demand-based & Supply-based interventions that would strengthen the interlinkages across CoC.
This is a preview of subscription content, log in to check access.
Access options
Buy single article
Instant unlimited access to the full article PDF.
US$ 39.95
Price includes VAT for USA
Subscribe to journal
Immediate online access to all issues from 2019. Subscription will auto renew annually.
US$ 99
This is the net price. Taxes to be calculated in checkout.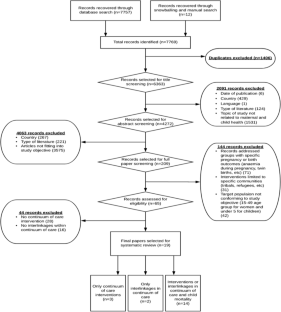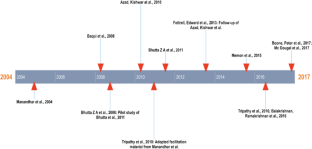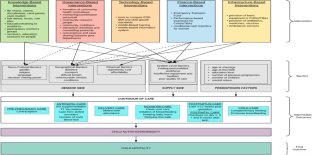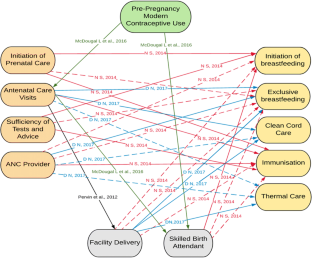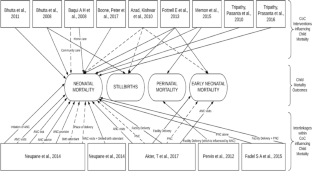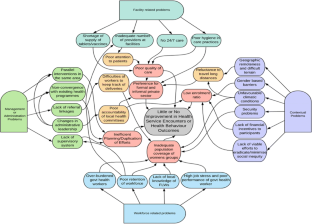 Notes
1.

We used this methodology to identify new papers based on the selected papers. The citations of the selected papers were are being(delete) examined and relevant papers were are(delete) used in the final analysis. This process is conducted by each author separately.

2.
Abbreviations
ANC:

Antenatal Care

ANM:

Auxiliary Nurse Midwife

CoC:

Continuum of Maternal and Child Healthcare Services

CHWs:

Community Health Workers

IFA:

Iron and Folic Acid

IMNCI:

Integrated Management of Neonatal and Childhood Illness

LHWs:

Lady Health Workers –

MNCH:

Maternal Neonatal and Child Health

m health:

Mobile Health

PNC:

PostNatal Care

RMNCH:

Reproductive Maternal Neonatal and Child Health

SBA:

Skilled Birth Attendant

SDGs:

Sustainable Development Goals

TBAs:

Traditional Birth Attendants

TT:

Tetanus Toxoid
References
Aday LA, Andersen R (1974) A framework for the study of access to medical care. Health Serv Res 9(3):208

Akter T, Dawson A, Sibbritt D (2017) What impact does antenatal and postnatal care have on neonatal deaths in low-and lower-middle-income countries? Evidence from Bangladesh. Health Care Women Inter 38(8):848–860

Azad K, Barnett S, Banerjee B, Shaha S, Khan K, Rego AR, Ellis M (2010) Effect of scaling up women's groups on birth outcomes in three rural districts in Bangladesh: a cluster-randomised controlled trial. Lancet 375(9721):1193–1202

Balakrishnan R, Gopichandran V, Chaturvedi S, Chatterjee R, Mahapatra T, Chaudhuri I (2016) Continuum of Care Services for Maternal and Child Health using mobile technology–a health system strengthening strategy in low and middle income countries. BMC Med Informatics Decision Making 16(1):84

Baqui AH, El-Arifeen S, Darmstadt GL, Ahmed S, Williams EK, Seraji HR, Mannan I, Rahman SM, Shah R, Saha SK, Syed U (2008) Effect of community-based newborn-care intervention package implemented through two service-delivery strategies in Sylhet district, Bangladesh: a cluster-randomised controlled trial. Lancet 371(9628):1936–1944

Bhutta ZA, Ahmed T, Black RE, Cousens S, Dewey K, Giugliani E, Haider BA, Kirkwood B, Morris SS, Sachdev HPS, Shekar M (2008) What works? Interventions for maternal and child undernutrition and survival. The Lancet 371(9610):417–440

Bhutta ZA, Gupta I, de' Silva H, Manandhar D, Awasthi S, Hossain SM, Salam MA (2004) Maternal and child health: is South Asia ready for change? BMJ 328(7443):816–819

Bhutta ZA, Soofi S, Cousens S, Mohammad S, Memon ZA, Ali I, Feroze A, Raza F, Khan A, Wall S, Martines J (2011) Improvement of perinatal and newborn care in rural Pakistan through community-based strategies: a cluster-randomised effectiveness trial. Lancet 377(9763):403–412

Boone P, Eble A, Elbourne D, Frost C, Jayanty C, Lakshminarayana R, Mann V, Mukherjee R, Piaggio G, Reddy P (2017) Community health promotion and medical provision for neonatal health—CHAMPION cluster randomised trial in Nagarkurnool district, Telangana (formerly Andhra Pradesh), India. PLoS Med 14(7):e1002324

Borghi JO, Ensor T, Somanathan A, Lissner C, Mills A (2006) Lancet maternal survival series steering group. Mobilising financial resources for maternal health. Lancet 368(9545):1457–1465

Devasenapathy N, Neogi SB, Soundararajan S, Ahmad D, Hazra A, Ahmad J, Mann N, Mavalankar D (2017) Association of antenatal care and place of delivery with newborn care practices: evidence from a cross-sectional survey in rural Uttar Pradesh, India. Journal of health, population and. Nutrition. 36(1):30

Fadel SA, Ram U, Morris SK, Begum R, Shet A, Jotkar R, Jha P (2015) Facility delivery, postnatal care and neonatal deaths in India: nationally-representative case-control studies. PLoS One 10(10):e0140448

Fottrell E, Azad K, Kuddus A, Younes L, Shaha S, Nahar T, Aumon BH, Hossen M, Beard J, Hossain T, Pulkki-Brannstrom AM (2013) The effect of increased coverage of participatory women's groups on neonatal mortality in Bangladesh: a cluster randomized trial. JAMA Pediatr 167(9):816–825

Haines A, Sanders D, Lehmann U, Rowe AK, Lawn JE, Jan S, Walker DG, Bhutta Z (2007) Achieving child survival goals: potential contribution of community health workers. Lancet 369(9579):2121–2131

Kerber KJ, de Graft-Johnson JE, Bhutta ZA, Okong P, Starrs A, Lawn JE (2007) Continuum of care for maternal, newborn, and child health: from slogan to service delivery. Lancet 370(9595):1358–1369

Kikuchi K, Ansah EK, Okawa S, Enuameh Y, Yasuoka J, Nanishi K, Shibanuma A, Gyapong M, Owusu-Agyei S, Oduro AR, Asare GQ (2015) Effective linkages of continuum of care for improving neonatal, perinatal, and maternal mortality: a systematic review and meta-analysis. PLoS One 10(9):e0139288

Manandhar DS, Osrin D, Shrestha BP, Mesko N, Morrison J, Tumbahangphe KM, Tamang S, Thapa S, Shrestha D, Thapa B, Shrestha JR (2004) Effect of a participatory intervention with women's groups on birth outcomes in Nepal: cluster-randomised controlled trial. Lancet 364(9438):970–979

McDougal L, Rusch ML, Silverman JG, Raj A (2016) Linkages within the reproductive and maternal health continuum of Care in Bangladesh. Asia Pacific J Public Health 28(5):423–437

McDougal L, Atmavilas Y, Hay K, Silverman JG, Tarigopula UK, Raj A (2017) Making the continuum of care work for mothers and infants: does gender equity matter? Findings from a quasi-experimental study in Bihar, India. PLoS One 12(2):e0171002

Memon ZA, Khan GN, Soofi SB, Baig IY, Bhutta ZA (2015) Impact of a community-based perinatal and newborn preventive care package on perinatal and neonatal mortality in a remote mountainous district in northern Pakistan. BMC Pregnancy Childbirth 15(1):106

Mothupi MC, Knight L, Tabana H (2018) Measurement approaches in continuum of care for maternal health: a critical interpretive synthesis of evidence from LMICs and its implications for the south African context. BMC Health Serv Res 18(1):539

Neupane S, Doku DT (2014) Neonatal mortality in Nepal: a multilevel analysis of a nationally representative. J Epidemiol Global Health 4(3):213–222

Pervin J, Moran A, Rahman M, Razzaque A, Sibley L, Streatfield PK, Reichenbach LJ, Koblinsky M, Hruschka D, Rahman A (2012) Association of antenatal care with facility delivery and perinatal survival–a population-based study in Bangladesh. BMC Pregnancy Childbirth 12(1):111

Shindano TA, Kabinda JM, Mitashi P, Horsmans Y (2018) Hepatitis B virus infection in the Democratic Republic of Congo: a systematic review of prevalence studies (2000–2016). J Public Health 26(5):595–603

Singh A (2016) Supply-side barriers to maternal health care utilization at health sub-centers in India. PeerJ 4:e2675

Sondaal SF, Browne JL, Amoakoh-Coleman M, Borgstein A, Miltenburg AS, Verwijs M, Klipstein-Grobusch K (2016) Assessing the effect of mHealth interventions in improving maternal and neonatal care in low-and middle-income countries: a systematic review. PLoS One 11(5):e0154664

Thaddeus S, Maine D (1991) Too far to walk: maternal mortality in context. Women's Global Network For Reproductive Rights Newsletter 36:22–24

The Joanna Briggs Institute (2014) Joanna Briggs institute reviewers' manual: 2014 edition. The Joanna Briggs Institute, Adelaide, Australia

Tripathy P, Nair N, Barnett S, Mahapatra R, Borghi J, Rath S, Rath S, Gope R, Mahto D, Sinha R, Lakshminarayana R (2010) Effect of a participatory intervention with women's groups on birth outcomes and maternal depression in Jharkhand and Orissa, India: a cluster-randomised controlled trial. Lancet 375(9721):1182–1192

Tripathy P, Nair N, Sinha R, Rath S, Gope RK, Rath S, Ali S (2016) Effect of participatory women's groups facilitated by accredited social health activists on birth outcomes in rural eastern India: a cluster-randomised controlled trial. Lancet Glob Health 4(2):e119–e128

Unicef (2018) Levels and trends in child malnutrition. eSocialSciences

World Health Organization (2005). The World health report: 2005: make every mother and child count
Contributors statement
SG and SR conceived the idea of the paper, conducted the analysis and wrote the first draft of the paper. UD and SBM contributed to data analysis and revision of the manuscript. All authors approved the final version of the manuscript.
Funding
There is no funding taken from Institution or Government organization to conduct this research. This research is conducted independently.
Ethics declarations
Conflict of interest
"None Declared".
Declarations
There is no potential conflict of interest between any institutions and governmental organizations and NGOs.
Ethical approval
This study did not require ethical approval as it was a retrospective analysis collating journal articles published in leading journals.
Additional information
Publisher's note
Springer Nature remains neutral with regard to jurisdictional claims in published maps and institutional affiliations.
Electronic supplementary material
About this article
Cite this article
Gandhi, S., Ramesh, S., Dash, U. et al. A systematic review of Demand-based & Supply-based Interventions on continuum of maternal and child healthcare in south Asian countries. J Public Health (Berl.) (2020). https://doi.org/10.1007/s10389-019-01148-3
Received:

Accepted:

Published:
Keywords
Continuum of Maternal Health Care Services

Child Mortality

Sustainable development goals

South Asian Countries