Abstract
Purpose
To assess the safety and effectiveness of the SOLX gold shunt (GS) in reducing intraocular pressure (IOP) in Japanese patients with open angle glaucoma (OAG).
Methods
24 eyes of 24 subjects [mean age of 68.9 ± 12.7 years; 13 (54%) women; 16 (67%) POAG, 7 (29%) pseudoexfoliation glaucoma, and 1 (4%) steroid response glaucoma] were implanted with the GS either with or without cataract surgery. Best-corrected visual acuity (BCVA), IOP, corneal endothelial cell density (CECD), anterior chamber (AC) flare, surgical complications, and required interventions were monitored at baseline, and 1 day, 1 week, 1, 3 and 6 months, and 1 year postoperatively.
Results
Baseline IOP of 21.3 ± 4.1 mmHg and glaucoma medications of 3.5 ± 1.0 were significantly reduced at every follow-up visit. At 1 year postoperatively, IOP was 16.4 ± 5.8 mmHg (23% reduction from baseline, p < 0.0001) with use of 2.1 ± 1.1 medications (40% reduction from baseline, p = 0.0002). Intraoperative hyphema occurred in 5 (21%) eyes. Transient bleb formation occurred in 20 (83%) eyes, and AC cell was reported in 17 (71%) eyes. Inflammation-related complications such as posterior and anterior synechiae, or iritis/keratic precipitates tended to occur during late postoperative periods. At 1 year, BCVA was unchanged or improved in 23 (96%) eyes. AC flare was elevated at 1 week postoperatively and later. CECD declined at 3 months and 1 year postoperatively.
Conclusions
The GS is effective in reducing IOP in Japanese patients with OAG. Chronic inflammation in AC might be associated with late onset complications.
This is a preview of subscription content, log in to check access.
Access options
Buy single article
Instant unlimited access to the full article PDF.
US$ 39.95
Price includes VAT for USA
Subscribe to journal
Immediate online access to all issues from 2019. Subscription will auto renew annually.
US$ 99
This is the net price. Taxes to be calculated in checkout.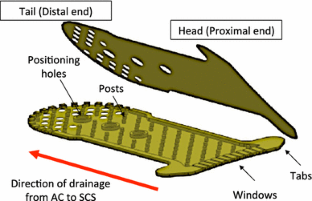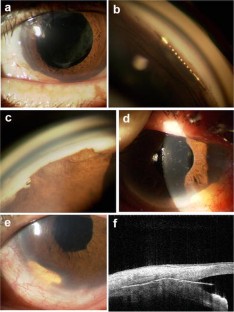 References
1.

Collaborative normal-tension glaucoma study group. Comparison of glaucomatous progression between untreated patients with normal-tension glaucoma and patients with therapeutically reduced intraocular pressures. Am J Ophthalmol. 1998;126:487–97.

2.

The AGIS investigators. The advanced glaucoma intervention study (AGIS): 7. The relationship between control of intraocular pressure and visual field deterioration. Am J Ophthalmol. 2000;130:429–40.

3.

Garway-Heath DF, Crabb DP, Bunce C, Lascaratos G, Amarfitano F, Anand N, et al. Latanoprost for open-angle glaucoma (UKGTS): a randomised, multicentre, placebo-controlled trial. Lancet. 2015;385:1295–304.

4.

Gigon A, Shaarawy T. The suprachoroidal route in glaucoma surgery. J Curr Glaucoma Pract. 2016;10:13–20.

5.

Melamed S, Ben Simon GJ, Goldenfeld M, Simon G. Efficacy and safety of gold micro shunt implantation to the supraciliary space in patients with glaucoma: a pilot study. Arch Ophthalmol. 2009;127(3):264–9.

6.

Hoeh H, Ahmed II, Grisanti S, Grisanti S, Grabner G, Nguyen QH, et al. Early postoperative safety and surgical outcomes after implantation of a suprachoroidal micro-stent for the treatment of open-angle glaucoma concomitant with cataract surgery. J Cataract Refract Surg. 2013;39:431–7.

7.

Hoeh H, Vold SD, Ahmed IK, Anton A, Rau M, Singh K, et al. Initial clinical experience with the cypass micro-stent: safety and surgical outcomes of a novel supraciliary microstent. J Glaucoma. 2016;25:106–12.

8.

Oatts JT, Zhang Z, Tseng H, Shields MB, Sinard JH, Loewen NA. In vitro and in vivo comparison of two suprachoroidal shunts. Invest Ophthalmol Vis Sci. 2013;54:5416–23.

9.

Cseke I, Vamosi P, Bausz M. Starflo glaucoma implant: early experience in Hungary. Rom J Ophthalmol. 2016;60:14–7.

10.

Emi K, Pederson JE, Toris CB. Hydrostatic pressure of the suprachoroidal space. Invest Ophthalmol Vis Sci. 1989;30:233–8.

11.

Figus M, Lazzeri S, Fogagnolo P, Iester M, Martinelli P, Nardi M. Supraciliary shunt in refractory glaucoma. Br J Ophthalmol. 2011;95:1537–41.

12.

Mastropasqua L, Agnifili L, Ciancaglini M, Nubile M, Carpineto P, Fasanella V, et al. In vivo analysis of conjunctiva in gold micro shunt implantation for glaucoma. Br J Ophthalmol. 2010;94:1592–6.

13.

Hueber A, Roters S, Jordan JF, Konen W. Retrospective analysis of the success and safety of gold micro shunt implantation in glaucoma. BMC Ophthalmol. 2013;13:35.

14.

Skaat A, Sagiv O, Kinori M, Ben Simon GJ, Goldenfeld M, Melamed S. Gold micro-shunt implants versus ahmed glaucoma valve: long-term outcomes of a prospective randomized clinical trial. J Glaucoma. 2016;25:155–61.

15.

Tanito M, Ohira A, Chihara E. Surgical outcome of combined trabeculotomy and cataract surgery. J Glaucoma. 2001;10:302–8.

16.

Tanito M, Park M, Nishikawa M, Ohira A, Chihara E. Comparison of surgical outcomes of combined viscocanalostomy and cataract surgery with combined trabeculotomy and cataract surgery. Am J Ophthalmol. 2002;134:513–20.

17.

Chihara E, Hayashi K. Effect of a fenestration between an intrascleral lake and supraciliary space on deep sclerectomy. J Glaucoma. 2016;25:e299–307.

18.

Lee RY, Huang G, Porco TC, Chen YC, He M, Lin SC. Differences in iris thickness among African Americans, Caucasian Americans, Hispanic Americans, Chinese Americans, and Filipino-Americans. J Glaucoma. 2013;22:673–8.

19.

Oh YG, Minelli S, Spaeth GL, Steinman WC. The anterior chamber angle is different in different racial groups: a gonioscopic study. Eye. 1994;8:104–8.

20.

Agnifili L, Costagliola C, Figus M, Iezzi G, Piattelli A, Carpineto P, et al. Histological findings of failed gold micro shunts in primary open-angle glaucoma. Graefes Arch Clin Exp Ophthalmol. 2012;250:143–9.

21.

Berk TA, Tam DY, Werner L, Mamalis N, Ahmen II. Electron microscopic evaluation of a gold glaucoma micro shunt after explantation. J Cataract Refract Surg. 2015;41:674–80.

22.

Rekas M, Pawlik B, Grala B, Kozlowski W. Clinical and morphological evaluation of gold micro shunt after unsuccessful surgical treatment of patients with primary open-angle glaucoma. Eye. 2013;27:1214–7.
Ethics declarations
Conflicts of interest
M. Tanito, Supply of shunts (SOLX), Lecture fees (Aeon Astron, Alcon, HOYA, JFC, Kowa, MSD, NIDEK, Otsuka, Pfizer, Santen, Senju); E. Chihara, Supply of shunts (SOLX), Lecture fees (Alcon, Chuo Sangio, Kowa, Pfizer, Santen, Senjyu).
Electronic supplementary material
Below is the link to the electronic supplementary material.
Video 1 Surgical video. The SOLX Gold Shunt is implanted at inferior-nasal quadrant (right eye) (MOV 14893 kb)
About this article
Cite this article
Tanito, M., Chihara, E. Safety and effectiveness of gold glaucoma micro shunt for reducing intraocular pressure in Japanese patients with open angle glaucoma. Jpn J Ophthalmol 61, 388–394 (2017). https://doi.org/10.1007/s10384-017-0520-2
Received:

Accepted:

Published:

Issue Date:
Keywords
SOLX gold-shunt

Open angle glaucoma

Glaucoma surgery

Intraocular pressure

Anterior chamber flare