Endoscopic atlas of fundoplication
Dear Editor,
Due to the high frequency of laparoscopic anti-reflux surgery, many medical gastroenterologists are seeing patients after surgery and performing endoscopy. There is a variable level of experience among medical endoscopists.
This letter aims to help the medical endoscopist understand the surgical structure of fundoplication as well as possible defects.
Introduction
The appearances of fundoplication are not necessarily familiar to many gastrointestinal medical practitioners investigating patients for oesophagogastric symptoms. This brief description has been formulated as an aid to management for non-surgical gastroenterology practitioners. Appearances of normal and abnormal cardio-oesophageal junctions and normal and various disrupted fundoplications are included.
Endoscopic images
Hiatus hernia
Showing the crural impression which moves on breathing, with the stomach draped over each margin and entering the chest (Fig.
1
).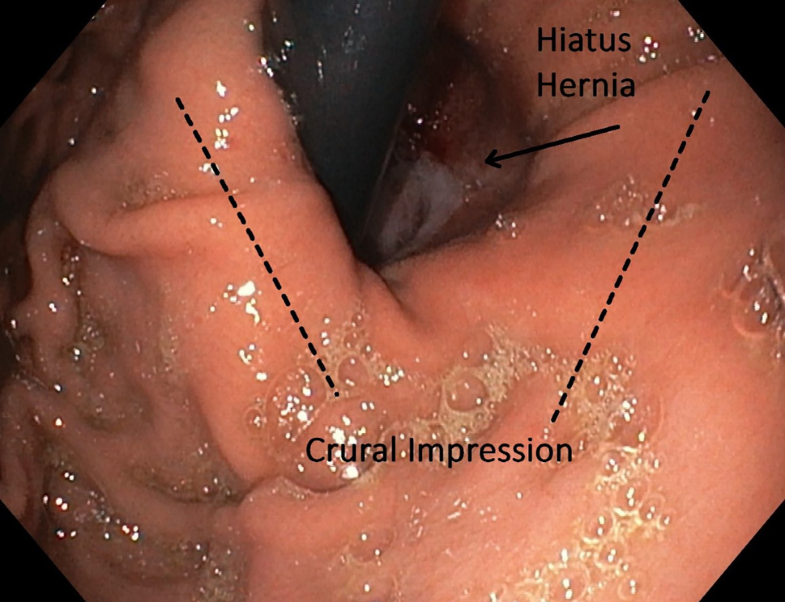 Notes
Compliance with ethical guidelines
Conflict of interest
G.L. Falk, T.J. D'Netto and S.C. Little declare that they have no competing interests.
Ethical standards
Prospective patient data were collated from a password-protected practice database and collated for publication. The database was approved by the institutional ethics committee (CH62/6/2011-092).
References
1.

Hill LD, Kozarek RA, Kraemer SJ, et al. The gastroesophageal flap valve: in vitro and in vivo observations. Gastrointest Endosc. 1996;44(5):541–7.

CrossRef

Google Scholar
Copyright information
© Springer-Verlag GmbH Austria, part of Springer Nature 2019