Landslides triggered by the West Japan Heavy Rain of July 2018, and geological and geomorphological features of soaked mountain slopes
Overview
The record-breaking downpour that has soaked wide areas from west to central Japan—Kagoshima, Saga, Fukuoka, Ehime, Kochi, Yamaguchi, Hiroshima, Okayama, Hyogo, Kyoto, Shiga and Gifu—is mainly blamed on a seasonal rain front that kept staying over an about western 1000 km stretch of the islands of Japan from June 28 to July 8. This event, to which the Japan Meteorological Agency has officially given the name "Heavy Rain of July, 2018" (Japan Meteorological Agency 2018), resulted in widespread and devastating floods, landslides and mudflows. As of July 20, 225 people were confirmed dead across 15 prefectures with a further 13 people reported missing. Especially, fatalities in Hiroshima Prefecture numbered 107, which was the worst among other prefectures struck by this event.
Precipitations in Hiroshima
Figure
1
shows daily and hourly precipitations in Hiroshima and Kure, both in Hiroshima Prefecture.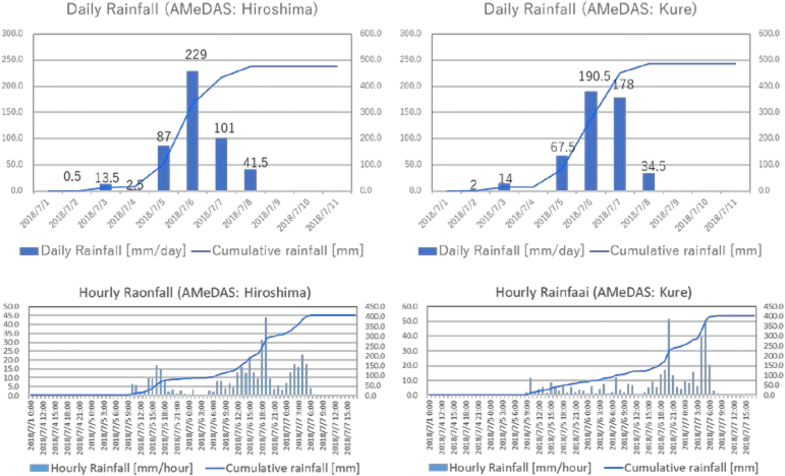 Notes
Acknowledgements
The authors are indebted to Dr. Tomoharu Iwasaki, Kokusai Kogyo Co., Ltd., who has provided the authors with photos of landslides.
Copyright information
© Springer-Verlag GmbH Germany, part of Springer Nature 2018