Abstract
The objective of the work was to assess the effects of bagging cv. Fuji, Raku Raku apple fruit on the phenolic compounds and antioxidant capacity of the peel using five-year-old trees on M 9 rootstock at San Clemente, Chile (35°S). Total phenolic concentrations were lower in bagged apple fruit than in unbagged control fruit. The antioxidant activity increased once the bags were removed and fruit exposed to light. Bagging also decreased the incidence of sunburn. Chlorogenic acid, catechin and phloridzin in the apple fruit peel were not affected by the bagging treatment. After anthocyanin, quercetins were the phenolic compounds most sensitive to bagging. Bagging neither affected maturity parameters nor their mineralogical composition. In terms of physiological disorders, bagging showed a tendency of decreased incidence of internal browning, but with more rotting.
This is a preview of subscription content, log in to check access.
Access options
Buy single article
Instant access to the full article PDF.
US$ 39.95
Price includes VAT for USA
Subscribe to journal
Immediate online access to all issues from 2019. Subscription will auto renew annually.
US$ 99
This is the net price. Taxes to be calculated in checkout.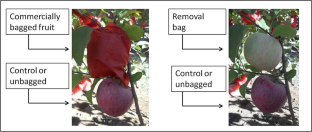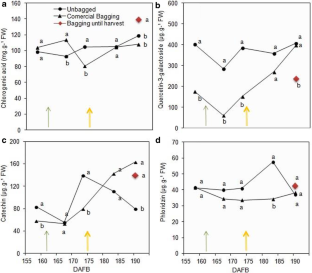 References
Amarante C, Banks NH, Max S (2002) Effect of preharvest bagging on fruit quality and postharvest physiology of pears (Pyrus communis). N Z J Crop Hortic Sci 30:99–107

Awad MA, de Jager A, van Westing L (2000) Flavonoid and chlorogenic acid levels in apples fruit: characterisation of variation. Sci Hortic 83:249–263

Chen C, Zhang D, Wang Y, Li P, Ma F (2012) Effects of fruit bagging on the contents of phenolic compounds in the peel and flesh of 'Golden Delicious', 'Red Delicious', and 'Royal Gala' apples. Sci Hortic 142:68–73

Chung H‑S, Moon K‑D, Chung S‑K, Choi J‑U (2005) Control of internal browning and quality improvement of 'Fuji' apples by stepwise increase of CO2 level during controlled atmosphere storage. J Sci Food Agric 85(5):883–888

Coseteng M, Lee C (1987) Changes in apple polyphenoloxidase and polyphenol concentrations in relation to degree of browning. J Food Sci 52(4):986–989

Fallahi E, Colt M, Baird C, Fallahi B, Chun I‑J (2001) Influence of nitrogen and bagging on fruit quality and mineral concentrations of 'BC‑2 fuji' apple. horttech 11(3):462–466

Feng F, Li M, Ma F, Cheng L (2014) The effects of bagging and debagging on external fruit quality, metabolites, and the expression of anthocyanin biosynthetic genes in 'Jonagold' apple (Malus domestica Borkh.). Sci Hortic 165:123–131

Fuleki T, Francis FJ (1968) Quantitative methods for anthocyanins. 1. Extraction and determination of total anthocyanin in cranberries. J Food Science 33:72–77

Huang D, Ou B, Hampsch-Woodill M, Flanagan JA, Deemer EK (2002) Development and validation of oxygen radical absorbance capacity assay for lipophilic antioxidants using randomly methylated beta-cyclodextrin as the solubility enhancer. J Agric Food Chem 50:1815–1821

Huang D, Ou B, Prior L (2005) Reviews the chemistry behind antioxidant capacity assays. J Agric Food Chem 53:1841–1856

Jakopic J, Stampar F, Veberic R (2009) The influence of exposure to light on the phenolic content of cv. Fuji, Raku Raku Apple. Sci Hortic 123:234–239

Ju ZG (1998) Fruit bagging, a useful method for studing anthocyanin synthesis and gene expression in apples. Sci Hortic 77:155–164

Lichtenthaler HK (1987) Cholorophylls and carotenoids: pigments of photosynthetic biomembranes. Meth Enzymol 148:350–382

ODEPA (2015) Superficie plantada nacional, regional, número de huertos e infraestructura frutícola. www.odepa.gob.cl. Accessed 12 Nov 2015

Petkovsek MM, Slatnar A, Stampar F, Veberic R (2010) The influence of organic/integrateed production on the content of phenolic compounds in Apple leaves and fruits in four different varieties over a 2-years period. J Food Science 90:2366–2378

Prior RL, Hoang H, Gu L, Wu X, Bacchiocca M, Howard L, Hampsch-Woodill M, Huang D, Ou B, Jacob R (2003) Assays for hydrophilic and lipophilic antioxidant capacity (oxygen radical absorbance capacity (ORACFL)) of plasma and other biological and food samples. J Agric Food Chem 51:3273–3279

Reyes M (2009) Respuestas de las ceras epicuticulares de manzanas al daño por sol. Memoria Doctor en Ciencias Agrarias. Facultad de Ciencias Agrarias, Universidad de Talca, Talca, p 7

Sharma RR, Pal RK, Asrey R, Sagar VR (2013) Pre-hervest bagging influences fruit color and quality of apple cv. Delicious. Agric Sci 4(9):443–448

Sharma RR, Pal RK, Sagar VR, Parmanick KK, Paul V, Gupta VK, Kumar K, Rana MR (2014) Impact of pre-harvest fruit-bagging with different coloured bags on peel color and the incidence of insect pests, disease and storage disorders in 'Royal Gala' apple. J Hortic Sci Biotechnol 89(6):613–618

Sun S, Xin L, Gao H, Wang J, Li P (2014) Response of phenolic compounds in 'Golden Delicious' and 'Red Delicious' apples peel to fruit bagging and subsequent sunlight re-exposure. Sci Hortic 168:161–167

Treutter D (2001) Biosynthesis of phenolic compounds and its regulation in apple. Plant Growth Regul 34:71–89

Tsao R, Yang R, Xie S, Sockovie E, Khanizadeh S (2005) Wich polyphenolic compounds contribute to the total antioxidant activities of apple? J Agric Food Chem 53:4989–4995

Yuri JA (2010) Daño por sol en manzanas. Rev Fruticult 8:3–9

Yuri J, Maldonado F, Razmilic I, Neira A, Quilodrán A, Palomo I (2012) Concentrations of total phenols and antioxidant activity in apple do not differ between conventional and organic orchard management. J Food Agric Environ 10(2):207–216

Yuri JA, Neira A, Maldonado F, Quilodrán A, Simeone D, Razmilic I, Palomo I (2014) Total phenol and quercetin content and antioxidant activity in apples in response to termal, light stress and to organic management. J Appl Bot Food Qual 87:131–138

Yuri JA, Torres C, Bastías R, Neira A (2000) Golpe de sol en manzanas. II. Factores inductores y respuestas bioquímicas. Agro Ciencia 16(1):23–32

Zhang J, Niu J, Duan Y, Zhang M, Liu J, Li P, Ma F (2015) Photoprotectionmechanism in the cv. Fuji, Raku Raku apple peel at different levels of photoocidative sunburn. Physiol Plantarum 154:54–65

Zoratti L, Karppinen K, Luengo A, Häggman H, Jaakola L (2014) Light-controlled flavonoid biosynthesis in fruits. Front Plant Sci 5(534):1–16
Ethics declarations
Conflict of interest
J.A. Yuri, A. Neira, M. Fuentes, I. Razmilic, V. Lepe and M.F. González declare that they have no competing interests.
About this article
Cite this article
Yuri, J.A., Neira, A., Fuentes, M. et al. Bagging cv. Fuji, Raku Raku Apple Fruit Affects Their Phenolic Profile and Antioxidant Capacity. Erwerbs-Obstbau (2020). https://doi.org/10.1007/s10341-020-00475-0
Received:

Accepted:

Published:
Keywords
Apple (Malus domestica Borkh)

Bagged fruits

Phenolics

Antioxidant capacity

ORAC

Physiological disorders

Nutrition
Schlüsselwörter
Apfel (Malus domestica Borkh)

Fuji

Antioxidatives Potential

Fleischbräune

Nährstoffe

ORAC

Phenole

Physiologische Schäden

Sonnenbrand