Abstract
This study was carried out in 2010 and 2011 to determine some biological characteristics and population development of Euphyllura straminea Log. which causes damage in olive orchards (Mardin province) in the south-east of Turkey. In the study, the samples were taken from three different orchards containing 30–40 olive trees. As a result of the study, it was determined that the adults of the pest were present in nature all the year round and hibernated the winter as adult. Adults left their hibernation sites with the warming of the weather and laid eggs in shoots, buds, and flowers. The insect had three annual generations in a year (depending on ecological conditions) and the population density and the ratio of damage decreased especially in rainy years. There is a close relationship between the ecology of E. straminea and plant phenology and climatic conditions.
This is a preview of subscription content, log in to check access.
Access options
Buy single article
Instant access to the full article PDF.
US$ 39.95
Price includes VAT for USA
Subscribe to journal
Immediate online access to all issues from 2019. Subscription will auto renew annually.
US$ 99
This is the net price. Taxes to be calculated in checkout.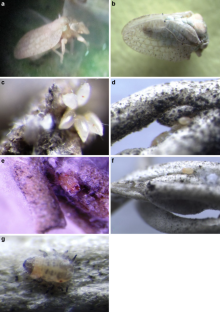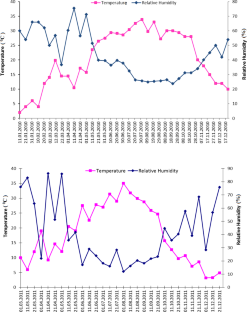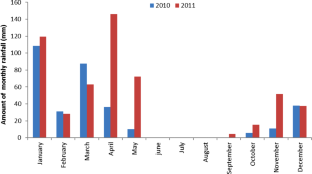 References
Abou-Kaf N, Hamoudi O (1999) Evaluation of damage caused by Olive Psylla Euphyllura straminea Loginova (Homoptera: Aphalaridae) in Syria. Arab J Plant Prot 17(2):71–76

Ahmed A, Sharaf El-Din A, Hashem MY (1999) Occurrence of various stages of olive psylla, euphyllura straminea loginova (homoptera: aphalaridae) on olive trees (olea europaea l.) in Egypt. By Department of Economic Entomology and Pesticides Fac. Of Agric., Cairo Univ., Giza, Egypt. http://www.ees.eg.net/bdf/New%20Folder/B-99. Accessed 15 June 2010

Alaserhat İ, Gültekin L (2014) Investigation of the morphology, biology and infestation of Mecorhis ungarica (Herbst, 1783) (Coleoptera: Rhynchitidae) associated with rosehip plants (Rosa spp.). Turkish J Entomol 38(2):157–172

Anonymous (2014) FAO (Food and Agriculture Organization of United Nations). http://www.fao.org/faostat/en/#data/QC. Accessed 8 Feb 2016

Aysu R (1970) Olive Cotton Beetle E. olivina and Farmer Brochure of Struggle. Publications of General Directorate of Agricultural Struggle and Agricultural Quarantine, Ministry of Agriculture of Turkey, Issue 56, Ankara

Abdul-Baki M, Ali H, Abdul Ahemed M‑S (1985) Ecological studies on Olive Psyllid Euphyllura straminea Log at Mosul Region with special reference to its natural enemies. Iraqi J Agric Sci "Zanco" 3(1):14

Bene G, Gargani E, Landi S, Del Bene G (1997) Observations on the life cycle and diapause of Euphyllura olivina (Costa) and Euphyllura phillyreae Foerster (Homoptera Aphalaridae). Adv Hortic Sci 11(1):10–16

Chermiti B (1992) Evaluation of the damage potential of the olive pest Euphyllura olivina (Costa) (Homoptera, Aphalaridae). Olivae 43:34–42

Ertem G (1992) The possibilities of integrated struggle in olive plants. International Symposium of Integrated Plant Protection, İzmir-Turkey, 15–17 October, pp 111–199p

Farahbakhch G, Moini M (1975) Olive pests in Iran, pp 1–73 (Plant Pests and Diseases Research Institute, National Agricultural Research Organization, Ministry of Agriculture and Natural Resources. Tehran; Iran)

Grigorov S‑P (1974) Karantına na restaniata. Zemizdat, Sofya, p 346

Güçlü Ş, Hayat R, Özbek H (1995) An investigation on phytophagous and predator insect species on olive trees (Olea europaea L.) in Artvin Province. Turkish J Entomol 19(3):231–240

Jardak T (1984) Trials on the evaluation of damage caused by the olive psylla (E. olivina): Preliminary data on the damage level. Olea June:53–59

Kaplan C, Büyük M, Eren S (2011) Types of pests and beneficial insects of the olive orchards in Southeast Anatolia Region. Plant Prot Bull 51(3):267–275

Kaya M (1979) Identification of the damages of the olive trees in the important olive fields of the Aegean region, investigations on damage shapes and population densities. Bornova Plant Protection Research Institute, Volume 31, İzmir

Keyhanian A‑A, Taghadossi M‑V, Farzaneh A (2000) Biology and seasonal population fluctuations of the olive psylla (Euphyllura olivina Costa.) (Hom., Aphalaridae) in Tarom Oulia of the Zandjan Province. Appl Entomol Phytopathol 67(1&2):78

Keçecioğlu E (1984) Identification of the olive cotton-bit Euphyllura olivina (Costa) (Homoptera: Aphalaridae) which is damaged on olives in Antalya province and around, its short biology and natural enemies. Publications of General Directorate of Agricultural Struggle and Agricultural Quarantine, Ministry of Agriculture of Turkey, Volume 1, Ankara

Kovancı B, Kumral N‑A, Akbudak B (2005) Population fluctuation of Euphyllura phillyreae Foerster (Homoptera: Aphalaridae) in the olive orchard in Bursa Province. J Uludağ Univ Fac Agric 19(1):1–12

Kumral N‑A, Kovancı B, Akbudak B (2008) Using degree-day accumilations and host phenology for predicting larval emergence patterns of the olive psyllid Euphyllera phillyreae. J Pest Sci (2004) 81:63–69

Nizamlıoğlu K, Gökmen N (1964) Insect Damaging Olive in Turkey. Innovation Printing House, Istanbul, pp 31–34

Rolli K (1974) Plant protection in Tunisian olive groves. Z Pflanzenkrankh Pflanzenschutz 81(12):705–710

Tüfekli M (2011) Determination of population development with parasitoids and predators of Olive Cotton-Bit Euphyllura olivina (Costa) (Homoptera: Psyllidae) in olive orchards in Adana and Mersin provinces. Plant Prot Bull 51(3):215–230

Yayla A, Kelten M, Davarcı T, Salman A (1995) Investigation of possibilities of biological control against pests in olive orchards in Antalya province. Plant Prot Bull 35(1–2):63–91

Zeidan-Geze N, Burkhardt D (1998) The jumping plant-lice of Lebanon (Hemiptera: Psylloidea). Revue Suısse De Zool 105:797–812

Çetin H, Alaoğlu Ö (2005) Research on population change and damage of Olive Cotton-Bit [Euphyllura phillyrea Först. (Hom: Aphalaridae)] on olive trees in Mut (Mersin) district. J Su J Agric Fac 19(37):61–67

İyriboz N (1968) Olive pests and diseases. Karınca Printing, İzmir, pp 67–68
Acknowledgements
We would like to thank Dr. Daniel BURCKHARDT (Natural History Museum Basel, Basel, Switzerland) who identified olive cotton-bit species.
Funding
This study was supported by General Directorate of Agricultural Research and Policies (Republic of Turkey Ministry of Food, Agriculture and Livestock, Ankara).
Ethics declarations
Conflict of interest
M. Kaplan and İ. Alaserhat declare that they have no competing interests.
About this article
Cite this article
Kaplan, M., Alaserhat, İ. Ecology, Population Development and Damage of Euphyllura Straminea Log. (Hemiptera: Psyllidae) Causing Damage in Olive Orchards. Erwerbs-Obstbau 62, 97–106 (2020). https://doi.org/10.1007/s10341-019-00448-y
Received:

Accepted:

Published:

Issue Date:
Keywords
Ecology

olive

Euphyllura straminea Log.

population development

Turkey
Schlüsselwörter
Ökologie

Olive

Euphyllura straminea Log.

Populationsentwicklung

Türkei