Abstract
The banana thrips (Thrips hawaiiensis), which is one of the most common flower-inhabiting thrips, currently causes serious damage to banana trees in China. As spray treatments have low efficacy to control this thrips pest, changing to new control measures are crucial. Among the available approaches, injection of a systemic insecticide is considered suitable. However, little is known about this approach up to now. Between 2014 and 2018, imidacloprid and spirotetramat were applied via flower injection and evaluated for their potential to control the thrips. In 2014, laboratory bioassays together with field experiments revealed that imidacloprid and spirotetramat injected at recommended dose appeared to be effective in controlling the thrips, supporting the idea of flower injection. Thereafter, a 2-year study (2015–2016) of spirotetramat showed that higher injection rates resulted in greater mortality and better field efficacy against the thrips when flower injection was utilized. Another 2-year (2017–2018) field trial indicated that either imidacloprid or spirotetramat injection exhibited significantly higher efficacy and had no negative effects on fruit yield when compared to spinetoram spray. Results also showed that the efficacy of the flower injection was not influenced by banana species and phenological conditions. Moreover, the fast uptake of imidacloprid and spirotetramat in flower samples could account for their lethal activity against the thrips in bioassays. Notably, these two products degraded quickly in the young fruit and no residue was detected within the ripe fruit, implying that the flower injection might not present a risk to contaminate fruit. Overall, these findings taken together represent for the first time that flower injection of imidacloprid and spirotetramat can be regarded as a new alternative to control the banana thrips effectively.
This is a preview of subscription content, log in to check access.
Access options
Buy single article
Instant access to the full article PDF.
US$ 39.95
Price includes VAT for USA
Subscribe to journal
Immediate online access to all issues from 2019. Subscription will auto renew annually.
US$ 99
This is the net price. Taxes to be calculated in checkout.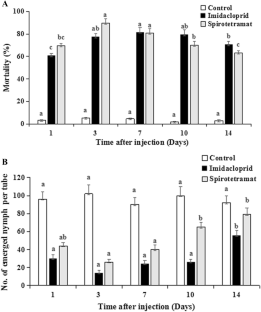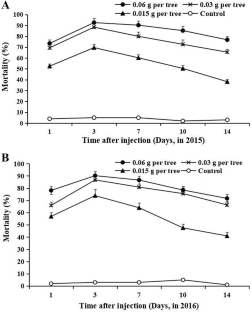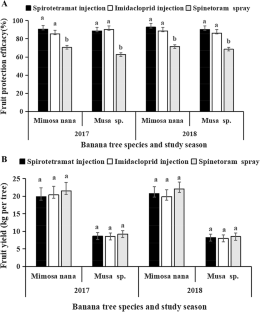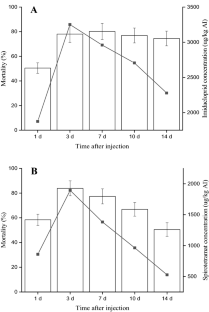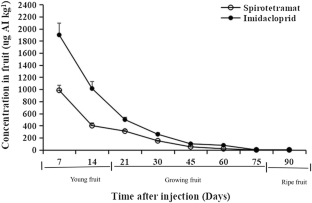 References
Aliakbarpour H, Salmah MRC (2011) Seasonal abundance and spatial distribution of larval and adult thrips (Thysanoptera) on weed host plants in mango orchards in Penang, Malaysia. Appl Entomol Zool 2:185–194

Atakan E, Olculu M, Pehlivan S, Satar S (2015) A new thrips species recorded in Turkey: Thrips hawaiiensis (Morgan, 1913) (Thysanoptera: thripidae). Turk Entomol Bult 2:77–84

Bao WX, Kataoka Y, Fukada K (2015) Imidacloprid resistance of melon thrips, Thrips palmi, is conferred by CYP450-mediated detoxification. J Pestic Sci 40:65–68

Bielza P (2008) Insecticide resistance management strategies against the western flower thrips, Frankliniella occidentalis. Pest Manag Sci 64:1131–1138

Byrne FJ, Humeres EC, Urena AA, Hoddle MS, Morse JG (2010) Field evaluation of systemic imidacloprid for the management of avocado thrips and avocado lace bug in California avocado groves. Pest Manag Sci 66:1129–1136

Byrne FJ, Urena AA, Robinson LJ, Krieger R, Doccola J, Morse JG (2012) Evaluation of neonicotinoid, organophosphate and avermectin trunk injections for the management of avocado thrips in California avocado groves. Pest Manag Sci 68:811–817

Cao Y, Zhi JR, Zhang RZ, Li C, Liu Y, Lv ZY, Gao YL (2017) Different population performance of Frankliniella occidentalis and Thrips hawaiiensis on flowers of two horticultural plants. J Pest Sci 3:1–13

Castle SJ, Byrne FJ, Bi JL, Toscano NC (2005) Spatial and temporal distribution of imidacloprid and thiamethoxam in citrus and impact on Homalodisca coagulata populations. Pest Manag Sci 61:75–84

Dembilio Q, Riba JM, Gamon M, Jacas JA (2015) Mobility and efficacy of abamectin and imidacloprid against Rhynchophorus ferrugineus in Phoenix canariensis by different application methods. Pest Manag Sci 71(8):1091–1098

Doccola JJ, Bristol EJ, Sifleet SD, Lojko J, Wild PM (2007) Efficacy and duration of trunk-injected imidacloprid in the management of hemlock woolly adelgid (Adelges tsugae). Arbor Urban For 33:12–21

Fu BL, Tang LD, Qiu HY, Liu JF, Zeng DQ, Xie YX, Liu K (2016a) Screening of high effect and low toxicity insecticides for controlling Thrips hawaiiensis Morgan. Chin J Fruit Sci 33(4):257–2679

Fu BL, Liu JF, Tang LD, Qiu HY, Zeng DQ, Xie YX, Zeng DQ, Liu K (2016b) Monitoring of insecticides resistance in field population of Thrips hawaiensis (Morgan) in China. Chin J Appl Entomol 53:403–410

Fu BL, Li Q, Qiu HY, Tang LD, Zeng DQ, Liu K, Gao YL (2018) Resistance development, stability, cross-resistance potential, biological fitness and biochemical mechanisms of spinetoram resistance in the Thrips hawaiiensis (Thysanoptera: thripidae). Pest Manag Sci 74:1564–1574

Fu BL, Li Q, Qiu HY, Tang LD, Zeng DQ, Liu K, Gao YL (2019a) Oviposition, feeding preference and biological performance of Thrips hawaiiensis on four host plants with and without supplemental foods. Arthropod-Plant Interact 13(3):441–452

Fu BL, Li Q, Qiu HY, Tang LD, Zeng DQ, Liu K, Gao YL (2019b) Analysis of seasonal and annual field-evolved insecticide resistance in populations of Thrips hawaiiensis in banana orchards. J Pest Sci 92(3):1293–1307

Gao YL, Lei ZR, Reitz SR (2012) Western flower thrips resistance to insecticides: detection, mechanisms, and management strategies. Pest Manag Sci 68:1111–1121

Goldarazena A (2011) First record of Thrips hawaiiensis (Morgan, 1913) (Thysanoptera: thripidae), an Asian pest thrips in Spain. OEPP/EPPO Bull 41:170–173

Gous SF, Richardson B (2008) Stem injection of insecticides to control herbivorous insects on Eucalyptus nitens. NZ Plant Prot 61:174–178

Grimalt S, Thompson D, Chartand D, McFarlane J, Helson B, Lyons B, Meating J, Scarr T (2011) Foliar residue dynamics of azadirachtins following direct stem injection into white and green ash trees for control of emerald ash borer. Pest Manag Sci 67:1277–1284

http://bz.cfsa.net.cn/staticPages/0D64FDAF-B210-43F4-B01D-8A97B276BCAF.html. Accessed 18 June 2017

Kay IR, Herron GA (2010) Evaluation of existing and new insecticides including spirotetramat and pyridalyl to control Frankliniella occidentalis (Pergande) (Thysanoptera: thripidae) on peppers in Queensland. Aust J Entomol 49(2):175–181

Mckenzie N, Helson B, Thompson D, Otis C, McFarlane J, Buscarini T, Meating J (2010) Azadirachtin: an effective systemic insecticide for control of Agrilus planipennis (Coleoptera: Buprestidae). J Econ Ent 103:708–717

Mohapatra S, Deepa M, Lekha S, Nethravathi B, Radhika B, Gourishanker S (2012) Residue dynamics of spirotetramat and imidacloprid in/on mango and soil. Bull Environ Contam Toxicol 89(4):862–867

Mound LA (2005) Thysanoptera: diversity and interaction. Annu Rev Entomol 50:247–269

Murai T (2001) Development and reproductive capacity of Thrips hawaiiensis (Thysanoptera: thripidae) and its potential as a major pest. Bull Entomol Res 91:193–198

Nauen R, Tietjen K, Wagner K, Elbert A (1998) Efficacy of plant metabolites of imidacloprid against Myzus persicae and Aphis gossypii (Homoptera: Aphididae). Pest Sci 52:53–57

Nazemi A, Khajehali J, Van Leeuwen T (2016) Incidence and characterization of resistance to pyrethroid and organophosphorus insecticides in Thrips tabaci (Thysanoptera: thripidae) in onion fields in Isfahan, Iran. Pestic Biochem Physiol 129:28–35

Orr N, Shaffner AJ, Richey K, Crouse GD (2009) Novel mode of action of spinosad: receptor binding studies demonstrating lack of interaction with know insecticidal targets. Pestic Biochem Physiol 95:1–5

Peng Z, Zheng H, Xie W, Wang S, Wu Q, Zhang Y (2017) Field resistance monitoring of the immature stages of the whitefly Bemisia tabaci, to spirotetramat in china. Crop Prot 98:243–247

Poland TM, Haack RA, Petrice TR, Miller DL, Bauer LS, Gao R (2006) Field evaluations of systemic insecticides for control of Anoplophora glabripennis (Coleoptera: Cerambycidae) in China. J Econ Ent 99:383–392

Reitz SR, Gao YL, Lei ZR (2011) Thrips: pests of concern to China and the United States. J Integr Agric 10:867–892

Rolando CA, Gous SF, Berndt LA, Bulman L, Carlson CA (2011) Stem injection of a systemic insecticide to control Uraba lugens on urban Lophostemon confertus trees. Pest Manag Sci 67:1062–1068

Sajnchez-Zamora MA, Fernandez-Escobar R (2004) Uptake and distribution of trunk injections in conifers. J Arboricult 30:73–79

Schulte MJ, Martin K, Sauerborn J (2006) Effects of azadirachtin injection in litchi trees (Litchi chinensis Sonn.) on the litchi stink bug (Tessaratoma papillosa Drury) in northern Thailand. J Pest Sci 79:241–250

Sparks TC, Dripps JE, Watson GB, Paroonagian D (2012) Resistance and cross-resistance to the spinosyns- A review and analysis. Pestic Biochem Physiol 102:1–10

Westwood F, Bean KM, Dewar AM, Bromilow RH, Chamberlain K (1998) Movement and persistence of [14C] imidacloprid in sugar-beet plants following application to pelleted sugar-beet seed. Pest Sci 52:97–103

Wu Y, Liu K, Qiu HY, Li FJ, Cao Y (2014) Polymorphic microsatellite markers in Thrips hawaiiensis (Thysanoptera: thripidae). Appl Entomol Zool 49:619–622

Wu SY, Tang LD, Zhang XR, Xing ZL, Lei ZR, Gao YL (2017) A decade of a thrips invasion in China: lessons learned. Ecotoxicology 27(7):1032–1038

Xu T, Jacobsen CM, Hara AH, Li J, Li QX (2009) Efficacy of systemic insecticides on the gall wasp Quadrastichus erythrinae in wiliwili trees (Erythrina spp.). Pest Manag Sci 65:163–169
Acknowledgements
The authors wish to thank Shanguang Li, Xiya Xia and Yuan Le for their technical advice and assistance in bioassays, tree injection, tree mapping, tree sampling and tree measurements. All authors are grateful to Dr. Melanie Davidon for her professional English proofreading. Xin Zhang and Zhonghe Weng allowed us to use their banana orchards for our experiments. This research was supported by the National Key Research and Development Program of China (Project No. 2017YFD0202100) and partly supported by the Special Fund for Basic Scientific Research of Central Public Research Institutes of China (Project Nos. 1630042017010 and 1630042019007). We would also like to acknowledge the anonymous reviewers for their valuable comments.
Ethics declarations
Conflict of interest
The authors declare that they have no conflict of interest.
Research involving human participants and/or animals
This article does not contain any studies with human participants or animals performed by any of the authors.
Informed consent
Informed consent was obtained from all individual participants included in the study.
Additional information
Publisher's Note
Springer Nature remains neutral with regard to jurisdictional claims in published maps and institutional affiliations.
Communicated by C. Cutler.
Electronic supplementary material
Below is the link to the electronic supplementary material.
About this article
Cite this article
Fu, B., Qiu, H., Li, Q. et al. Flower injection of imidacloprid and spirotetramat: a novel tool for the management of banana thrips Thrips hawaiiensis. J Pest Sci (2020). https://doi.org/10.1007/s10340-020-01209-7
Received:

Revised:

Accepted:

Published:
Keywords
Thrips

Banana

Injection

Systemic insecticide

Efficacy

Residues

Pest control