Abstract
Trichogramma chilonis Ishii is an important natural enemy of several lepidopterous pests on crops. The effects of two common insecticides on sex pheromone communication and mating behavior in T. chilonis were evaluated in the laboratory. When only males were exposed to insecticide, beta-cypermethrin LC20 exposure induced significant decrease in sex pheromone perception by males and significant increase in males' courtship and copulation frequency; beta-cypermethrin LC1 exposure caused significant decrease in males' courtship and copulation frequency. Males exposed to spinosad LC20 exhibited significantly slower initiated courtship and significantly shorter total copulation duration, and the males exposed to spinosad LC1 exhibited significantly increased sex pheromone perception, compared with control. When both males and females were exposed to insecticide, significantly more courtship and copulation were conducted by treated pairs that survived insecticide (beta-cypermethrin or spinosad) LC20 than control pairs. Our study suggests that even the LC1 and LC20 of tested insecticides could affect the sex pheromone communication and mating behavior in T. chilonis.
This is a preview of subscription content, log in to check access.
Access options
Buy single article
Instant unlimited access to the full article PDF.
US$ 39.95
Price includes VAT for USA
Subscribe to journal
Immediate online access to all issues from 2019. Subscription will auto renew annually.
US$ 99
This is the net price. Taxes to be calculated in checkout.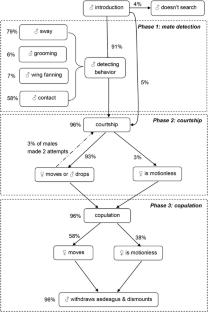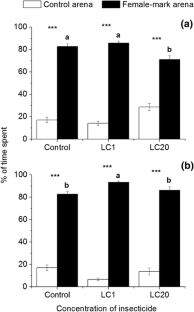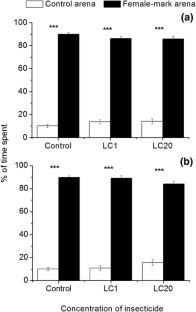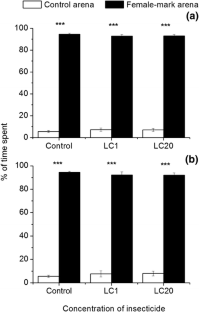 References
Abbes K, Biondi A, Kurtulus A, Ricupero M, Russo A, Siscaro G, Chermiti B, Zappalà L (2015) Combined non-target effects of insecticide and high temperature on the parasitoid Bracon nigricans. PLoS ONE 10:e0138411

Anderbrant O, Hansson BS, Hallberg E, Geri C, Varama M, Hedenström E, Högberg HE, Fägerhag J, Edlund H, Wassgren AB, Bergström G, Löfqvist J (1995) Electrophysiological and morphological characteristics of pheromone receptors in male pine sawflies, Diprion pini (Hymenoptera: Diprionidae), and behavioural response to some compounds. J Insect Physiol 41:395–401

Andrade GS, Pratissoli D, Dalvi LP, Desneux N, dos Santos Junior HJG (2011) Performance of four Trichogramma species (Hymenoptera: Trichogrammatidae) as biocontrol agents of Heliothis virescens (Lepidoptera: Noctuidae) under various temperature regimes. J Pest Sci 84:313–320

Ballal CR, Srinivasan R, Jalali SK (2009) Evaluation of an endosulfan tolerant strain of Trichogramma chilonis on cotton. BioControl 54:723–732

Biondi A, Desneux N, Siscaro G, Zappalà L (2012a) Using organic-certified rather than synthetic pesticides may not be safer for biological control agents: selectivity and side effects of 14 pesticides on the predator Orius laevigatus. Chemosphere 87:803–812

Biondi A, Mommaerts V, Smagghe G, Viñuela E, Zappalà L, Desneux N (2012b) The non-target impact of spinosyns on beneficial arthropods. Pest Manag Sci 68:1523–1536

Biondi A, Zappalà L, Stark JD, Desneux N (2013) Do biopesticides affect the demographic traits of a parasitoid wasp and its biocontrol services through sublethal effects? PLoS ONE 8:e76548

Biondi A, Campolo O, Desneux N, Siscaro G, Palmeri V, Zappalà L (2015) Life stage-dependent susceptibility of Aphytis melinus DeBach (Hymenoptera: Aphelinidae) to two pesticides commonly used in citrus orchards. Chemosphere 128:142–147

Bourdais D, Vernon P, Krespi L, van Baaren J (2012) Behavioural consequences of cold exposure on males and females of Aphidius rhopalosiphi De Stephani Perez (Hymenoptera: Braconidae). BioControl 57:349–360

Brown RA (1989) Pesticides and non-target terrestrial invertebrates: an industrial approach. In: Jepson PC (ed) Pesticides and non-target invertebrates. Intercept Ltd, Wimborne, pp 19–42

Chailleux A, Desneux N, Seguret J, Do Thi Khanh H, Maignet P, Tabone E (2012) Assessing European egg parasitoids as a mean of controlling the invasive South American tomato pinworm Tuta absoluta. PLoS ONE 7:e48068

Chailleux A, Biondi A, Han P, Tabone E, Desneux N (2013) Suitability of the pest-plant system Tuta absoluta (Lepidoptera: Gelechiidae)-tomato for Trichogramma (Hymenoptera: Trichogrammatidae) parasitoids and insights for biological control. J Econ Entomol 106:2310–2321

Chang SC, Hu NT, Hsin CY, Sun CN (2001) Characterization of differences between two Trichogramma wasps by molecular markers. Biol Control 21:75–78

Delpuech JM, Froment B, Fouillet P, Pompanon F, Janillon S, Bouletreau M (1998a) Inhibition of sex pheromone communications of Trichogramma brassicae (Hymenoptera) by the insecticide chlorpyrifos. Environ Toxicol Chem 17:1107–1113

Delpuech JM, Gareau E, Terrier O, Fouillet P (1998b) Sublethal effects of the insecticide chlorpyrifos on the sex pheromonal communication of Trichogramma brassicae. Chemosphere 36:1775–1785

Delpuech JM, Legallet B, Terrier O, Fouillet P (1999) Modifications of the sex pheromonal communication of Trichogramma brassicae by a sublethal dose of deltamethrin. Chemosphere 38:729–739

Delpuech JM, Legallet B, Fouillet P (2001) Partial compensation of the sublethal effect of deltamethrin on the sex pheromonal communication of Trichogramma brassicae. Chemosphere 42:985–991

Delpuech JM, Dupont C, Allemand R (2012) Effects of deltamethrin on the specific discrimination of sex pheromones in two sympatric Trichogramma species. Ecotox Environ Safe 84:32–38

Desneux N, Pham-Delègue MH, Kaiser L (2004) Effects of sub-lethal and lethal doses of lambda-cyhalothrin on oviposition experience and host-searching behaviour of a parasitic wasp, Aphidius ervi. Pest Manag Sci 60:381–389

Desneux N, Fauvergue X, Dechaume-Moncharmont FX, Kerhoas L, Ballanger Y, Kaiser L (2005) Diaeretiella rapae limits Myzus persicae populations after applications of deltamethrin in oilseed rape. J Econ Entomol 98:9–17

Desneux N, Denoyelle R, Kaiser L (2006a) A multi-step bioassay to assess the effect of the deltamethrin on the parasitic wasp Aphidius ervi. Chemosphere 65:1697–1706

Desneux N, Ramirez-Romero R, Kaiser L (2006b) Multistep bioassay to predict recolonization potential of emerging parasitoids after a pesticide treatment. Environ Toxicol Chem 25:2675–2682

Desneux N, Decourtye A, Delpuech JM (2007) The sublethal effects of pesticides on beneficial arthropods. Annu Rev Entomol 52:81–106

Doyon J, Boivin G (2006) Impact of the timing of male emergence on mating capacity of males in Trichogramma evanescens Westwood. BioControl 51:703–713

Dupont C, Allemand R, Delpuech JM (2010) Induction by chlorpyrifos, of the confusion of males in discriminating female sexual pheromones used for mate finding by two sympatric Trichogramma species (Hymenoptera: Trichogrammatidae). Environ Entomol 39:535–544

Fan XJ, Li Y, Li Y, Li LS, Zhang CF (2010) Research progress of insect sex pheromone. J Anhui Agric Sci 38:4636–4638

Finney DJ (1971) Probit analysis. Cambridge University, Cambridge

Gu D, Wright DJ, Waage JK (1995) Effects of sublethal doses of insecticides on the mating behaviour of male parasitoid, Diadegma eucerophaga. J South China Agric Univ 16:55–59

Gu XZ, Zhang GY, Chen L, Dai RL, Yu YC (2008) Persistence and dissipation of synthetic pyrethroid pesticides in red soils from the Yangtze River Delta area. Environ Geochem Health 30:67–77

Guedes RNC, Smagghe G, Stark JD, Desneux N (2016) Pesticide-induced stress in arthropod pests for optimized integrated pest management programs. Annu Rev Entomol 61:43–62

Hansson BS (1995) Olfaction in lepidoptera. Experientia 51:1003–1027

Hansson BS, Almaas TJ, Anton S (1995) Chemical communication in heliothine moths V. Antennal lobe projection patterns of pheromone-detecting olfactory receptor neurons in the male Heliothis virescens (Lepidoptera: noctuidae). J Comp Physiol A 177:535–543

Hardy ICW (1994) Sex ratio and mating structure in the parasitoid Hymenoptera. Oikos 69:3–20

He Y, Pang X (2000) Species and parasitism of Trichogramma on the diamond back moth, Plutella xylostella in Shenzhen, China. Nat Enemies Insects 22:1–5

He Y, Lü L, Pang X (2001) Selection of effective species of Trichogramma egg parasitoids of diamondback moth: I. Laboratory evaluation on the parasitizating capacity of several Trichogramma and Trichogrammatoidea species. Chin J Biol Control 17:6–9

He Y, Chen K, Pang X (2002) Egg parasitoids of Plutella xylostella (L.) in South China. In: Kirk AA, Bordat D (eds) Improving biocontrol of Plutella xylostella: proceedings of the international symposium. CIRAD, Montpellier, pp 267–273

Heimpel GE, de Boer JG (2008) Sex determination in the Hymenoptera. Annu Rev Entomol 53:209–230

Huang KC, Zeng XN, Li ZY (2010) Insecticides-induced hormesis on insects. Asian J Ecotoxicol 5:26–31

Hussain D, Ali H, Qasim M, Khan J (2015) Insecticidal susceptibility and effectiveness of Trichogramma chilonis as parasitoids of tomato fruit borer, Helicoverpa armigera. Pak J Zool 47:1427–1432

Jacob S, Boivin G (2004) Insemination potential of male Trichogramma evanescens. Entomol Exp Appl 113:181–186

Jin T, Zeng L, Lin Y, Lu Y, Liang G (2011) Insecticide resistance of the oriental fruit fly, Bactrocera dorsalis (Hendel) (Diptera: Tephritidae), in mainland China. Pest Manag Sci 67:370–376

Jin T, Lin YY, Jin QA, Wen HB, Peng ZQ (2015) Population susceptibility to insecticides and the development of resistance in Bactrocera cucurbitae (Diptera: Tephritidae). J Econ Entomol 109:837–846

King BH, Saporito KB, Ellison JH, Bratzke RM (2005) Unattractiveness of mated females to males in the parasitoid wasp Spalangia endius. Behav Ecol Sociobiol 57:350–356

Ko K, Liu YD, Hou ML, Babendreier D, Zhang F, Song K (2015) Toxicity of insecticides targeting rice planthoppers to adult and immature stages of Trichogramma chilonis (Hymenoptera: Trichogrammatidae). J Econ Entomol 108:69–76

Liang P, Tian YA, Biondi A, Desneux N, Gao XW (2012) Short-term and transgenerational effects of the neonicotinoid nitenpyram on susceptibility to insecticides in two whitefly species. Ecotoxicology 21:1889–1898

Lu Y, Wu K, Jiang Y, Guo Y, Desneux N (2012) Widespread adoption of Bt cotton and insecticide decrease promotes biocontrol services. Nature 487:362–365

Lund HO (1938) Studies on longevity and productivity in Trichogramma evanescens. J Agric Res 56:421–439

Martel V, Doyon J, Boivin G (2010) Partial local mate competition in the wasp Trichogramma euproctidis: the role of emergence sex ratio on female mating behaviour. Ecol Entomol 35:698–703

McClure M, Whistlecraft J, McNeil JN (2007) Courtship behavior in relation to the female sex pheromone in the parasitoid, Aphidius ervi (Hymenoptera: Braconidae). J Chem Ecol 33:1946–1959

Michalko R, Košulič O (2015) Temperature-dependent effect of two neurotoxic insecticides on predatory potential of Philodromus spiders. J Pest Sci 89:517–527

Monti L, Lalanne-Cassou B, Lucas P, Malosse C, Silvain JF (1995) Differences in sex pheromone communication systems of closely related species: Spodoptera latifascia (Walker) and S. descoinsi Lalanne-Cassou and Silvain (Lepidoptera: Noctuidae). J Chem Ecol 21:641–660

Pasquet A, Tupinier N, Mazzia C, Capowiez Y (2016) Exposure to spinosad affects orb-web spider (Agalenatea redii) survival, web construction and prey capture under laboratory conditions. J Pest Sci 89:507–515

Pizzol J, Pintureau B, Khoualdia O, Desneux N (2010) Temperature-dependent differences in biological traits between two strains of Trichogramma cacoeciae (Hymenoptera: Trichogrammatidae). J Pest Sci 83:447–452

Pompanon F, Fouillet P, Boulétreau M (1995) Emergence rhythms and protandry in relation to daily patterns of locomotor activity in Trichogramma species. Evol Ecol 9:467–477

Prasifka JR, Lopez MD, Hellmich RL, Prasifka PL (2008) Effects of insecticide exposure on movement and population size estimates of predatory ground beetles (Coleoptera: Carabidae). Pest Manag Sci 64:30–36

Preetha G, Stanley J, Suresh S, Kuttalam S, Samiyappan R (2009) Toxicity of selected insecticides to Trichogramma chilonis: assessing their safety in the rice ecosystem. Phytoparasitica 37:209–215

Sántis EL, Hernández LA, Martínez AM, Campos J, Figueroa JI, Lobit P, Chavarrieta JM, Viñuela E, Smagghe G, Pineda S (2012) Long-term foliar persistence and efficacy of spinosad against beet armyworm under greenhouse conditions. Pest Manag Sci 68:914–921

Shan C, Ma S, Wang M, Gao G (2012) Evaluation of insecticides against the western flower thrips, Frankliniella occidentals (Thysanoptera: Thripidae), in the laboratory. Fla Entomol 95:454–460

Sharma A, Srivastava A, Ram B, Srivastava PC (2007) Dissipation behaviour of spinosad insecticide in soil, cabbage and cauliflower under subtropical conditions. Pest Manag Sci 63:1141–1145

Smith SM (1996) Biological control with Trichogramma: advances, successes and potential of their use. Annu Rev Entomol 41:375–406

Sparks TC, Crouse GD, Durst G (2001) Natural products as insecticides: the biology, biochemistry and quantitative structure-activity relationships of spinosyns and spinosoids. Pest Manag Sci 57:896–905

Tabarean IV, Narahashi T (2001) Kinetics of modulation of tetrodotoxin-sensitive and tetrodotoxin-resistant sodium channels by tetramethrin and deltamethrin. J Pharmacol Exp Ther 299:988–997

Tabone E, Bardon C, Desneux N, Wajnberg E (2010) Parasitism of different Trichogramma species and strains on Plutella xylostella L. on greenhouse cauliflower. J Pest Sci 83:251–256

Wang DS, Pan F, He YR, Guo XL, Chen Q (2011) Sublethal effects of eleven insecticides of different categories on reproduction of Trichogrammatoidea bactrae Nagaraja (Hymenoptera: Trichogrammatidae). Acta Entomol Sin 54:56–63

Wang DS, He YR, Guo XL, Luo YL (2012) Acute toxicities and sublethal effects of some conventional insecticides on Trichogramma chilonis (Hymenoptera: Trichogrammatidae). J Econ Entomol 105:1157–1163

Wang Y, Wu C, Cang T, Yang L, Yu W, Zhao X, Wang Q, Cai L (2014) Toxicity risk of insecticides to the insect egg parasitoid Trichogramma evanescens Westwood (Hymenoptera: Trichogrammatidae). Pest Manag Sci 70:398–404

Wang D, Lü L, He Y, Shi Q, Tu C, Gu J (2016a) Mate choice and host discrimination behavior of the parasitoid Trichogramma chilonis. Bull Entomol Res 106:530–537

Wang D, Lü L, He Y, Shi Q, Wang G (2016b) Effects of insecticides on oviposition and host discrimination behavior in Trichogramma chilonis (Hymenoptera: Trichogrammatidae). J Econ Entomol 109:2380–2387

Wang D, Lü L, He Y (2017) Effects of two conventional insecticides on male-specific sex pheromone discrimination and mate choice in Trichogramma chilonis (Hymenoptera: Trichogrammatidae). Environ Entomol. doi:10.1093/ee/nvw172

Williams T, Valle J, Vinuela E (2003) Is the naturally derived insecticide Spinosad (R) compatible with insect natural enemies? Biocontrol Sci Technol 13:459–475

Xia Y, Lu Y, Shen J, Gao X, Qiu H, Li J (2014) Resistance monitoring for eight insecticides in Plutella xylostella in central China. Crop Prot 63:131–137

Xiao D, Zhao J, Guo X, Chen H, Qu M, Zhai W, Desneux N, Biondi A, Zhang F, Wang S (2016) Sublethal effects of imidacloprid on the predatory seven-spot ladybird beetle Coccinella septempunctata. Ecotoxicology 25:1782–1793

Zheng X, Ren X, Su J (2011) Insecticide susceptibility of Cnaphalocrocis medinalis (Lepidoptera: Pyralidae) in China. J Econ Entomol 104:653–658
Acknowledgements
This research was supported by National Basic Research Program of China (973 project, 2013CB127604), Special Fund for Agro-scientific Research in the Public Interest of China (No. 201103021) and State Scholarship Fund of China.
Additional information
Communicated by N. Desneux.
Electronic supplementary material
Below is the link to the electronic supplementary material.
Supplementary material 1 (MP4 12254 kb)
About this article
Cite this article
Wang, D., Lü, L. & He, Y. Effects of insecticides on sex pheromone communication and mating behavior in Trichogramma chilonis . J Pest Sci 91, 65–78 (2018). https://doi.org/10.1007/s10340-017-0864-x
Received:

Revised:

Accepted:

Published:

Issue Date:
Keywords
Semiochemical

Sublethal effects

Fertilization capacity

Egg parasitoid

Pesticide