Abstract
Nest predation is a common cause of reproductive failure. Here, we show for the first time unusually high rates of nest predation on eggs and chicks in nests of the Oriental Reed Warbler Acrocephalus orientalis and the brood parasitic Common Cuckoo Cuculus canorus caused by mudflat crabs Chiromantes dehaani. Crabs and the Common Cuckoo greatly reduce reproductive success of hosts at a site in coastal habitat, but only Common Cuckoos did so at an inland habitat. Thus, the parasitic Common Cuckoo suffered an indirect high predation cost by using bird species affected by crabs as hosts. The difference in the relationship between mudflat crabs, cuckoos and hosts between these two habitats can be explained by the source–sink dynamics of an ecological trap. The coastal habitats constitute sink populations for both host and brood parasite, while inland habitats with cuckoos only constitute sink populations for hosts. Because the population densities of both hosts and parasites are similar in the two kinds of habitats, these similarities might be maintained by immigration from source populations such as those without mudflat crabs and Common Cuckoos, respectively.
Zusammenfassung
Starke Nestprädation durch Krabben führt zu einer Source–Sink-Dynamik bei Wirtsvögeln und Brutparasiten
Nestprädation ist eine häufige Ursache für ausbleibenden Reproduktionserfolg. Hier belegen wir zum ersten Mal ungewöhnlich hohe Raten von Prädation an Eiern und Küken in Nestern des Chinarohrsängers Acrocephalus orientalis und seines Brutparasiten, dem Kuckuck Cuculus canorus, durch die Japanische Flusskrabbe Chiromantes dehaani. In Habitaten an der Küste verringern sowohl die Krabben als auch die Kuckucke deutlich den Reproduktionserfolg der Wirtsart; in Binnenlandhabitaten waren dies nur die Kuckucke. Somit unterliegt der brutparasitische Kuckuck indirekt hohen Prädationskosten, da er Wirtsvogelarten nutzt, welche von Krabben beeinträchtigt werden. Die Unterschiede im Beziehungsgeflecht von Flusskrabben, Kuckucken und Wirtsvögeln zwischen diesen beiden Habitattypen lassen sich durch die Source–Sink-Dynamik einer ökologischen Falle erklären. Die Küstenhabitate stellen sowohl für den Wirt als auch für den Parasiten eine Besiedlungssenke (Sink-Population) dar, wohingegen die Inlandhabitate mit Kuckucken nur für die Wirtsvogelart Besiedlungssenken repräsentieren. Da die Populationsdichten sich sowohl für die Wirtsart als auch für den Brutparasiten in beiden Habitattypen ähneln, werden diese Ähnlichkeiten vermutlich durch Zuwanderung aus Besiedlungsquellen (Source-Populationen), zum Beispiel Populationen ohne Flusskrabben beziehungsweise Kuckucke, aufrechterhalten.
This is a preview of subscription content, log in to check access.
Access options
Buy single article
Instant unlimited access to the full article PDF.
US$ 39.95
Price includes VAT for USA
Subscribe to journal
Immediate online access to all issues from 2019. Subscription will auto renew annually.
US$ 99
This is the net price. Taxes to be calculated in checkout.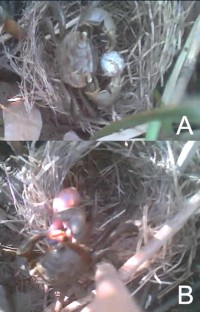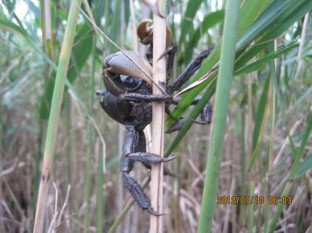 References
Davison WB, Bollinger E (2000) Predation rates on real and artificial nests of grassland birds. Auk 117:147–153

Dwernychuk LW, Boag DA (1972) Duck nesting in association with gulls—an ecological trap? Can J Zool 50:559–563

Holt R (1985) Population dynamics in two-patch environments: some anomalous consequences of an optimal habitat distribution. Theor Popul Biol 28:181–208

Major RE, Kendal CE (1996) The contribution of artificial nest experiments to understanding avain reproductive success: a review of methods and conclusions. Ibis 138:298–307

Martin TE (1987) Artificial nest experiments: effects of nest appearance and type of predator. Condor 89:925–928

Martin TE (1993) Nest predation and nest sites. Bioscience 43:523–532

Martin TE, Scott J, Menge C (2000) Nest predation increases with parental activity: separating nest site and parental activity effects. Proc R Soc Lond B 267:2287–2293

Moskát C, Hansson B, Barabás L, Bártol I, Karcza Z (2008) Common cuckoo Cuculus canorus parasitism, antiparasite defence and gene flow in closely located populations of great reed warblers Acrocephalus arundinaceus. J Avian Biol 39:663–671

Moskát C, Takasu F, Muñoz R, Nakamura H, Bán M, Barta Z (2012) Cuckoo parasitism on two closely-related Acrocephalus warblers in distant areas: a case of parallel coevolution? Chin Birds 3:320–329

Pulliam HR (1988) Sources, sinks, and population regulation. Am Nat 132:652–661

Reitsma LR (1992) Is nest predation density dependent? A test using artificial nests. Can J Zool 70:2498–2500

Ricklefs RE (1969) An analysis of nestling mortality in birds. Smithson Contrib Zool 9:1–48

Robertson BA, Hutto RL (2006) A framework for understanding ecological traps and an evaluation of existing evidence. Ecology 87:1075–1085

Rodrigues AAF, Bezerra LRP, Pereira AS, de Carvalho DL, Lopes ATL (2010) Breeding of Least Tern Sternula antillarum (Charadriiformes: sternidae) on the coast of Brazilian Amazonia. Rev Bras Ornithol 18:216–221

Sabine JB, Meyers JM, Schweitzer SH (2005) A simple, inexpensive video camera setup for the study of avian nest activity. J Field Ornithol 76:293–297

Shmida A, Ellner S (1984) Coexistence of plant species with similar niches. Vegetatio 58:29–55

Takasu F, Moskát C, Muñoz A, Imanishi S, Nakamura H (2009) Adaptation in the common cukoo (Cuculus canorus) to host eggs in a multiple-hosts system of brood parasitism. Biol J Linn Soc 98:291–300

Tian B, Zhang L, Wang X, Zhou Y, Zhang W (2010) Foresting the effects of sea-level rise at Chongming Dongtan Nature Reserve in the Yangtze Delta, Shanghai, China. Ecol Eng 36:1383–1388

Wang H, Xu S, Sun L (2006) Effects of climate change on evapotranspiration in Zhaolong Wetland, Northeast China. Chin Geogr Sci 16:265–269

Weatherhead PJ, Blouin-Demers G (2004) Understanding avian nest predation: why ornithologists should study snakes. J Avian Biol 35:185–190

Wilson GR, Brittingham MC, Goodrich LJ (1998) How well do artificial nests estimate success of real nests? Condor 100:357–364
Acknowledgments
This work was supported by the National Natural Science Foundation of China (Nos. 31071938 and 31272328 to W.L., 31101646 and 31260514 to C.Y., and 31071940 to F.L.), Program for New Century Excellent Talents in University (NCET-10-0111 to W.L.), Key Project of Chinese Ministry of Education (No. 212136 to C.Y.), and Program of International S&T Cooperation (No. KJHZ2013-12 to C.Y.). We thank two anonymous reviewers provided helpful comments, which helped us greatly improve this manuscript. We also thank G. Liang, L. Wang, Q. Huang, S. Li and M. Chen for their assistance in the fieldwork, and the help and cooperation from Zhalong and Chongming Dongtan National Nature Reserves.
Ethical standards
The experiments comply with the current laws of China in which they were performed. Experimental procedures were in agreement with the Animal Research Ethics Committee of Hainan Provincial Education Centre for Ecology and Environment, Hainan Normal University.
Additional information
Communicated by F. Bairlein.
Electronic supplementary material
Below is the link to the electronic supplementary material.
Supplementary material 1 (MP4 1487 kb)
Supplementary material 2 (MP4 4256 kb)
About this article
Cite this article
Yang, C., Møller, A.P., Ma, Z. et al. Intensive nest predation by crabs produces source–sink dynamics in hosts and parasites. J Ornithol 155, 219–223 (2014) doi:10.1007/s10336-013-1003-y
Received:

Revised:

Accepted:

Published:

Issue Date:
Keywords
Crab predation

Cuckoo–host interactions

Source–sink dynamics