Abstract
Bitter taste perception evolved as a key detection mechanism against the ingestion of bioactive substances, and is mediated by TAS2R gene family members in vertebrates. The most widely known and best studied bitter substance is phenylthiocarbamide (PTC), which is recognized by TAS2R38 and has a molecular structure similar to that of glucosinolates contained in Brassica plants. The "non-taster" phenotypic polymorphism (i.e., not sensitive to PTC-containing foods) has been identified in many primates, including humans. Here, we report genetic and behavioral evidence for the existence of "non-taster" Japanese macaques, which originated from a restricted region of Japan. Comparison of the sequences of the TAS2R38 gene of 333 Japanese and 55 rhesus macaques suggested that this genotype appeared after the divergence of these two species, independently of the appearance of human and chimpanzee "non-tasters". This finding might give a clue for elucidating the ecological, evolutionary, and neurobiological aspects of bitter taste perception of primates, as related to the plants that they sometimes use as foods in their habitats.
This is a preview of subscription content, log in to check access.
We're sorry, something doesn't seem to be working properly.
Please try refreshing the page. If that doesn't work, please contact support so we can address the problem.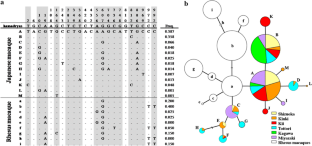 References
Adler E, Hoon MA, Mueller KL, Chandrashekar J, Ryba NJ, Zuker CS (2000) A novel family of mammalian taste receptors. Cell 100:693–702

Bufe B, Breslin PA, Kuhn C, Reed DR, Tharp CD, Slack JP, Kim UK, Drayna D, Meyerhof W (2005) The molecular basis of individual differences in phenylthiocarbamide and propylthiouracil bitterness perception. Curr Biol 15:322–327

Chiarelli B (1963) Sensitivity to P.T.C (phenyl-thio-carbamide) in primates. Folia Primatol 1:88–94

Excoffier L, Laval G, Schneider S (2005) Arlequin ver. 3.0: an integrated software package for population genetic data analysis. Evol Bioinform Online 1:47–50

Hayasaka K, Fujii K, Horai S (1996) Molecular phylogeny of macaques: implication of nucleotide sequences from an 896-base pair region of mitochondrial DNA. Mol Biol Evol 13:1044–1053

Kim UK, Jorgenson E, Coon H, Leppert M, Risch N, Drayna D (2003) Positional cloning of the human quantitative trait locus underlying taste sensitivity to phenylthiocarbamide. Science 299:1221–1225

Lalueza-Fox C, Gigli E, de la Rasilla M, Fortea J, Rosas A (2009) Bitter taste perception in Neanderthals through the analysis of the TAS2R38 gene. Biol Lett 5:809–811

Matsunami H, Montmayeur JP, Buck LB (2000) A family of candidate taste receptors in human and mouse. Nature 404:601–614

Meyerhof W, Batram C, Kuhn C, Brockhoff A, Chudoba E, Bufe B, Appendino G, Behrens M (2010) The molecular receptive ranges of human TAS2R bitter taste receptors. Chem Senses 35:157–170

Mueller KL, Hoon MA, Erlenbach I, Chandrashekar J, Zuker CS, Ryba NJ (2005) The receptors and coding logic for bitter taste. Nature 434:225–229

Rozas J, Rozas R (1999) DnaSP version 3: an integrated program for molecular population genetics and molecular evolution analysis. Bioinformatics 15:174–175

Sandell MA, Breslin PA (2006) Variability in a taste-receptor gene determines whether we taste toxin in food. Curr Biol 16:792–794

Wang X, Thomas SD, Zhang J (2004) Relaxation of selective constraint and loss of function in the evolution of human bitter taste receptor genes. Hum Mol Genet 13:2671–2678

Wooding S, Kim UK, Bamshad M, Jorde L, Drayna D (2004) Natural selection and molecular evolution in PTC, a bitter taste receptor gene. Am J Hum Genet 74:637–646

Wooding S, Bufe B, Grassi C, Howard MT, Stone AC, Vazquez M, Dunn DM, Meyerhof W, Weiss RB, Bamshad MJ (2006) Independent evolution of bitter-taste sensitivity in humans and chimpanzees. Nature 440:930–934
Acknowledgments
We thank members of the Center for Human Evolution Modeling Research, Primate Research Institute, for help in sampling and behavioral tests, Dr Elizabeth Nakajima, Global COE program A06, for critical reading of the manuscript, and Mr Takashi Hayakawa, for valuable discussion. This work was financially supported by Global COE program A06 and by Grants-in-Aid from the Ministry of Education, Culture, Sports, Science, and Technology of Japan (2137009) and grants from the Takeda Foundation for Science and the Suzuken Memorial Foundation to H. I. This research was partly supported by the Environment Research and Technology Development Fund (D-1007) of the Ministry of the Environment, Japan. The treatment of animals complied with the ethical standards in the guidelines laid down by the Primate Society of Japan and Primate Research Institute.
Electronic supplementary material
Below is the link to the electronic supplementary material.
Supplementary material 4 (WMV 6224 kb)
About this article
Cite this article
Suzuki, N., Sugawara, T., Matsui, A. et al. Identification of non-taster Japanese macaques for a specific bitter taste. Primates 51, 285–289 (2010). https://doi.org/10.1007/s10329-010-0209-3
Received:

Accepted:

Published:

Issue Date:
Keywords
Bitter taste

Brassica plants

Japanese macaque