Abstract
In the 2010s, a sporadic garlic disease in Hokkaido and Kagawa, Japan caused browning and withering of leaves, collapse of aboveground parts, and discoloration of papery sheathing leaves of bulbs and cloves, consistent with the description of spring rot disease. However, the typical rot of storage leaves of cloves was not found. From diseased tissues, bacteria that formed pale-yellow colonies were isolated and demonstrated to be pathogenic on garlic after inoculation and reisolation of the isolates. The gram-negative, aerobic rods with one or two polar flagella were identified as Pseudomonas salomonii based on biochemical and physiological characterizations, PCR assays, phylogenetic analyses, and MALDI-TOF MS analysis. To the best of our knowledge, this study is the first report of P. salomonii in Japan. P. salomonii was originally described in France as the causal agent of café au lait disease of garlic, which can be considered as "a type of spring rot disease that does not rot storage leaves." Therefore, we are treating the disease caused by P. salomonii in Hokkaido and Kagawa as "spring rot disease".
This is a preview of subscription content, log in to check access.
Access options
Buy single article
Instant access to the full article PDF.
US$ 39.95
Price includes VAT for USA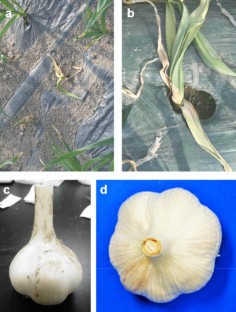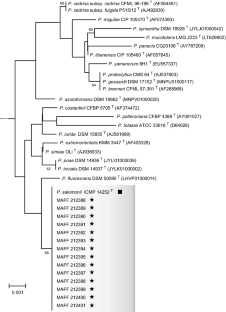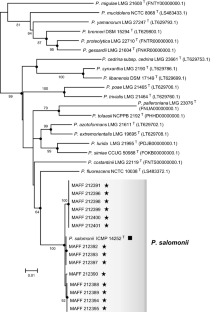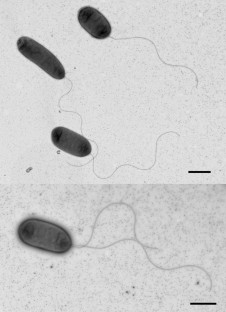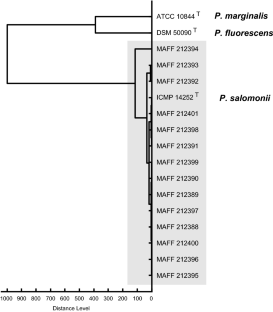 References
Anonymous (2019) Common names of plant diseases in Japan, 2019.4 edn. (electronic pdf, in Japanese). The Phytopathological Society of Japan, Tokyo, Japan

Anzai Y, Kudo Y, Oyaizu H (1997) The phylogeny of the genera Chryseomonas, Flavimonas, and Pseudomonas supports synonymy of these three genera. Int J Syst Bacteriol 47:249–251

Bradbury JF (1986) Guide to plant pathogenic bacteria. CAB International Farnham Royal, Slough

Calzolari A, Bazzi C (1985) Un marciume fogliare dell'aglio causato da Pseudomonas fluorescens (in Italian with English summary). Informatore Fitopatologico 7:35–38

Cunty A, Poliakoff F, Rivoal C, Cesbron S, Fischer-Le Saux M, Lemaire C, Jacques MA, Manceau C, Vanneste JL (2015) Characterization of Pseudomonas syringae pv. actinidiae (Psa) isolated from France and assignment of Psa biovar 4 to a de novo pathovar: Pseudomonas syringae pv. actinidifoliorum pv. nov. Plant Pathol 64:582–596

Gardan L, Bella P, Meyer JM, Christen R, Rott P, Achouak W, Samson R (2002) Pseudomonas salomonii sp. nov., pathogenic on garlic, and Pseudomonas palleroniana sp. nov., isolated from rice. Int J Syst Evol Microbiol 52:2065–2074

Jacques MA, Luçon N, Houdault S (2009) Clove-transmissibility of Pseudomonas salomonii, the causal agent of 'Café au lait' disease of garlic. Eur J Plant Pathol 124:695–700

Kijima T (1991) Spring rot of garlic (in Japanese). In: Tabei H, Takanashi K, Takahashi K, Nishiyama K (eds) Bacterial crop diseases in Japan. Japan Plant Protection Association, Tokyo, pp 232–233

Kimura T, Hashimoto T (1982) Spring rot of garlic in Miyagi, Japan (in Japanese). Jpn J Phytopathol 48:97

Kumar S, Stecher G, Li M, Knyaz C, Tamura K (2018) MEGA X: molecular evolutionary genetics analysis across computing platforms. Mol Biol Evol 35:1547–1549

Lelliott RA, Billing E, Hayward AC (1966) A determinative scheme for the fluorescent plant pathogenic pseudomonads. J Appl Bacteriol 29:470–489

Mulet M, Bennasar A, Lalucat J, García-Valdés E (2009) An rpoD-based PCR procedure for the identification of Pseudomonas species and for their detection in environmental samples. Mol Cell Probes 23:140–147

Mulet M, Lalucat J, García-Valdés E (2010) DNA sequence-based analysis of the Pseudomonas species. Environ Microbiol 12:1513–1530

Narita T, Akai J, Tsuchiya S, Kodama F, Miyajima K, Tamura O (1998) Diseases of crops and ornamental plants in Hokkaido (in Japanese). Central Agricultural Experiment Station, Hokkaido

Parkinson N, Bryant R, Bew J, Elphinstone J (2011) Rapid phylogenetic identification of members of the Pseudomonas syringae species complex using the rpoD locus. Plant Pathol 60:338–344

Parte AC (2018) LPSN—list of prokaryotic names with standing in nomenclature (bacterio.net), 20 years on. Int J Syst Evol Microbiol 68:1825–1829

Samson R (1982) A biovar of Pseudomonas fluorescens pathogenic to Allium sativum. In: Lozano JC (ed) Plant Pathogenic Bacteria 1981. Proceedings of the fifth international conference on plant pathogenic bacteria. Centro Internacional de Agricultura Tropical, Cali, Colombia, pp 60–64

Sawada H, Takikawa Y (2018) A polyphasic approach to study the diversity of nonfluorescent pseudomonads causing pith necrosis of tomato in Japan (in Japanese with English summary). Jpn J Phytopathol 84:85–97

Sawada H, Kunugi Y, Watauchi K, Kudo A, Sato T (2011) Bacterial spot, a new disease of grapevine (Vitis vinifera) caused by Xanthomonas arboricola (in Japanese with English summary). Jpn J Phytopathol 77:7–22

Sawada H, Shimizu S, Miyoshi T, Shinozaki T, Kusumoto S, Noguchi M, Naridomi T, Kikuhara K, Kansako M, Fujikawa T, Nakaune R (2015) Characterization of biovar 3 strains of Pseudomonas syringae pv. actinidiae isolated in Japan (in Japanese with English summary). Jpn J Phytopathol 81:111–126

Sawada H, Fujikawa T, Kita N, Orihara N, Shinozaki T, Shimizu S, Nakaune R, Takikawa Y (2017) Characteristics of Pseudomonas syringae pv. actinidifoliorum causing bacterial leaf spot of Actinidia spp. in Japan (in Japanese with English summary). Jpn J Phytopathol 83:136–150

Sawada H, Nagai T, Aoki T (2018) Re-identification of strains belonging to the genus Pseudomonas preserved in the Genebank project, NARO (in Japanese). Plant Prot 72:305–314

Sawada H, Horita H, Misawa T, Takikawa Y (2019) Pseudomonas grimontii, causal agent of turnip bacterial rot disease in Japan. J Gen Plant Pathol 85:413–423

Sawada H, Horita H, Misawa T, Takikawa Y (2020) Multiplex PCR assay to identify Pseudomonas grimontii and P. marginalis simultaneously. J Gen Plant Pathol. https://doi.org/10.1007/s10327-019-00892-4

Schaad NW, Jones JB, Chun W (eds) (2001) Laboratory guide for identification of plant pathogenic bacteria, 3rd edn. APS Press, St. Paul

Schulthess B, Brodner K, Bloemberg GV, Zbinden R, Böttger EC, Hombach M (2013) Identification of Gram-positive cocci by use of matrix-assisted laser desorption ionization-time of flight mass spectrometry: comparison of different preparation methods and implementation of a practical algorithm for routine diagnostics. J Clin Microbiol 51:1834–1840

Sugiyama S, Matsunaka K, Washio S (1981) Spring rot of garlic caused by Pseudomonas sp. (in Japanese). Jpn J Phytopathol 47:396

Washio S (1986) Plant diseases and nematodes injuring the local major vegetables: Chinese yam and garlic with special reference to soil-borne diseases due to continuous cropping (in Japanese). Tohoku Agric Res 38:27–39

Yoon SH, Ha SM, Kwon S, Lim J, Kim Y, Seo H, Chun J (2017) Introducing EzBioCloud: a taxonomically united database of 16S rRNA gene sequences and whole-genome assemblies. Int J Syst Evol Microbiol 67:1613–1617
Acknowledgements
We express our deep appreciation to Ms. C. Aoyagi and Ms. H. Nakajima (Genetic Resources Center, NARO) for their daily technical assistance. We also thank Mr. S. Kimata (Kitami Agricultural Experiment Station, Hokkaido Research Organization), Mr. J. Sasaki (Ornamental Plants and Vegetables Research Center, Hokkaido Research Organization) and Ms. C. Hirai (Kagawa Prefectural Agricultural Experiment Station) for their help with this work.
Ethics declarations
Conflict of interest
The authors declare that they have no conflict of interest.
Ethical approval
This article does not contain any studies with human participants or animals performed by any of the authors.
Additional information
Publisher's Note
Springer Nature remains neutral with regard to jurisdictional claims in published maps and institutional affiliations.
The nucleotide sequence data reported are available in the DDBJ/EMBL/GenBank databases under the accession numbers LC486820– LC486879.
About this article
Cite this article
Sawada, H., Horita, H., Nishimura, F. et al. Pseudomonas salomonii, another causal agent of garlic spring rot in Japan. J Gen Plant Pathol (2020). https://doi.org/10.1007/s10327-020-00909-3
Received:

Accepted:

Published:
Keywords
Pseudomonas salomonii
Allium sativum

Spring rot

Café au lait disease

MLSA

MALDI biotyper