Abstract
The objective of the study was to evaluate the characteristics and prognosis of 56 patients with rheumatoid arthritis (RA)-associated renal involvement by retrospective review of their renal biopsy specimens. Included in this cross-sectional study were 56 RA patients with renal involvement, in whom renal biopsy was performed to analyze the histological pattern and renal prognosis. IgA nephropathy (IgAN) was detected in 48.2% of the 56 included patients as the most common renal histological pattern, followed by membranous nephropathy (MN) in 23.2% cases, focal segmental glomerular sclerosis (FSGS) in 19.6% cases, chronic interstitial nephritis (CIN) in 5.4% cases, membranoproliferative glomerulonephritis (MPGN) in 1.8% cases, and non-IgA mesangial proliferative glomerulonephritis in 1.8% cases. No significant relationship was observed between the histopathologic type and the RA duration, joint deformity or treatment. Renal dysfunction was mainly found in IgAN patients, and MN occurred more frequently in older patients. Renal function decline occurred in two IgAN patients, one with FSGS and the other with MPGN. Another CIN patient progressed to dialysis during the follow-up period. The patients with renal function decline had a significantly higher level of serum creatinine at presentation. The high percentage of glomeruli sclerosis and interstitial fibrosis/tubular atrophy was also related to renal function decline. IgAN was the major RA-associated renal histological lesion in our series. Renal biopsy can provide useful information about the histological pattern and renal prognosis and therefore should be considered in RA patients with renal involvement.
This is a preview of subscription content, log in to check access.
Access options
Buy single article
Instant access to the full article PDF.
US$ 39.95
Price includes VAT for USA
Subscribe to journal
Immediate online access to all issues from 2019. Subscription will auto renew annually.
US$ 99
This is the net price. Taxes to be calculated in checkout.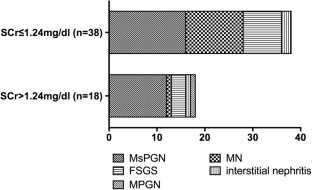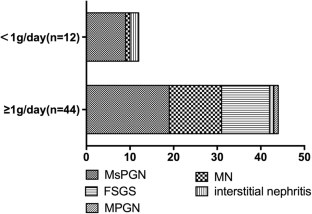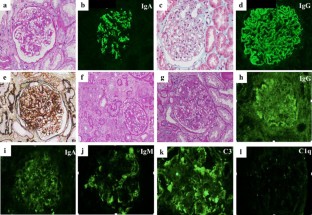 References
1.

Aletaha D, Smolen JS. Diagnosis and management of rheumatoid arthritis: a review. JAMA. 2018;320:1360–72.

2.

Wang X, Yang C, Xu F, et al. Imbalance of circulating Tfr/Tfh ratio in patients with rheumatoid arthritis. Clin Exp Med. 2019;19:55–64.

3.

Yu C, Li M, Duan X, et al. Chinese registry of rheumatoid arthritis (CREDIT): I. Introduction and prevalence of remission in Chinese patients with rheumatoid arthritis. Clin Exp Rheumatol. 2018;36:836–40.

4.

Kochi M, Kohagura K, Shiohira Y, et al. Chronic kidney disease, inflammation, and cardiovascular disease risk in rheumatoid arthritis. J Cardiol. 2018;71:277–83.

5.

Matsushita K, van der Velde M, Astor BC, et al. Association of estimated glomerular filtration rate and albuminuria with all-cause and cardiovascular mortality in general population cohorts: a collaborative meta-analysis. Lancet. 2010;375:2073–81.

6.

Hippisley-Cox J, Coupland C. Predicting the risk of chronic kidney disease in men and women in England and Wales: prospective derivation and external validation of the QKidney Scores. BMC Fam Pract. 2010;11:49.

7.

Daoussis D, Panoulas VF, Antonopoulos I, et al. Cardiovascular risk factors and not disease activity, severity or therapy associate with renal dysfunction in patients with rheumatoid arthritis. Ann Rheum Dis. 2010;69:517–21.

8.

Fahling M, Mathia S, Scheidl J, et al. Cyclosporin a induces renal episodic hypoxia. Acta Physiol. 2017;219:625–39.

9.

El-Yazbi AF, Eid AH, El-Mas MM. Cardiovascular and renal interactions between cyclosporine and NSAIDs: underlying mechanisms and clinical relevance. Pharmacol Res. 2018;129:251–61.

10.

Helin HJ, Korpela MM, Mustonen JT, et al. Renal biopsy findings and clinicopathologic correlations in rheumatoid arthritis. Arthritis Rheumatol. 1995;38:242–7.

11.

Salomon MI, Gallo G, Poon TP, et al. The kidney in rheumatoid arthritis. A study based on renal biopsies. Nephron. 1974;12:297–310.

12.

Piga M, Chessa E, Ibba V, et al. Biologics-induced autoimmune renal disorders in chronic inflammatory rheumatic diseases: systematic literature review and analysis of a monocentric cohort. Autoimmun Rev. 2014;13:873–9.

13.

Maruotti N, d'Onofrio F, Cantatore FP. Metabolic syndrome and chronic arthritis: effects of anti-TNF-α therapy. Clin Exp Med. 2015;15:433–8.

14.

Costa NT, Scavuzzi BM, Iriyoda TMV, et al. Metabolic syndrome and the decreased levels of uric acid by leflunomide favor redox imbalance in patients with rheumatoid arthritis. Clin Exp Med. 2018;18:363–72.

15.

Nakano M, Ueno M, Nishi S, et al. Analysis of renal pathology and drug history in 158 Japanese patients with rheumatoid arthritis. Clin Nephrol. 1998;50:154–60.

16.

Boers M, Croonen AM, Dijkmans BA, et al. Renal findings in rheumatoid arthritis: clinical aspects of 132 necropsies. Ann Rheum Dis. 1987;46:658–63.

17.

Sumida K, Molnar MZ, Potukuchi PK, et al. Treatment of rheumatoid arthritis with biologic agents lowers the risk of incident chronic kidney disease. Kidney Int. 2018;93:1207–16.

18.

Yang Y, Zhang Z, Zhuo L, et al. The spectrum of biopsy-proven glomerular disease in China. Chin Med J. 2018;131:731–5.

19.

Makino H, Yoshinaga Y, Yamasaki Y, et al. Renal involvement in rheumatoid arthritis: analysis of renal biopsy specimens from 100 patients. Mod Rheumatol. 2002;12:148–54.

20.

Maruotti N, Corrado A, Gaudio A, et al. Membranous nephropathy in rheumatoid arthritis: a case report. Clin Exp Rheumatol. 2009;27:840–2.

21.

Liu Y, Wen HY, Wang LH, et al. Focal segmental glomerulosclerosis lagged behind the onset of rheumatoid arthritis by 7 years: a case report and literature review. Medicine. 2017;96:e5789.

22.

Solomon DH, Husni ME, Wolski KE, et al. Differences in safety of nonsteroidal antiinflammatory drugs in patients with osteoarthritis and patients with rheumatoid arthritis: a randomized clinical trial. Arthritis Rheumatol. 2018;70:537–46.

23.

Immonen K, Finne P, Gronhagen-Riska C, et al. A marked decline in the incidence of renal replacement therapy for amyloidosis associated with inflammatory rheumatic diseases—data from nationwide registries in Finland. Amyloid. 2011;18:25–8.

24.

Bordy R, Totoson P, Prati C, et al. Microvascular endothelial dysfunction in rheumatoid arthritis. Nat Rev Rheumatol. 2018;14:404–20.
Ethics declarations
Conflict of interest
The authors declare that they have no conflict of interest.
Additional information
Publisher's Note
Springer Nature remains neutral with regard to jurisdictional claims in published maps and institutional affiliations.
About this article
Cite this article
Zhang, T., Liang, S., Feng, X. et al. Spectrum and prognosis of renal histopathological lesions in 56 Chinese patients with rheumatoid arthritis with renal involvement. Clin Exp Med (2020). https://doi.org/10.1007/s10238-019-00602-6
Received:

Accepted:

Published:
Keywords
Rheumatoid arthritis

Mesangial proliferative glomerulonephritis

Histopathology